Reject The Sickness - The Weight Of Silence (English)
04-03-2018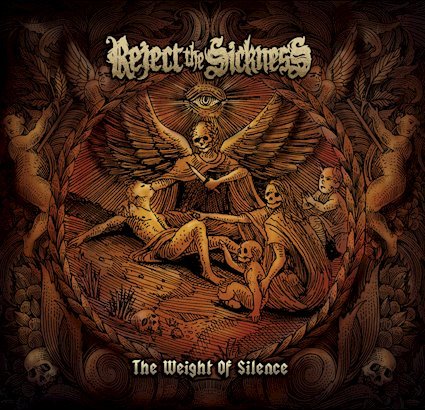 Reject The Sickness from Belgium, has a new album The Weight Of Silence that gives you an unforgettable trip through the Melodic Death Metal universe. A first row trip with the accompanying indulgence of the listening organs.
I certainly was not disappointed with their second full album. There are lots of cool riffs and great Goth intros for many of the songs. The sound itself is sharp and clear. The production is again in the top and the mix between the instruments and the song is great.
Without comparing to KISS's album "The Elder", I came to think of "Under the Rose" at the end of Bloodline. Great vocal work and melody lines are the through out quality on the entire album.
I found myself several times in a fiery moor with a mischievous cemetery nearby and lots of shadows that follow one during the crawl.
Reject The Sickness are; Guy on vocals, Pepijn on lead guitar, Ruben on rhythm guitar, Floris on bass and Jannick on drums.
The Weight Of Silence will be released on March 16th on Mighty Music/Target Group.






(6 out o
f 6)
Kategorier
Kommentarer
Der er ingen kommentarer til dette indlæg
Hits: 722358

callerock@gmail.com