Interview with Morten Korsholm from L.A. Prostitutes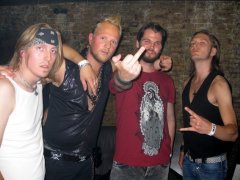 Kim, Jack, Fussy and Morten
L.A. Prostitutes
Calle:
To the people who don't know L.A. Prostitutes, can you give a short history of the band?
Morten: This is the short version; four guys from Denmark with a solid passion for Rock *N* Roll and everything connected to Rock *N* Roll team up in the city called Aarhus back in 2007. Shortly after tunes like: L.A. Party, Crisis, City Lights etc. take shape and the heart and soul of L.A. Prostitutes is a reality. The years to come are filled with over-smoked rehearsal rooms, a lot of drinking, composing new tracks and several live shows in both Denmark and USA.
Calle: Why did you choose the name L.A. Prostitutes for the band?
Let's start with why L.A.:
We all love the music scene from L.A. Especially the hard rock scene which has a track record of rock bands without comparison (Guns *n* Roses, Velvet Revolver, Van Halen, Mötley Crüe etc.).
Why Prostitutes:
Let's put it this way, we have a saying in the band: "We play everywhere if the money is good enough". That's how a prostitute think.
So there you have it – L.A. Prostitutes!!! (and we must say: A fucking cool and unique name for a band?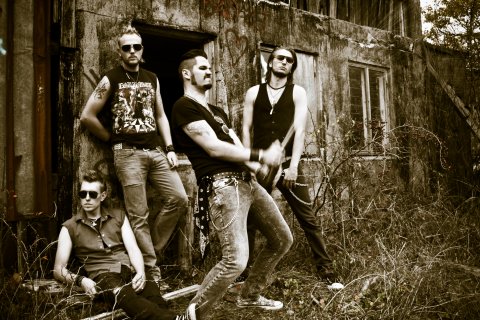 Calle:
Who are your biggest influences?
Morten: Guns *N* Roses, Foo Figthers, Bon Jovi, Velvet Revolver, D:A:D, Mötley Crüe – just to mention a few but very essential for us.
Calle: How would you describe your music to people who haven't heard L.A. Prostitutes yet?
Morten: Uncompromising, melodic, high-energy rock played as loud as fucking possible.
Calle:
So far you have released a 3 song promo CD "Get Drunk Or Try Dying". When can we expect a full length CD?
Morten: Whenever the right record company offers us a record deal we can't say no to!
Calle: Who are you working with/who do you wish to work with on the CD?
Morten: For the promo EP "Get Drunk or Try Dying" we teamed up the Danish producer Søren Andersen (Oliver Weers, Mike Tramp, Baal etc.). As a band we instantly connected with how Søren works and his approach to recording rock tracks. He brought the best up in us, and he made a few constructive musical adjustments which brought new life to the tracks. Based on that experience we sincerely hope to work with Søren if a full length CD is a reality in the future. Definitely!!
Calle: You recently visited the States. How was that experience?
Morten: Pretty cool – unforgettable actually. Playing in another country is one thing, but to have played Whisky A Go-Go, Viper Room on Sunset Blvd. (The Strip) Hollywood and Wasted Space in Las Vegas as the first Danish band ever is a completely different story. L.A. Prostitutes has done something few other Danish Rock *N* Roll bands have done previously. It also showed us who we are as individuals and what qualities we are made of and possess. All added up, an experience we couldn't have got by playing only on Danish ground.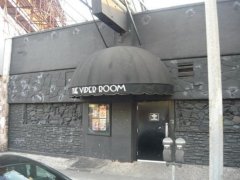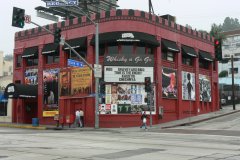 The legendary Viper Room and Whisky A Go Go
Calle:
Playing The Viper Room and Whisky A Go Go. That must have been a really cool experience and a dream come true?
Morten: Sure, ever since we picked up our respective instruments and heard our idols on the stereo we have dreamed about playing on "The Strip" in Hollywood!!! It's probably every rock band's dream. Come on, Motley, G*N*R, The Doors etc. have played in these venues – they are legendary! And now we are part of that..hahaha!!! And don't forget: L.A. Prostitutes is the first Danish band ever to have played at Wasted Space in Hard Rock Hotel, Las Vegas!!! It's pretty nice to have that on our CV!!!
Calle: How did the American people welcome you (I mean the band and your music)?
Morten: They were more or less very impressed about our sound, our tightness and our composing capabilities. In addition they were amazed that a Danish Rock *N* Roll without a record deal, without airplay etc. could be playing the venues we did. To that we can only say thank you to our management!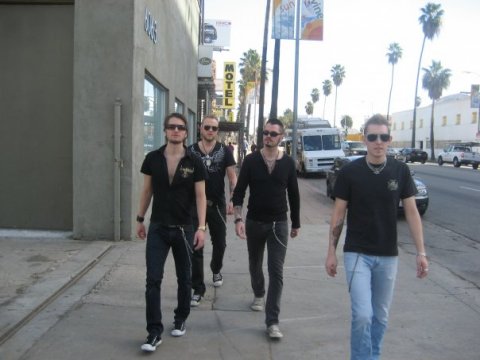 Calle:
What can people expect when they go see L.A. Prostitutes live?
Morten: L.A. Prostitutes is all about deliver a live show with high intensity and we strive to create a crazy party together with the audience. Basically make an atmosphere of having a good time. People will never go home after a L.A.P show thinking of it as being worthless. People tend to contact us after shows letting us know that it was one hell of a kick ass show with high-energy rock!!
Calle: Do you have any plans on a tour in Denmark or Europe in the near future?
Morten: At the moment there are no actual plans for a dedicated tour. But make it one of your daily"to-do's" to check out www.myspace.com/laprostitutes !!! Any upcoming shows will be posted on that official site prior to any other website.
Calle: How would you describe each member of the band in only three words?
Morten:
Fussy: front man, performer & composer
Morten: The Guitar GOD
Jack Andy: drummer from HELL!
Kim "Finn": Mr. Love PUMP!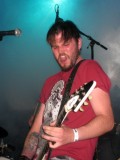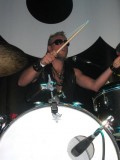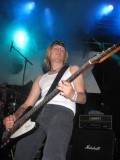 Fussy (guitar & vocals) - Morten (guitar) - Jack (drums) - Kim (bass)
Photos by: CallesRockCorner
Calle:
You are pretty new to the rock scene in Denmark. How do you see the Danish rock/metal scene right now?
Morten: Hahaha…yeah, we're pretty new to the Danish rock scene as a band, but we're still very experienced as musicians! There is a lot of interesting stuff going on in the underground. Unfortunately many of the good bands never get the chance of getting a record deal and thereby release an album with great singles for the masses in Denmark. As a consequence, the Danish youth don't get a chance to fall in love with Rock *N* Roll. It's not a matter of quality. Denmark has a handful of great rock bands! The only thing missing is a commercial foundation which depends on the industry's willingness in investing time and money in Rock *N* Roll!!!
Calle: Where do you see L.A. Prostitutes in 10 years?
Morten: Only God knows!
Calle: What's the best advice you can give to other up-coming bands?
Morten: Define your musical goal and how you will achieve it. Next, be consistent. Never loose faith in what you are working hard with in the rehearsal room. And never follow trends – because it changes faster than you can write new material to suit a particular trend. Stick to what you set out to do initially.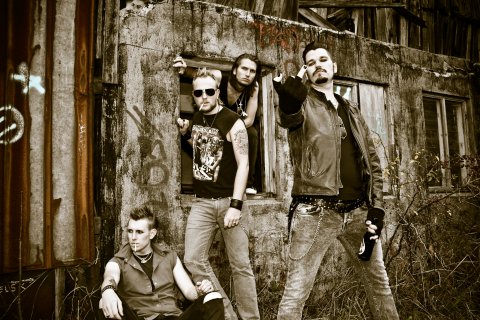 And now some questions outside L.A. Prostitutes' music:
Calle: What was the first CD/LP you ever purchased?
Morten: Gasolin "Derudad..Live"
Calle: What is the latest CD you bought?
Morten: Oliver Weers "Get ready".
Calle: What's your top 5 CD's of all time?
Morten:
1) Guns *N* Roses: Appetite for Destruction
2) Bon Jovi: Slippery When Wet
3) Whitesnake: Good to be Bad
4) Velvet Revolver: Contraband
5) D:A:D: Riskin' it All
Calle: What was the first concert you ever attended?
Morten: Can't remember
Calle: Who's the last band you've seen in concert?
Morten: Steel Panther, House of Blues on Sunset Blvd. Hollywood.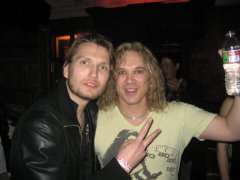 Morten and Mike Starr from Steel Panther
Calle: What do you do when you're not playing music?
Morten: Relaxation
Calle: Name one song you wish you had written and why?
Morten: Living on a Prayer (Bon Jovi)
Calle: Can you name one thing that you think only Danish people do?
Morten: We have this phenomenon called "hygge sig". You do not have that expression outside Denmark (I think)…
Calle: Do you have any last words for the fans?
Morten:
Stay tuned on

www.myspace.com/laprostitutes

for news and tourdates. And whenever you have a change to attend on our shows remember to bring all your friends (especially a lot of girls).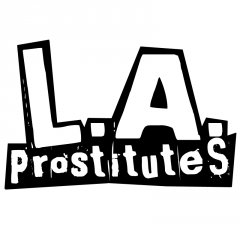 Click on the band logo to visit their MySpace site
The End
Hits: 720791

callerock@gmail.com