Interview with Magnus from Star*Rats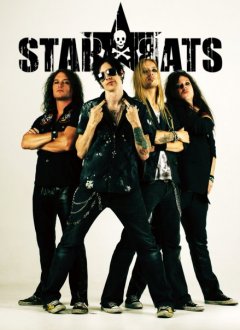 Calle: You weren't in the band from the start. How did you get to be in the band?
Magnus: My other band at that time, Aztek Sun, were supposed to play with Starrats at The Rock, but had to cancel the same day due to the guitarist came down with a nasty stomach-flu, but in good Rock n' Roll-spirit I showed up backstage with a tray of Jäger and some beer before the show…. After that, I watched the show and the last song of their set was "Get The Fuck Out" by Skid Row, and I didn't come all that way to just stand around I, figured, so I grabbed Dennis's mic and just got crazy with the boys and Nico on stage. Next day or so I got a text from Dennis, asking if I knew of any badass Swedish singers since Nico just did the last show with the band….I said -no haha… They sent me a CD with new songs on Monday, and by Thursday they had 4 of the songs I'd written and recorded from that…. the rest is history..
Calle: What got you into music in the first place?
Magnus: Chicks…. and Mötley Crüe…I played drums for a while, but it was way harder to meet girls like that, then to be in front and sing so…
Calle: Who are your biggest influences?
Magnus: Mötley, Skid Row, LA Guns, Guns 'n' Roses …the whole LA rockscene of the 80's and 90's really, and stuff like Social Distortion, Ozzy, Kiss, Incubus, Blind Melon, and Patrick Duffy.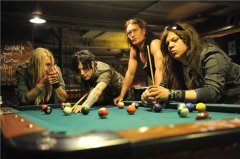 Calle:
Name 3 "older" bands and 3 "newer" bands you can recommend?
Magnus:
Mötley Crüe
Black Sabbath -the Ozzy.days, the rest is shit
Social Distortion
Skid Row…. sorry had to make it 4…
But really, if you have to have those bands recommended to you, stick to Rn'B…hahaha
Newer bands…hmm..
Sixx: AM
Black Label Society…. is that really that new…hmm…fuck it!
Volbeat
Calle: What did you do before playing in Star*Rats?
Magnus: I played with other boys…music that is…Bands called Aztek Sun, a side-project called egoDRIVE, had my own solo-thing for some time too with which I did a lot of gigs…and more…
Calle: How would you describe the music to people who haven't heard Star*Rats yet?
Magnus: I wouldn't really, it's just a good ol´ fashioned hard rock band I always say, but I've heard people compare it to stuff like Velvet Revolver, Alice in Chains, and Sixx: AM to name a few…and since they are influences of the band I'm glad it shows.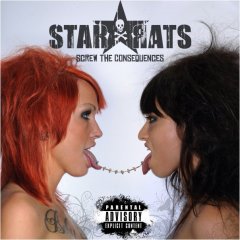 Produced by Star*Rats and mixed by Chris Laney
Calle:
In September Star*Rats will release their third full length CD "Screw The Consequences". What can people expect from the CD?
Magnus: Money well spent!
Calle: Star*Rats recently signed a deal with SwedMetal Records to release the CD. Why did you choose that label?
Magnus: Well, we think it's gonna be a good label to restart with since the label really digs the record, and wants this as much as we do, + we have badass distribution, Sound Pollution from Sweden, and Target from Denmark jumped onboard.
Calle: On "Screw The Consequences" there's a cover version of Bon Jovi's "I'll Be There For You". Why did you choose to make a cover of that song?
Magnus: To get the girls that Bon Jovi skips! And we fucked around with it at rehearsal, and started playing it live for fun some time ago, and people seem to enjoy it so, why not…this is the version of the song you're actually gonna wanna hear in a club….no trace of a ballad left on it….
Calle: Didn't you propose to your wife on stage before, during or after you played "I'll Be There For You" live at The Rock in Copenhagen?
Magnus: Yup.
Calle: What are your personal favourite songs from the new album?
Magnus: Man, tough question, I totally love "I could die here", " As I stay", "Another Tragedy", "Boozehound" "Who Cares?!"…. and I can name 9 more if you want me to…
Calle: If you could name one song you wish you had written, which song would that be, and why?
Magnus: Already wrote that song…. Why? Cause I could….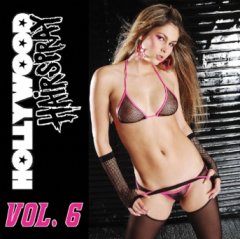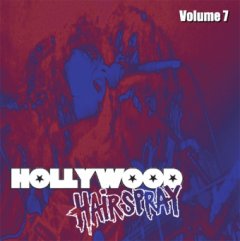 Calle:
Star*Rats have had a few songs on compilation CD's like Hollywood Hairspray 6 & 7. Do you think you have gained new fans from that?
Magnus: Nah, hard to say, maybe some that didn't know us from before listened to the songs, and drank beer to them….they were more promotional albums than anything else I think…
Calle: Star*Rats are based in Copenhagen and you are from Malmö. How will you describe the music scene there and in Denmark and Sweden in general?
Magnus:
Well...the scene in Malmö has gotten a huge boost the last 2-3 years or
so I think, with new rock
clubs coming up, surviving, promoting new 'rock bands,
and I'm pretty new to the scene in Copenhagen
but I fuckin love it there too, "Rock
The Night", the dudes and dudettes behind it, does what every rock-
club should,
But in general, its mostly the pop-rock-pussies that gets airtime as always, and its hard for smaller bands getting the gigs that they deserve because many of the bigger venues are a little scared of letting "new blood" in, and the fact that you only get paid a case of beer at some places, and are asked to pay for shit at some....they should fuckin' be ashamed of themselves...Some rock-club owners does it cuz they got to, to live..Some does it cuz they wanna make a living.....I'll play at the first guy's place any day
Calle:
What can people expect if they go see Star*Rats live?
Magnus: Their moneys worth! A badass show, singing on key, hitting the fret board on time, and setting shit on fire! hahaha

Calle:
You have opened for bands like Skid Row, Royal Hunt, Alice Cooper to name a few. If you get the chance to open for another "big" rock band, who would you like that to be?
Magnus: For me, Mötley Crüe, the first album I ever stole, and the last album I bought is a Mötley album.
Calle: What's the most fun memory you have from being on tour? Is their one special thing that stands out?
Magnus: Hahaha, there's a few…But when Post and me get together it's always retarded as fuck..and it pretty much ends the same way, us passing out, and the other guys doin fine, and in Amsterdam we decided to finish of the last day there by getting fucked up, and THEN doin´ strikouts to pass out, and to wake up rested and in the next town the next day...that was the plan...(we have a thing about always watching Beerfest on DVD everyday in the tour bus, and we are stupidly influenced by it every time!) I ended up walking out of the tour bus, to take a piss, in my zombie-state of mind, going 150 km/h, and in the last second was caught by my belt by our drummer Christian, while he was driving, so I just pissed from there...hahaha then he stopped the car and i ended up falling over...still pissing...Dennis ended up passing out in the bunk-bed above the driver, pissing his pants, not once, but twice, while the driver was wondering what the hell was pouring down on him.....twice hahaha Karma bitch!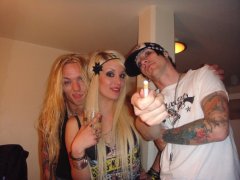 Post and Magnus with Celina Ree
(she sings duet with Magnus on Lands End on the new cd)
Calle:
If you could put together your dream band (not including members of Star*Rats), who would be in it?
That I´m in?
It's gonna be a Tag-team dream-team, like The All Scum Band...but different! I love the beats from Tommy Lee and Randy Castillo, so they're in (you never said they have to be alive...) I love Flea, Rachel Bolan and Nikki Sixx on bass, so they're in! On guitar I want Zakk, Jimi and, surprise, Mick Mars. Vocals I'll share with Ozzy, Sebastian Bach and Patrick Duffy.
Calle: How would you describe each member of the band in only three words?
Magnus:
Kass: Control freak, Teddy bear, Calm
Braun: Hyper, Solid, Old school
Post: Trouble, Guitarwiz, Control freak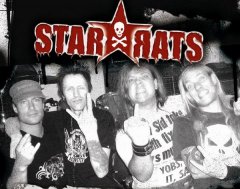 Braun (drums), Magnus (vocals), Kass (bass) and Post (guitar)
Calle:
Where do you see Star*Rats in 10 years?
Magnus: Top of the world Ma!!
Calle: What's the best advice you can give to up-coming bands?
Magnus: Get sponsored by a booze-label!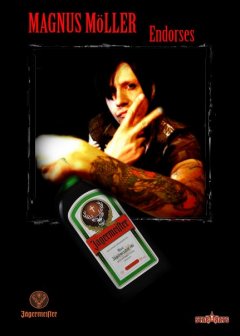 Gues who sponsors Star*Rats!!
And now some questions outside Star*Rats' music:
Calle: What was the first CD/LP you ever purchased?
Magnus: Kiss first album.... either that or Bark at the moon, but I'm pretty sure it was Kiss..
Calle: What is the latest CD you bought?
Magnus: Saints Of Los Angeles, Mötley Crüe
Calle: What do you do when you're not playing music?
Magnus: Nothing too exciting, I'm a sucker for a good "fika", or just going out for "one beer".... if there's a rock-club open, you'll probably find me there...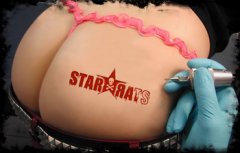 Calle:
What's the best concert you have ever been to as a fan?
Magnus: Carnival Of Sins tour with Mötley was badass, and Roskilde -92 had Pearl Jam, Nirvana and Faith no more, but I just saw Social Distortion for the first time so.....
Calle: What's the most disappointing concert you have been to?
Magnus: There have been a few, but Staind really bummed me out. I were there to see Sevendust but they cancelled fyi….hahaha
Calle: What's your favourite drink?
Magnus: Beer
Calle: Do any of you have another education?
Magnus: Other than which? Than Rock n' Roll?! Yes
Calle:
If I say Denmark, what's the first thing that comes to your mind?
Magnus: That, if I eat a wienerbröd (Danish), will I speak with a Danish accent? Also Copenhagen, Christiania, Tivoli, Ströget and Nyhavn…all at once!
Calle: Do you have any last words for the fans?
Click on the banner to visit Star*Rats MySpace
The End
Hits: 722366

callerock@gmail.com