Interview with Birdy from Kid Ego. 17. nov. 2007
Calle:
You were formed in 2004. How did you guys meet?
Birdy: We're all from the same village on the outskirts of York. We went to the same schools. Me and Rookie have known each other since we were three years old! We all hung around in the same groups, and some of us played in bands, so we just kinda ended up eventually playing together, after a bit of poaching from other bands ha ha!!!
Calle: What got you into music in the first place?
Birdy: We've all grown up surrounded by music and have musical families. My Dad was in a band, Nicks dad was also. Nick's uncle was the drummer in UK punk band The UK Subs! I played piano from an early age but then found Jimi Hendrix and converted to guitar!! We've grown up in a diverse diet of bands, from Bonjovi, Def Leppard and Meatloaf, to the Beatles and the Stones, from Motown and Soul, and the Funky sounds of Average White band, to classical and pop, the list is endless. But rock n roll won out I guess ha ha!!!
Birdy---->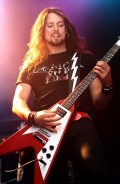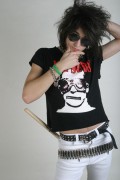 <-----Nick(drums)
Calle: Have any of you played in other bands before Kid Ego?
Birdy: Henry Rundell our singer has been in several bands, some of them signed and has supported artists such as Alice Cooper and Iron Maiden. I've also played in few local bands before joining Kid Ego.
Calle: What are your big influences?
Birdy: Guns n Roses, Iron Maiden, Led Zeppelin, Motley Crue, Hendrix, Clapton, Sex Pistols, Deep Purple, Def Leppard, Skid Row, mainly 70's and 80's rock. You name a rock or metal band from this era and it will have influenced us in some way!
Calle: What bands are you listening too?
Birdy: Still all the old classics!! As for more modern bands, theres some great classic rock influenced artist around - Avenged Sevenfold, Gallows, Hardcore Superstar, Backyard Babies, Hellacopters, Turbonegro, Monster Magnet,…etc!!!!!! Phil like his metal e,g Tool, A perfect circle, Slipknot etc. Its good to be diverse right!!!??!!
Calle: Name 3 "older" bands and 3 "newer" bands you can recommend?
Birdy: Older Bands – Guns n roses, The Wildhearts, Hanoi Rocks!!!
Newer Bands – Hardcore Superstar, Avenged Sevenfold, Velvet Revolver
Calle: What's the best concert you have been to?
Birdy: Probably Download fest when I saw Velvet Revolver followed by the original lineup of Black Sabbath! Ozzy's still got it!!!!!
Calle: What's the best concert you have played yourself? And the smallest and biggest crowds you have played in front of?
Best concert would be the Whiskey A Go Go in Hollywood, that was awesome hangin out on the Strip!
Smallest crowd was in Bristol when we traveled all the 400 miles to play to two people and a dog!!!
Biggest crowd was probably the Celtic Warriors Biker Festival to around 4000
Calle: You have played with bands such as Hanoi Rocks and The Wildhearts. Is there one or two or maybe three bands you would really like to open for?
Birdy: The Rolling Stones, Led Zeppelin, Aerosmith.
Calle: You have put out one record – Ignite The Tide.
It's a kick ass album by the way. How do you write the songs? Does each of you come in with ideas or do you all write together?
Birdy:
Usually one of us comes up with a riff or a chorus idea, and then we all work together to complete the songs. We've recently been recording the music and then all sitting down and writing the lyrics together, which seems to flow well. There is some sort of spark when we all get together!
Calle: Where do you find the inspiration for the songs?
Birdy: Life, past experiences, dreams, fantasies, you name it, we've written about it. Sometimes it doesn't work, sometimes its awesome ha ha!!! But mainly we try to keep it accessible and on a human level that people can relate to.
Calle:
You have recorded Nazareth's "Hair Of The Dog". What other songs would you like to do a cover of, if any?
Birdy:
We'd love to do a cover of 'Burn' by Deep Purple, with the cool long harmonies and cool guitar solo! We'd have to unleash a bit of Hammond Organ!!
Calle:
I know you played in the US last summer. How was your experience of the US? What did you think of the country? And what about the fans?
Birdy: The US was awesome, I don't care what anyone says about the Americans in the current world climate, they were all so nice to us, really welcoming. They really looked after us, invited us into their homes, let us drink their booze and eat their massive portions of food. (mmmmmmmmmm buffallow wings!!!!) Don't have a bad word to say about em! The country looked kind of familiar because we've seen it so much in films, it was surreal! The crowds were a bit different in the sense that they really stand and listen to what your playing, as if they're sussing you out and really paying attention. Cool place, great people. Wanna go back!!!
Calle: You mentioned you played at the Whiskey A Go Go - (at Crue fest). It must have been a dream come true? I mean, Mötley Crüe, Guns'n'Roses and a lot of the 80's bands played there.
Birdy:
It was like a dream. We were in the legendary place and we could quite get our heads around it. It was fantastic!
Rookie (bass)---->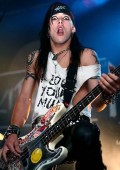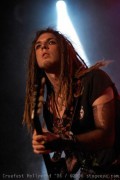 <---- Phil (guitar)
Calle: Last time you played at "The Rock" in Copenhagen I met you after the show and you invited me backstage for a beer. You seemed so "down to earth" and I like the fact that you take time to talk to the fans. Not all bands do that!!! How important are the fans to you?
Birdy:
They are the reason we do what we do. They are rockers same as us, we are all the same and we all wanna bring the glory days of rock n roll back!!!

We feel that these people have paid their hard earned money to come and see our show, so we give em a show and more! Fans should never, ever be taken for granted! Arrogance is any bands downfall, and anybody else's for that matter.
Pictures from the show at The Rock - Copenhagen (18th may 2007)

Phil (Rookie) Nick Zakk (old singer)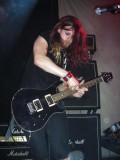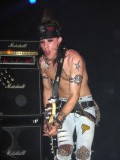 Birdy Rookie
Calle: Do you have any planes of playing in Denmark in the near future?
Birdy: We'd love to come back, we felt at home there, our ancestors are the Viking Danes!! And you guys know how to party!!! If you guys want us back start spreading the Ego word!!!
Calle:
Recently you got rid of your singer, Zakk. What happened there?
Birdy: When you spend so much time with a group of people sometimes differences in opinions begin to appear, and that happened with Zakk. He's doing his own thing now so we wish him the best. He's a great front man.
Calle: Zakk has a great voice and so does your new singer Henry. Where did you meet him? Did you have auditions or did you know him from before and asked him to join you?
Birdy:
We met Henry when his band Voodoo Six supported us in London. We wowed us with his vocal prowess and when we had to find a new singer he immediately came to mind, its working great with him and he's settling in nicely!

<-------

The new singer
Calle: You have three new songs up on MySpace www.myspace.com/kidego – (one of them the new single Walk Away) Great songs by the way. Did you write those songs with Zakk or Henry?
Birdy: We initially had the music for them written and were working on them with Zakk, but when we got Henry on board we decided to rework them with completely new lyrics and melody.
Calle: Do you have any plans of a new record in the near future?
Birdy: Yeah, we're working on new tracks all the time, so keep your eyes and ears peeled! We're having 3 tracks available for download within the next few days, so keep checkin our myspace!
Calle: Do you have any plans for a new tour in the near future?
Birdy: We're just playing everywhere at the moment all over the place, its like one continual tour! Our life is one big tour ha ha!!
Calle: Do you have any tour bus rules? And what do you do on the tour bus?
Birdy:
No rules, just make sure your piss actually goes in the bottle and not all over everyone else ha ha!! We generally either get lost in the middle of nowhere on the bus, or sleep and get drawn all over by drunken band mates, you bastards!!!!!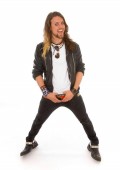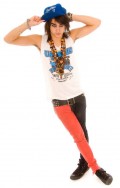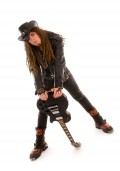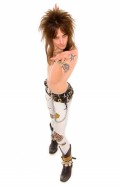 Birdy Henry Nick Phil Rookie
And now some questions outside music:
Calle: What do you do when not playing music? What's your other interest?
Birdy:
Going to gigs, supporting our other rocking mates in bands. Rookie is an amazing trials biker, he used to do it for England. Phil is a technical wizard when it comes to making Media and Videos etc, Nick watches tv and plays on Xbox all day,
Henry is a great cook, and I'm an artist, illustrator!
Check out my work at www.myspace.com/henrybirdillustration
Calle: What's your favorite drink?
Birdy: I like Southern Comfort on Ice. All the rest of the band could live off Jaegermeister!!!!!
Calle: Do any of you have another education? I mean, what did you do before Kid Ego?
Birdy: I've got a degree in Illustration, which I studied in gaps between touring!! Henry's got a diploma in Music and gade 8 Pianist!. Phil did Media at college! All the rest of the guys have been educated solely in the rock n roll lifestyle ha ha!!
Calle: Do any of you support a football team? If yes, which one?
Birdy: Leeds united and York City!!!!!!
Calle:
Any last words for the fans?
Birdy:
Keep on rockin, thanks for sticking with us this far, you aint seen nothing yet my friends! Keep checkin our myspace and keep helping to spread the Kid Ego word! Lets make 2008 the year that we proved that rock n roll's not dead!! We love ya!!
Hits: 720790

callerock@gmail.com