Interview with Brandon from Diamond Lane 15. may 2008
Brandon
C
alle
: Diamond Lane was born in 2001. How did you guys meet?
Brandon: Kind of a funny story here…Jarret and I were probably 16 in some skanky bar in Northern California (gotta love a legit fake!), and well, 2 long hairs with an undying love for all things rock are a bit hard to come by those days, and hell, these days too. I don't get it, it's like rock and roll is a disease to some people. Wake up, time to diiiiiiiiiieeeeeeeeeeeee!
Calle: What got you into music in the first place?
Brandon
: Metallica. Been around music since forever. And the idea of rocking our asses off for a living didn't sound too shabby. I just couldn't stomach sitting at a desk with a tie on all day….not that there's anything wrong with that, it just isn't for me.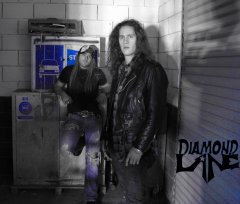 Calle: What are your biggest influences?
Brandon: Metallica, Black Label Society and Guns n Roses…oh yeah, and hardcore porno too.
Calle: Name 3 "older" bands and 3 "newer" bands you can recommend?
Brandon: Older? 1) Guns n Roses baby, obviously. Axl's one of the greatest frontmen…EVER. 2) Sebastian Bach --- his new record 'Angel Down' KILLS! If you haven't already, check it out. 3) Def Leppard's new record is also one to scope out.
Newer? 1) Lynam, they write some pretty sweet songs and are pretty cool dudes too. 2) Vains of Jenna, those Swedes can party! 3) The Warren Commission….I'll tell you, rock and roll's about to get fucking facelift. Trust me on this one.
Calle: What's the best concert you have been to as a fan?
Brandon: Metallica in the round in an arena with only 200 other people. Totally insane!
Calle: You have put out a CD in 2005 - "Cut To The Chase" and recently put out an EP - "Save The City". Later this year you are about to release a new CD - "World Without Heroes". What can we expect from that CD?
Brandon
: A rock 'n' roll record that'll make you want to listen to it again. Bands these days don't write songs…it's like a bunch of forgettable mishmash filler…give me the GOOD shit! Who says a record can't have 14 undeniably killer tracks??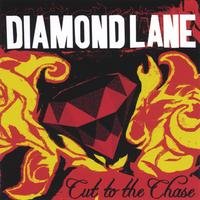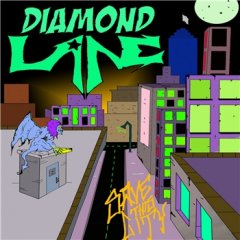 Cut To The Chase Save The City
Calle: How do you write the songs? Does each of you come up with ideas or do you all write together?
Brandon: We channel the energy of the Gods of rock and roll in an all black chamber illuminated only by the circle of skull candles lining the floor. We each drink from a goblet of blood (**cough** beer) to channel the spirits. We usually black out after that and somehow, each and every time, we black back in to a freshly written stomper. It's really bizarre, but somehow it works, and well, I'm not about to start fooling around with magic!
JRock: Ha ha ha, I don't know about the blood drinking, but we definitely have some pretty cool skull candles.
Brandon: Harness that idea and ride it into the sunset baby!
Seriously though, we write songs everyday. The ones worth hearing again and again are the ones that you'll get to enjoy. When you play something that you can FEEL, a physical reaction, that's the one you move forward with. We got some things cookin' in the chamber that are gonna shoot some flames!
Calle: Where do you find the inspiration for the songs?
Brandon
: It's unavoidably all around us. Music is something that moves and is meant to translate that. If you are real, people are gonna feel that. The fakers get sorted out real fast in this biz.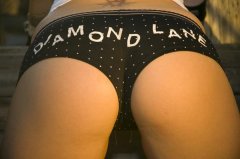 Diamond Lane underwear
Calle: Johnny Lima produced "Save The City". How did you get in touch with him? Did you know any of his other work?
Brandon: We came across his myspace page and really dug one of his songs, "Made in California", shot him a message and later decided to lay down some tracks. It's safe to say he kicks ass in the studio from both ends of the board.
Calle: Is Johnny also producing "World Without Heroes?
Brandon: That's the plan. He's definitely pretty awesome at what he does. Each time you go into the studio with a different producer, you learn a new way to look at the music as a whole. And the new recordings are no exception. We're looking forward to getting that one out there. It's got some songs that people are gonna dig.
Calle: The artwork on "Save The City" is different from what you see other rock/metal bands use. Whose idea was it to use this drawing and who did the artwork?
Brandon
: Initially the idea for a comic-esq cover was Jarret's, so he whipped up a few pencil roughs on the spot and later that week when were hanging low with our main man Kel, relaxing with a couple of cold ones with a bitchin vibe and soundtrack, he ended up drawing up a variation of the cover. We just threw it together and it worked perfect. Obviously it's rough, but I think it's fitting for a demo.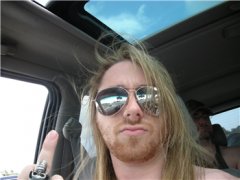 Brandon with new "girlfriend" Jarret giving his opinion
Calle: You recently split with your drummer Jeff. And I know you are looking for another guitarist and bass player. How is that going?
Brandon: Finding the right people, both as players and individuals is of the utmost importance. It's got to be the ones who want it; the ones who are hungry. We haven't found those guys yet, but they're out there and when they hear us, they'll know it.
Calle
: When "World Without Heroes" come out I guess you will be planning a tour. Can the European fans expect to see you or will it only be an American tour?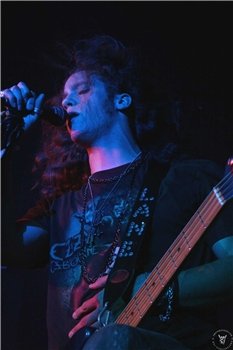 Jarret Brandon
Brandon: Exact details haven't been hashed out yet, but we fully intend to take the Diamond Lane machine worldwide as soon as humanly possible. We'll resume playing live back in the U.S. circuit as soon as we wrap the record and cement the lineup. We're very much looking forward to that!
Calle: If you get the chance to open for some "big" bands, what bands would like to open for?
Brandon: All of our favorites. Ozzy, without a doubt Guns 'n' Roses, Metallica would be insane! I know we'd get that crowd ripe and ready. I'm so sick of seeing tour support acts that fall way short of the bar. Go out there and get the crowd fired up. Fans are as a ROCK SHOW for Christ's sake. When we saw Vains of Jenna on the Poison tour, they fucking blew the doors off. That's how you do it.
Calle: What's the best advice you can give to other up-coming bands?
Brandon
: Work your ass off and actualize your potential. Nothing worthwhile will come without putting it to the grind and doing it right.

Be proud of the accomplishments no matter the size, and always set realistic goals.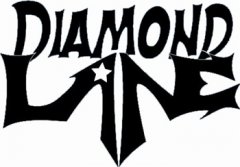 And now some questions outside music:
Calle: What was the first cd you ever purchased?
Brandon: Metallica's "Metallica" ("The Black Album")
Calle: What do you do when you're not playing music? What's your other interest?
Brandon: Not playing music? Doesn't matter what I do, the music never stops. Although, we do love drinking buckets of beer and tearing it up around town, going to concerts, relaxing & such.
Calle: What's your favorite drink?
Brandon: We're just a couple of beer drinking whiskey hellraisers! And how could I forget the band's official drink. . .the "Gunsmoke" !!! Come see us for the initiative round!
Calle: Do any of you have another education? I mean, what did you do before Diamond Lane?
Brandon
: Jarret and I both have bachelor's degrees in marketing, business and communication studies respectively.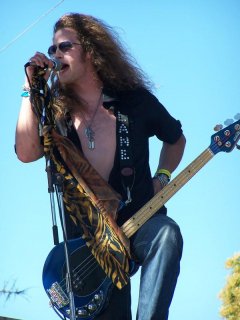 Jarret live on stage Brandon live on stage
Calle: Any last words for the fans?
Brandon: Keep glued to our page www.myspace.com/diamondlane for the most frequent updates as we lay it down in the studio and on the hunt for the next couple of months. We can't wait to get out there and lay it down live, so pick up the EP for the time being and never stop believing in the power of rock and roll!! Gazongas!!!
Cheers for the interview!
The End
Hits: 720794

callerock@gmail.com