Interview with Torben Schmidt from Skagarack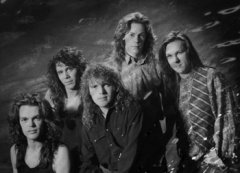 Torben Schmidt and Skagarack
Calle: Skagarack was established in 1984. How did you guys meet?
Torben: We're all from the same small town (Kolding 60.000 people) So I met Jan and Alvin when I was 18, and we started playing. At first I sang and played the bass.
Calle: What got you into music in the first place?
Torben: Listening to bands like Led Zeppelin and Deep Purple, gave me a strong desire to play and also to write songs.
Calle: Who were your biggest influences?
Torben: In the beginning the 2 bands I mentioned above, but also bands like Bad Company, Dio and also "softer" acts like The Eagles and many many more.
Calle: How would you describe the music scene in Denmark in the late 80's when Skagarack released their two first records?
Torben: I think that we in Skagarack captured the sound and style in that period pretty well, and we also sold pretty well. (we sold 50.000 of each of those 2 albums in Denmark) I guess there were a glam scene, and also a lot of much harder bands than we were. I think we were somewhere in between..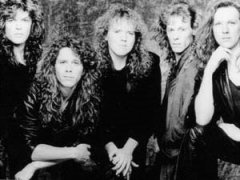 Skagarack late 80's
Calle: How would you describe Skagarack's music to people who have never heard you?
Torben: Melodic rock, with a typical "Scandinavian twist" (whatever that is)
Calle: How well did Skagarack do outside Denmark?
Torben: We sold pretty decent in Germany, Japan, Sweden, Norway and UK, just to name some of the Countries (also USA on the first album) We sold many more albums outside Denmark, than in Denmark. Obviously we sold most albums between 1986 and 1990, but up through the 90's our albums sold 5000 copies each year, and they still sell.
Calle: Name 3 "older" bands and 3 "newer" bands you can recommend?
Torben: of the older Bands: Led Zeppelin, Bad Company and Rainbow Of the newer Bands: Foo Fighters, Freak Kitchen and should I mention a Danish band, I would say Carpark North.



Skagarack (1986) - Hungry For A Game (1988) - A Slice Of Heaven (1990)
Calle: After three records with the original line-up, Skagarack decided to take a break. Why?
Torben: We had serious problems with our American management, who ended up filing for bankruptcy, so we never got any money from US sales. Also I never received any songwriter money from the States. There were also other issues, So frustrations took over, and we needed a break.
Calle: In the meantime you released your solo record "A Bit On The Side". How was the response from the fans?
Torben: That album was my therapy away from the problems, and was an absolute delight to make. I have honestly had nothing but positive feedback to this album.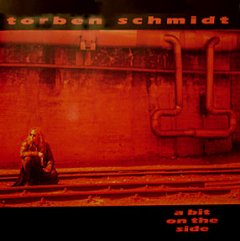 Torben Schmidt - A Bit On Thew Side
Calle: On "A Bit On The Side" you had Kee Marcello from Europe doing some guitar work. What other musicians would you like to work with?
Torben: hmmm I don't know, haven't really thought about it, but there's a lot of good guys out there. Kee is a fantastic Guitarist.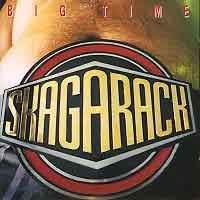 Big Time (1993)
Calle: Skagarack then regrouped with new members and released the last record "Big Time" in 1993. The record didn't do that well. Why do you think that is?
Torben: I guess there were 3 reasons: 1: It was in the middle of the grunge period. So AOR didn't do well in those days. 2: Not enough publicity, so many didn't even realize there was a new album. 3: obviously some fans didn't like the fact that there were new members.
Calle: Since that I know you have been running a production company called Thunderstruck Productions (TSP) where you are managing the Swedish band Freak Kitchen. What other bands have you been producing or managing?
Torben: Johan Randen, a young Swedish super guitarist, and a couple of Danish bands, however I have enough to do with Freak Kitchen, and the solo albums "IA" (GTR & Voc in Freak Kitchen) is doing. Also I have for a number of years been a freelance producer for the Danish Radio (DR), recording and mixing many many bands (big names, and also unknown bands) at places like the Roskilde Festivallen or Midtfyns Festivallen etc.
Calle: What else have you been doing since Skagarack broke up?
Torben: The things I mentioned above. Also I have a studio where I write and work on songs, actually I have been working on a new solo album for the last 10 years or more, I started over again many times, that's the "curse" when you have your own Studio, it's so easy to erase what you have done, and start over again, if you know what I mean. Having said that, I plan to release a single during this summer, it will be a fantastic feeling to finally release a Record again.
Skagarack 2009
Calle: Now that Skagarack are getting back together to play Esbjerg Rock Festival, do you have any plans on a small tour or even a new record?
Torben: Yes, we will do a small tour in the fall in Denmark as a start, and take it from there. I have written a couple of new songs we will record pretty soon, we'll see what happens, right now It's just a lot of fun to play with the boys again.
Calle: What's the biggest crowd Skagarack have played in front of?
Torben: I think 30.000
Calle: If you could name one song you wish you had written, which song would that be, and why?
Torben: There are about 100 great songs I wish I had written.
Calle: If you could put together your dream band, who would be in it?
Torben: Really don't know.
Calle: What's the best advice you can give to up-coming bands?
Torben: Go for it 100%
And now some questions outside music:
Calle: What was the first CD/LP you ever purchased?
Torben: I think it was Led Zeppelin
Calle: What was the last CD you bought?
Torben: The Eagles
Calle: Besides your music and TSP, what's your other interest?
Torben: My wife and 2 sons, and great friends
Calle: What's your favorite drink?
Torben: Red Wine, Whisky, Cognac. I actually don't drink that much.
Calle: Being from Denmark you must be a football fan. What team do you support?
Torben: Nobody, sorry. I only watch football when Denmark play against Sweden
or Norway.
Calle: Any last words for the fans?
Torben: Happy to be back, Hope to meet you at a gig

Click on the banner to visit Skagarack's website
Click on the banner to visit Torben's MySpace site

Click on banner to visit the unofficial Skagarack MySpace site
The End
Hits: 720794

callerock@gmail.com