Interview with Jennyfer Star
Calle: First up, can you tell us the Jennyfer Star story (music vice) so far?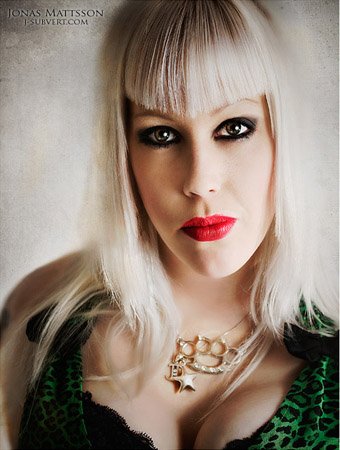 Jennyfer: I started playing in bands in the mid 90´s and already back then wrote most of the songs myself. Already as I kid I played the piano, sang and did performances in the living room, hehe. My last bands before going solo was called Swindle-A-Go-Go and Starlet Suicide. I decided to go solo in 2007 since I was doing everything myself anyways haha.. Had a break though, and now I´m back with a new back up band, The Cluster Bombs!
Calle: Who are your biggest influences?

Jennyfer: I think it´s hard to name influences since I don´t really know what I have gotten from where. But I guess you can hear that I dig Hole, Joan Jett and The Donnas. So that´s my answer.
Calle: What got you into music in the first place?
Jennyfer: I was born with music in my veins, so I guess that´s why. But when I got in my teens and started listening to Hole/Courtney Love I was hooked. I somehow missed that chicks could do that kind of music. So when I heard it the first time I just picked up the guitar, learned it and started to write lyrics.
Calle: First time I heard of Jennyfer Star was in the band Starlet Suicide. Is that band broken up or are you "just" on a break?

Jennyfer: Starlet Suicide is definately broken up and have been for three years. We´re still friends though.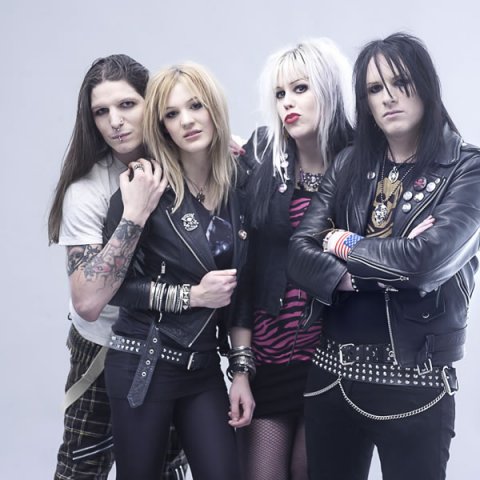 Calle: Your new backup band The Cluster Bombs got togehter in 2009. Was it hard to find the right people for the "job"?

Jennyfer: Yeah! You should only know! It´s such a disaster to find good musicians that aren´t already in a band. It´s like they don´t exist! Actually these three were the first ones that came to the audition. Pretty cool. I knew them all in one way or another before that. But now we have grown to like a family in just a few months. Feels like we belong together!
Calle: How would you descibe the music of Jennyfer Star and The Cluster Bombs?
Jennyfer: I guess my music always sounds the same, haha. But if you haven´t heard my previous music I will have to say it´s girly, strong, catchy, glampunkrock'n'roll!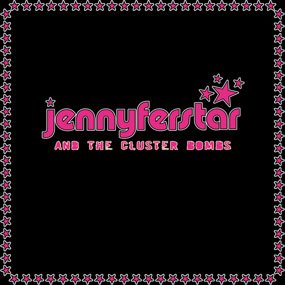 Calle: You are working on new songs for an EP at the moment. How is the writing and recording process going?

Jennyfer: Yes, we just released three new tracks. It has been taking forever! But finally they are out there. All three songs were written some time back, it was mainly the mixing that took more time than it should have.
Calle: Where do you find the inspiration for the songs?

Jennyfer: I guess everything in life. From sunshine to death. Friendship to love. Happiness and regrets. One of our new songs, "So Far Away", was written about my dear friend Dave Lepard, who sadly left earth a few years ago. I wrote the song right after it happend but I have been working on it for years just to make sure it was perfect.
Calle: Can we expect a full-length CD in the future?
Jennyfer: I hope so! The record industry is just too fucked up (wish I could say "at the moment", but it has always been). So record labels – hook me up!! And I´m sorry, I´m not interested in releasing something just for the sake of it. Which means, I will keep denying the labels that just want to make ME pay to release something. That´s just crazy!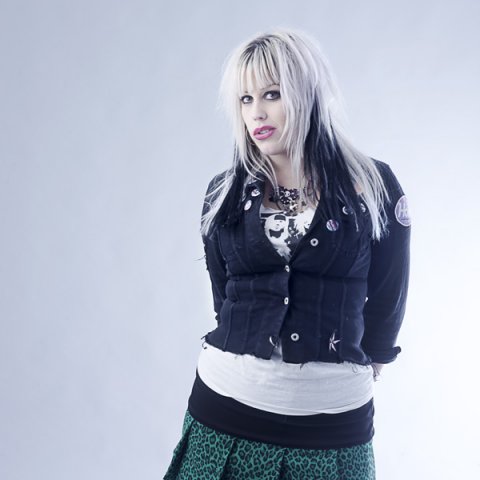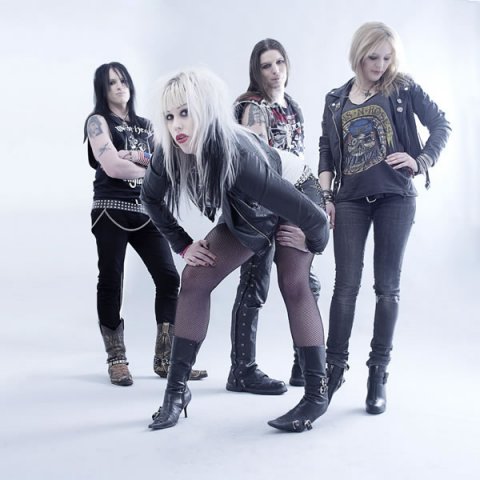 Calle:
You live in Stockholm, Sweden. There seems to be a lot of Swedish rock bands coming out at the moment. How do you see the music scene in Stockholm and in Sweden in genaral.
Jennyfer:
Yeah, it´s been like this for years! And it´s a question I always get. And a question I never know how to answer... I have no idea why there are so many good bands coming from here and why Sweden is such a big music export in general.. But it´s really cool! There´s a lot of competition though.
Calle: In June you'll play at Rock The Night Fest III in Copenhagen. What can fans expect from Jennyfer Star and The Cluster Bombs live?
Jennyfer: Yeah, and we are sooo excited! It´s gonna be a blast! I can promise a high energy set with lotsa singalong catchy rock 'n' roll tunes!
Calle: Have you been to a Rock The Night Fest before? If yes, what do you think of the event?

Jennyfer: Nope, I haven´t been there. But two of my band members have. I have heard that it´s pretty cool and special. I think I´ll love it!
Calle: There's not a lot of women in the hard rock/metal scene. Is it hard to be a woman in the male-dominated rock/metal world ?
Jennyfer: Another question I always get. I guess all the female musicians do.. Of course there´s always assholes that treat you like you´re clueless your cuz you´re a girl. But you just have to show them you can do it better than they will ever do. I try not to think about it that way though. I just wanna play. Some people like what I do and some people don´t. I think that more girls should try and get out there instead of being to scared to try. I guess some people are cut out for it and some not, and it doesn´t matter if youre a boy or a girl.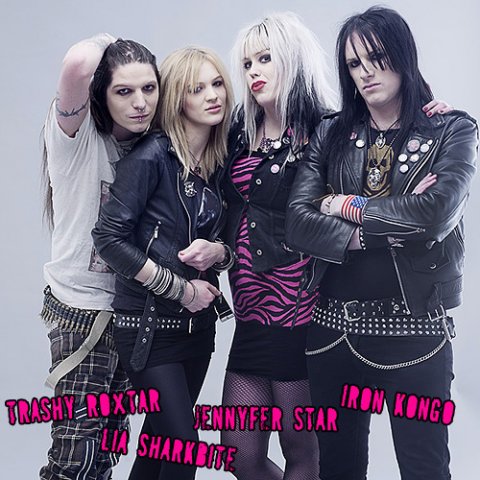 Calle: How would you describe each member of the band in only three words?
Jennyfer:
Lia: Hot, fierce and dangerous!
Trashy: Easy going, intelligent and sometimes a pain in the ass.
Kongo: Funny, talented and very empathic.
Calle:
What's the best advice you can give to other up-coming bands?
Jennyfer: Rehearse like a maniac and do everything you can to get out there! There is no easy way. Just do it!

And now some questions outside the bands music music:
Calle: What was the first CD/LP you ever purchased?
Jennyfer: The first record i ever owned was Madonna´s Cherish single on 12" vinyl. It was a christmas present that came together with my very first stereo.
Calle: What was the latest CD you bought?

Jennyfer: Hole – Nobody´s Daughter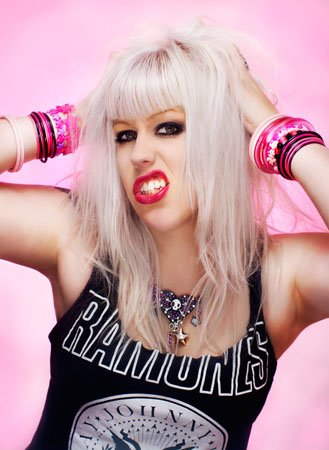 Calle: What do you do when you're not playing music?

Jennyfer: Write, walk my dog, excersise and party!
Calle: If you could name one song you wish you had written, which song would that be, and why?

Jennyfer:"I Love Rock N Roll", cuz it´s such a classic!!
Calle: If you could put together your dream band, who would be in it (not including the guys from The Cluster Bombs)?

Jennyfer: Samantha Maloney (ex Hole and Mötley Crüe tour drummer) on drums.
Calle: What's the best and the worst concert you have been to?
Jennyfer: Best – too many.. But to name a few: Fabulous Disaster, Hole, Stryper, Hanoi Rocks.
Worst – I got really disappointed when I sawe Europe (for the first time) a couple of months ago. Probably cuz I expected too much. But it just felt so old..
Calle: What's your favorite drink?

Jennyfer: Beer! And pink milk drinks. If non alcoholic; water!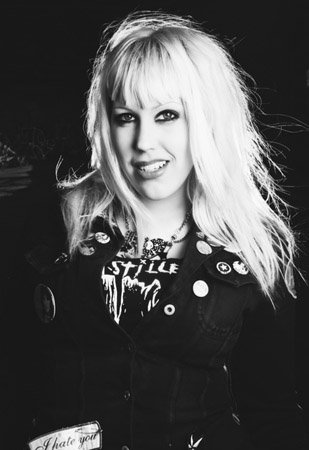 Calle: If I say Denmark, what's the first thing that comes to your mind?

Jennyfer: Pölse & Smörrebröd (med chokolaaeede!!).
Calle: Where do you see yourself in 10 years?

Jennyfer: Happier than ever, in a big house with lotsa animals and an awesome studio/rehearsal space in the basement!
Calle: Do you have any last words for the fans?
Jennyfer: Thanks for being to fuckin patient with me! And for always being there! You guys rock!!!

Click on the banner to visit Jennyfer Star and The Cluster Bombs on MySpace
The End
Hits: 720793

callerock@gmail.com