Interview with D.B. from Johnny Burning
Johnny Burning D.B.
Calle: How did the band get together?
D.B.: The band get together in the actual line up (Cesko joined in 2008) in 2005, Rob, Manny and his brother Elvis was looking for a guitar player and during that year me and Niko joined the band.
Calle: What got you into music in the first place?
D.B.: For us music, and rock n' roll is first of all

telling a message to the guys who listen to our songs, second

to have fun to write and play these songs.
Calle: How did you come up with the band name and does it have a special meaning?
D.B.: There are a lot of stories about the band name, the truth is Johnny Burning was an old pirate who burned with his ship in the seas of Caribbean.
Calle: Who are your biggest influences?
D.B.: We have a lot of very, very, different influences, but generally everything comes from the '80s, films, movies soundtracks, and surely all the L.A. hard rock and glam bands.
Calle: Name 3 "older" bands and 3 "newer" bands you can recommend?
D.B.: Guns n' roses, skid row and Motley crue, newers mmm… Crashdiet, Hardcore Superstar and Hellacopters (not too new).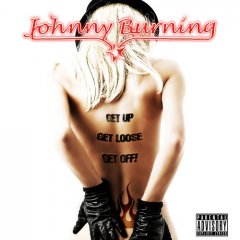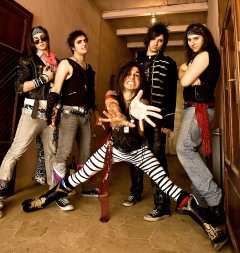 Calle: Earlier this year you released your first full length album "Get Up, Get Loose, Get Off!". How has the response from the critics and the fans been?
D.B.: The response was very good, we are very happy because it's hard to have good critics especially in italy with the genre we play. About

the fans, they are great, they support us at every gig and now we have an italian fan page too!!
Calle: To me the sound on the CD is inspired a lot by the 80's L.A./Hollywood glam/sleaze scene. These days you don't hear this style much, except from the Swedish music scene. Isn't it hard to sell CD's playing this kind of music?
D.B.: Yes, it's hard, but this kind of music, this kind of rock n roll, is the one that we want to play, no matters how many cds we sell, we play what we like and for us is the most important thing!
Calle: Where do you find the inspiration for the songs?
D.B.: We find inspiration from our daily lives, what happens to us, what we feel day by day became part of the lyrics of our songs.
Calle: If you could chose one song you wish you had written, which song would that be, and why?
D.B.: mmm. it's an hard question, there are too many great songs in the history of rock n' roll… really I don't know.
Calle: What bands have you been on tour with or played with?
D.B.: A lot of italian rock n roll bands, and recently we played with Vains of Jenna.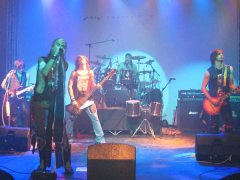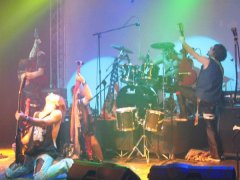 Johnny Burning live on stage
(pictures by SweetVampire)
Calle: What can the fans expect when they go see Johnny Burning live?
D.B.: Eheh they can't know what will happens during our shows because every night is different, surely they will have a big dose of good rock n' roll, loud volumes, high hair, a lot of eyeliner!
Calle: What's the largest and smallest crowd you have played in front of?
D.B.: The largest has been in a square in our city, 3000 persons, it's been amazing, the smallest I think in a pub in a little town near our city, we played in a room 4x4 mt but it's been a very good show and we liked it!
Calle: What's the must fun experience you have had at a concert?
D.B.: Oh… I think that every time we play a concert we have a new favorite fun experience…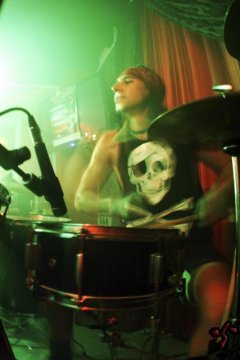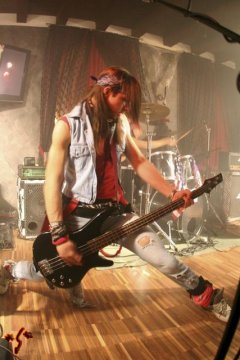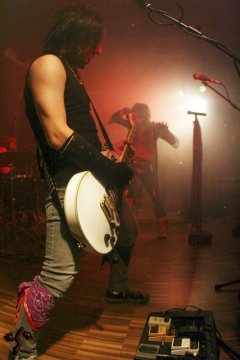 Rob Cesko Niko
D.B. Manuel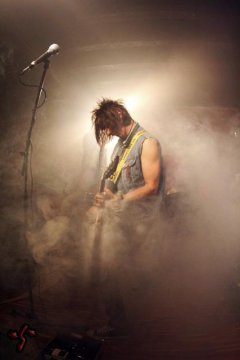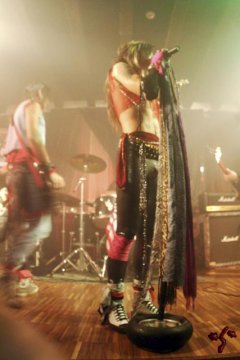 The band kickin ass live
(pictures by Sweet Vampire)
Calle: You come from Italy. How will you describe the music scene there?
D.B.: We have a good underground scene with good bands and great musicians.
But everything is suppressed by the fucking classic "musica italiana" a
shit played by 70 - 80 years old singers that monopolize everything!
Calle: How would you describe your music to people who don't know you?
D.B.: Like a dose of adrenaline!!
Calle: How would you describe each member of the band?
D.B.: mmm… I don't know, but I can tell you can describe us together as Johnny Burning.!!!
Calle: If you could put together your dream band, who would be in it?
D.B.: Guns n' roses in the original line up!!
Calle: Where do you see Johnny Burning in 10 years?
D.B.: Ahahahah I don't know what I'm going to do in 10 minutes, 10 years is really toooooooooooo far!
Calle: What's the best advice you can give to up-coming artists/bands?
D.B.: Believe in what you do, have a great attitude and perseverance (and study english… not like me ahahahahah)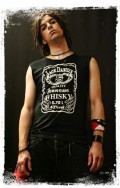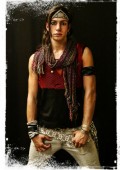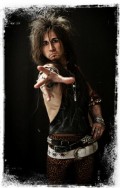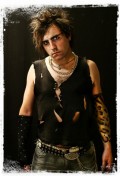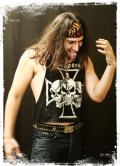 D.B. (guitar) Cesko (bass) Manuel (vox) Niko (guitar) Rob (drums)
And now some questions outside music:
Calle: What was the first CD/LP you ever purchased?
D.B.: Van halen live I listened to it just 3 days ago!
Calle: What was the latest CD/LP you bought?
D.B.: Guns N' Roses - Chinese

Democracy
Calle: What do you do when you're not playing music?
D.B.: I try to learn to be a good sound engineer and a good producer, but I have no time…
Calle: What's your favorite drink?
D.B.: BEEEEEEEEEEEEEEERRRRRR!!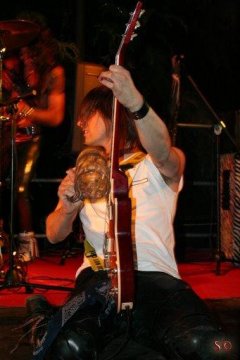 D.B. with a beer glass
(picture by Sweet Vampire)
Calle: What education do you have?
D.B.: E – d – u - c- …. What?
Calle: What do you know about Denmark?
D.B.: There are a lot of beautiful blond girls!
Calle: Any last words for the fans?
D.B.: Long live rock n roll!!!!
Click on the banner to listen to Johnny Burning on MySpace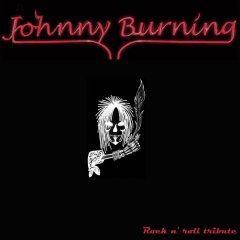 The End
Hits: 720802

callerock@gmail.com