Brandon from Diamond Lane - May 22nd 2011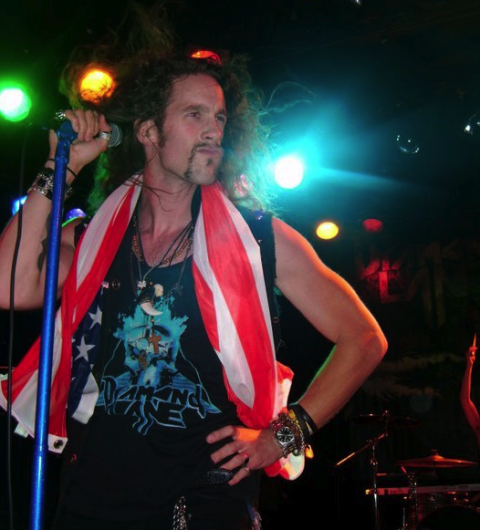 Calle: Hello Brandon how are you?
Brandon: Calle! I'm doing absolutely fantastic! Thanks for having me! I feel like a cross between He-Man and Frankenstein at the moment…still buzzing from our CD Release last week…soaking, plotting, planning the next moves….it's good to be alive.
Calle: Three years ago you did an interview for CallesRockCorner and a lot has happened since. First of all there are some new members in the band. Can you tell us a little bit about the new guys?

Brandon: It's been a long 3 years, and it really feels like we've grown as people, performers and songwriters tremendously. With every change and transition you learn a lot about yourself, what you need, what you don't, and ultimately you're a better person because of it. Having the right guys in the band is essential. We got dialled in with Ray Zhang on bass pretty much right after our last interview. That guy has the perfect attitude, work ethic and he lays his shit down. Just a positive force in the band that is a blessing to be around. Most recently Jonah Nimoy joined the ranks on the drums, and without a doubt, he compliments the music and truly plays on the next level. He's a young blood, and has so much to offer, it's truly exciting getting on stage with him. By leaps and bounds exactly what Diamond Lane needs in a drummer.
In terms of all the transitional things that got us to this moment in time, being in states of flux with certain members and what not, it's like, if you're in the band, you're in the band for a reason. There is no mystery. You play your role in the family, so to speak. There's no ego-tripping bullshit -- we call facts. Win or Lose. Dominate or Underplay. It's not rocket science. There's a right way and a wrong way. We like to keep things above board in Diamond Lane. All the guys in the band get that, that's why they're on the team. Not getting all Charlie Sheen here, but definitely in the winner's circle with all of this. It feels good to finally have rock solid foundation behind every instrument.

Calle: In that same interview you told me that you would be releasing your second album "World Without Heroes" later that year, but it was released this month. How come it take so long?
Brandon: The album still had a lot of growing to do at that point. We were still in the midst of crafting our identity as a band and we had certainly reached a capstone of what we could achieve in San Jose. It was a logical move to relocate the band to Los Angeles, expand the lineup and really start to fine tune and supe up the engine. We needed to serve the music, serve the songs, serve the potential of everything Diamond Lane has potential to become.
Once we got our feet planted and started spreading our roots in Southern California during 2009, we virtually spent all of 2010 doing the new album. We demoed 53 songs and shaved that on down to the 10 you hear on "World Without Heroes" --- no filler bullshit, just 10 killers. Too many bands suck on the tit of one really badass tune…last time I checked, 10 is better than one!
Calle: Back then you also told me that Johnny Lima, who produced the "Save Your City EP", would be the one producing the album, but instead you used Rev. Tom Chandler. How did you get in touch with him and how was he to work with?
Brandon: The plan was originally to cut the album with Johnny, but having to relocate made that reality more of a chore than a convenience. The recording process is a very involved, labor intensive thing, and since there was so much in the air, we pursued a different route down here. It's no secret that Johnny is terrific at what he does, and he's a really cool guy to boot. I could absolutely see us working together again in the future. He captured that moment in time back in 2007/8, and with the tremendous growth that's taken place in the years since, we could do some serious damage now.
So when we were playing around LA in early 2009, Tom ended up catching one of our shows and saw something very validating about what we were doing and how we presented our music. He got in touch with us, and we crafted a great relationship instantly. There's lots of mutual respect and an overall common bond of what's truly achievable here. Tom is probably the biggest music fan that I've ever met. His knowledge of so so so many styles of music and inherent understanding on how it all really works, is what was most impressive to me. He's a really cool fuckin dude, I mean seriously. His sense of humor is in fine taste and we all get along famously.
He is very diligent and meticulous in the studio, and really challenged us to find ourselves in our music. The important thing was not to try and formulate an answer, or try to emulate something else, but really tap in to that primal reservoir and make music that means something to us. Something that evokes a visceral reaction. Something that is natural. He opened up our palettes and approach to crafting these songs. Because of it, I know we've all grown as songwriters and I look forward to seeing what we will do next.
You see, I truly love working with different producers, because you learn different nuances and insights from each one. Not shit you'd read in a book, just a sage experience that you come upon only through experience experienced. You dig?
I feel like every time we come out of the recording environment, that mode, that zone, Diamond Lane is strong as ever. When you make an album, you strip it all down to the bare bones, and by the time you walk through the end of that tunnel, you've built the perfect beast and brought it to life. You then go out to teach that new beast how to live. How to feed. Bigger. Stronger. Better --- it's all such a crucial component to the puzzle. Needless to say, we've got a few things brewin' at the moment for later in the year.
Calle: Can you describe your music to people who haven't heard Diamond Lane yet and what can they expect if they buy "World Without Heroes"?
Brandon: Expect a balls-out rock record with great songs. No ballads. No filler. No bullshit. Just 10 rock solid tracks that bring home the bacon. This brand of hard rock is something fresh and exciting for 2011. People ask me all the time, "what bands does your band sound like?" --- I honestly don't have an answer, because sure, we individually draw inspirations from across the entire board, but this collection of songs are just badass rock tunes…Some fresh badass rock tunes. We sound like Diamond Lane.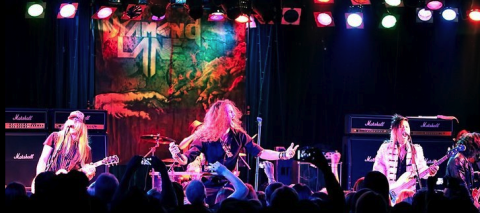 Picture by: Bill Tower
Calle: A lot of the songs on "World Without Heroes" sound a little harder then the songs on "Save The City", which to me were a little more 80's hair/sleaze/glam inspired? Did you aim for a more modern and harder sound on the new album?
Brandon: I wouldn't say that we may a conscious decision to make the music "harder", but I feel it was rather more of a natural evolution. When we really put the gears in motion in recording the album, I think we had an overall idea of what we wanted to achieve. We really highlighted the elements that make Diamond Lane what we are; Big, wild, ripping guitars, strong melody, great rhythm…I think it was just growing up a bit. Not that our previous stage was juvenile, but a couple years of real world experience, expanding, growing as a band, dealing with all the intensities that come with it, makes you a little rough around the edges, which is a great thing. You polish something too much and it disappears. We set out to make a rock album that belongs in 2011 and that's exactly what we did.
Calle: How has the response from the critics been so far on the new album?
Brandon: Overwhelmingly positive. It's fantastic. Inspiring actually. There's no secret that this offering displays significant growth for Diamond Lane, and just the whole vibe out there on the new album is just really positive. Sure, there's some that think it's more "modern" than "80's inspired", or whatever you want to call it, and that's their gripe, but I think that's a good thing. It shows the growth. This is 2011, not 1987. What does 2011 hard rock music sound like? That's always been a lingering question to me. All the songs on the album fit well together and convey a perfect slice of this moment in time. We're going to keep growing, pushing that bench press bar up up up. If you take all those bombastic elements that we all love and made that 80's era the champion, and throw it in a stranglehold with some fresh perspective? That's where it's at. Very digestible. Very inspired. Very fresh. We're not wasting anyone's time here.
Calle: Who did the cover artwork for "World Without Heroes"?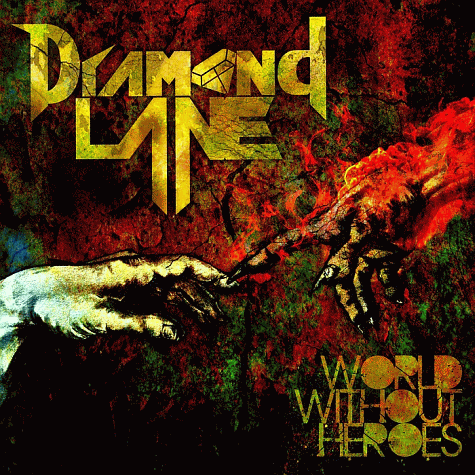 Brandon: Our good friend from back in San Jose, Kelley Stevens, whom from now I'll refer to as "The Belly", came up with the initial concept after a night of brainstorming (drinking) with Jarret a couple months back. The band had been toying with several concepts at that point, so it was a welcome phone call the next day to hear how The Belly came up with this rad idea and had rough illustrations to share. That night laid the foundation for what you currently see. After toying with different variations of the cover, Mike Diva worked his magic and brought the hand drawings to life. He really took it over the top….I'm definitely a fan of what the both did.
Calle: Was the artwork inspired by Michelangelo's chapel ceiling painting "The Creation Of Adam" and what's the idea behind it?
Brandon: That's where the inspiration came from. Michelangelo's painting is such a world renowned iconic piece of art that had never really been incorporated into something like this. In this instance, it's more of the evil reaching out and influencing mankind. We're living in a world without heroes for certain, with so much in a state of limbo, no clear cut direction, no right answers…the imagery felt appropriate.
Calle: Who wrote the lyrics for the new songs? They seem to fit in great with the sex, drugs & rock 'n' roll clichés. It seems like you just want to have a lot of fun and not try to save the world like Bono and people like him?
Brandon: Hahaha you know, people have enough to worry about and deal with on the day to day, so they certainly don't need me whining in their ear trying to adjust their worldly way of thinking. Good rock tunes are suppose to take you on a little journey, kind of pull you out of reality for a few minutes. Life is very time consuming; music just helps to throw it into slow motion.
Calle: Diamond Lane's debut live show was a sold out show at the Viper Room in L.A. and the band has opened up for Aerosmith and ZZ Top. What's up next? Do you have any tour plans in US or Europe?
Brandon: Right now we just launched our CD at The Roxy in Hollywood last week…that show was insane, and it felt great to get such a huge reception and turnout of support. Right now we have some North California dates being cemented for July --- Wednesday July 20th w/ Faster Pussycat @ The Avalon in Santa Clara --- as well as some other stuff in the works for that trip. We're also working on a few festival things for later in the summer, but it's too early too reveal any details.
We would love nothing more than to take this rock show to Europe and the rest of the U.S.. It unfortunately comes down to funding and backing. I know that we'll annihilate any stage we play, it's just a matter of putting ourselves in the position where that's possible. As soon as something materializes, you'll know, or if anyone is interested, we're ears. At this stage in the game, it's about spreading the word of the new album and doing what's best for the growth of the band. We're bigger, better and stonger than ever. We're ready to roll.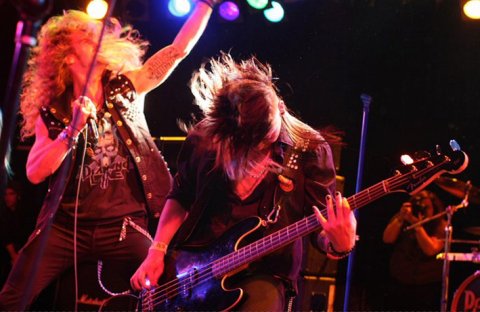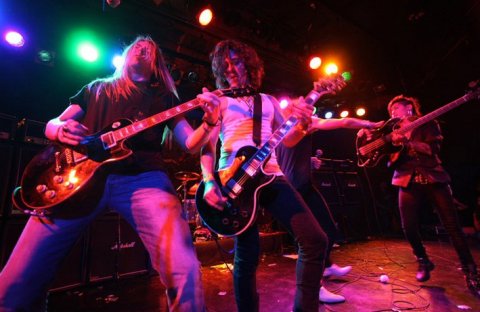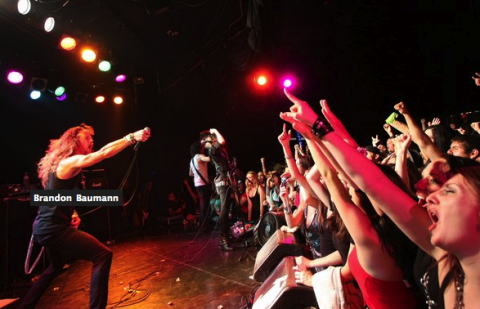 Live pictures by: Kaley Nelson
Calle: What has been the most fun or crazy experience you have had at a Diamond Lane concert?
Brandon: Honestly, there's so much cool stuff that happens on a regular basis, especially living in Hollywood, I thought I had a perfect answer to this question. In reality though, one of the wildest experiences was last week at our CD Release show on Friday the 13th. The place was spilling out the front door and lined down the block --- the atmosphere was ELECTRIC. Lots of sundresses, drinks flying all over the place…big titty piñatas and gorillas running around….all around madness, and one helluva show!! If that night wasn't a beautiful launching omen for "World Without Heroes" then I don't know what was!
Calle: What can people expect if they go see Diamond Lane live?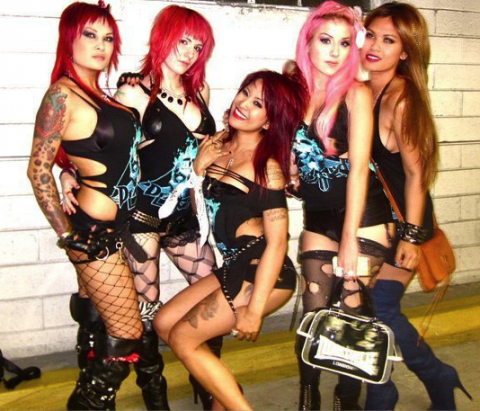 Brandon: A real rock show. Marshall stacks and drunken debauchery. Sing-a-longs and girls in short skirts. Honestly, go big or get the fuck out. That's how we do, and it's a beautiful thing. I approach how we perform as if I was a fan in the audience. What would I want to see? What would I want to hear?? Nothing short of an experience that sucks you in and transcends you out of your life and into that moment in time. That's what people deserve after a long week at work….just a time to let go, and by all means, have fun!
Calle: "World Without Heroes" will be on iTunes and other digital retailers on May 10th. If people want to buy your first album "Cut To The Chase" and the EP "Save The City", where can they get them?
Brandon: Both of the original album and EP are available in the digital world. iTunes, Amazon, all the usual suspects. Cd Baby should have a couple physical copies left of "Cut to the Chase", but to be honest, when those are gone, they are gone forever. We'll never reprint those. Always looking forward, you know? That band from 2004 ain't the band here in 2011…it all had to start someplace though.
"World Without Heroes" can also be snagged from us directly off our BandCamp: http://diamondlane.bandcamp.com à we'll have physical copies available through there in a couple weeks, as well as CD Baby and us directly using PayPal. Email contact@diamondlanerocks.com for more info
Calle: Where do you see Diamond Lane in 10 years?
Brandon: Putting out records that only bands with 20 years of experience can. Putting out music that we never knew would be so defining. This train will simply not stop and we will continue to grow and share our gift with the world. 10 years should see things bigger, better and more exciting than ever. The world deserves great music. We're just trying to and will continue to do our part to have a hand in that.
Here are a few questions outside Diamond Lane's music: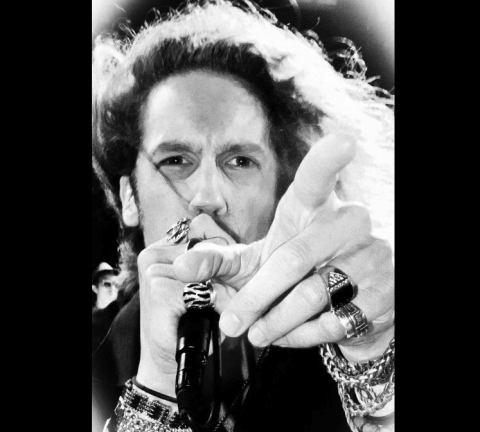 Calle: How would you describe the music scene in L.A./Hollywood and in the US in general?
Brandon: Los Angeles is a special place to say the least. There are so many bands playing in this city on any given night, that you really have to pick and choose. The bands that are doing it right don't over-saturate the market and are selective when they play. It's easy to burn out the scene, with so much going on 24/7…people can only do so much. That being said, I think the music scene down here is beautifully diverse, where you can see a multitude of talents any day of the week. When you earn a fan down here, you earn it for life. It's just up to you to keep them in the circle. There's also a lot of great places to play down here too, but with that of course comes lots of politics, leveraging and scandal…but hell, it's the Hollywood way!
What I especially look forward to is getting to head out to the Mid-West // East to play. I hear that those people bleed rock n roll, and I can't wait to give them their fix! It will be a privilege to spread the word of Diamond Lane as far and wide as we possibly can.
Calle: Are their any new bands in L.A. you would recommend people to check out?
Brandon: Bolt Action Thrill. These guys are straight up bourbon drinking Southern Rock! They are all from out in Kentucky, and everything about those guys is legit. Genuinely nice people too. We're real good friends with the whole band --- they actually did their album with Rev. Tom Chandler as well --- we get along famously and have more than a few war stories to share around the campfire. I'd definitely recommend checking their stuff out, because those cats can really play. Authentic southern rock for sure! www.boltactionthrill.com
Calle: What was the latest CD you bought?
Brandon: Foo Fighters "Wasting Light" ---- such a terrific album, and congrats to those guys nabbing their first #1 in the U.S.. I've been a huge Foos fan since '95, so it's great to see how far they've come and have yet to go. "Dear Rosemary" and "I Should Have Known" might be my most favorite tracks on the album.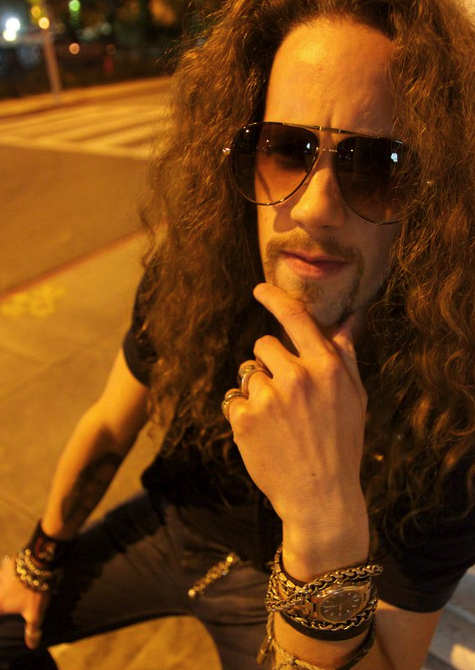 Calle: As a singer, who are your biggest heroes and your influences?
Brandon: I have tremendous respect for all gifted singers, because I understand the level of commitment. It's not just belting out some tunes, but the lifestyle choice of being a singer, and all the caveats that go along with that. Personally, Layne Staley probably had the most impact on me. Growing up in Seattle and really feeling a personal connection with Alice in Chains enabled me to cut my teeth and explore a different side of my reality. That band will stick with me always, on a personal level. Steven Tyler is also a favorite and is simply legendary. I just read he's the first artist to have a top 100 hit in 5 different decades or something insane like that? WILD! Lastly, Jeff Scott Soto is also top of my list…that guy has a canon of a voice! Stand up and shout baby!!
Calle: If you can choose one song you wish you had written, what song would that be and why?
Brandon: You know, I always used to dream that if I had a time machine I'd go back and "pen" some of the biggest hits before the actual band did it and come out with this dominator of an album. Everyone from Aerosmith to The Eagles to Metallica fell under this fantasy. That being said, it's truly hard to choose just one, but I would have to say I wish I had written "This I Love" from the latest Guns n Roses album. Axl's voice is simply magical on this track and the melody is haunting. A truly beautiful composition. Say what you will about him, but Axl can't be touched. Simply one of a kind.
Calle: If I say Denmark, what's the first thing that comes to your mind?
Brandon: I can't wait to play there! And Vikings!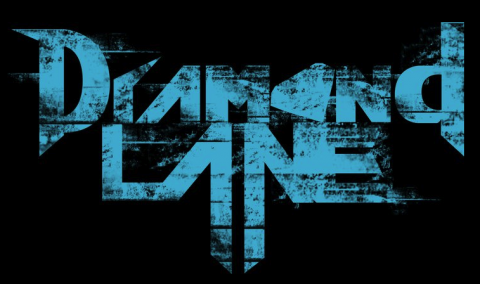 Click on the logo to listen to Diamond Lane
The End
Hits: 722518

callerock@gmail.com