Interview with Maxx Whyte from Hell N' Diesel. 23.jan.08
Maxx Whyte--->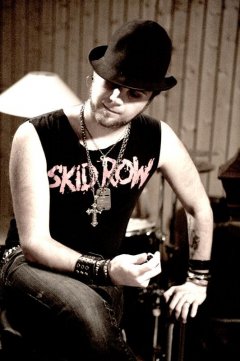 <---Hell N' Diesel
Calle:
You were formed almost 10 years ago. How did you guys meet?
Maxx:
Three of us, Sledge, Sudden and Me met in collage (gymnasium) back in 1998. We formed the band Hell n' Diesel as a different substitute to the death metal genre we all were active in at that moment. The drummer Blanco and singer Evil joined maybe a year after HND started.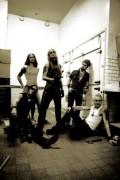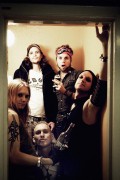 Calle:
What got you into music in the first place?
Maxx:
Tough question. I guess the most honest answer is to impress women. That's probably the most basic reason why anyone plays rock n' roll.
Calle:
What are your biggest influences?
Maxx:
My biggest influences that are revealed listening to Hell n' Diesel are probably Aerosmith, Guns n' Roses, Skid Row, Mötley Crue, Danzig, The Cult, Led Zeppelin…

I guess that goes for most of the guys in Hell n' Diesel. They would probably also add some more bands.
Calle:
Have any of you played in other bands?
Maxx:
All of us have played in different bands before or during HND. Valinors Tree, Them Dead, Obeyer, Cryptoria, Masheenary, Nocturnum, Rataxes, Soul Fracture…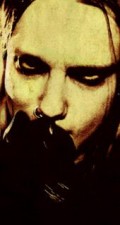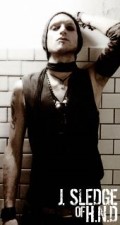 Blaco (Drums) EK Evil (Vox) J.Sledge (Guitar) Maxx (Guitar) Sudden (Bass)
Calle:
Name 3 "older" bands and 3 "newer" bands you can recommend?
Maxx:
Older: Elvis, Chuck Berry, Rolling Stones.
Newer: Guns n' Roses, Aerosmith, Mötley Crue
Calle:
What's the best concert you have been to?
Maxx:
Personally Monster Magnet during Powertrip tour.
Calle:
What's the best concert you have played yourself? And the smallest and biggest crowds you have played in front of?
Maxx:
One of our best concerts is probably in Germany at a place called Nepomuk. Biggest crowd is maybe 1000 people. Smallest is 1 person.
Calle:
In 2005 you went on a small tour in Germany with Sparzanza. Are there one or two other bands you would really like to open for/share the stage with?
Maxx:
Any band that enjoys drinking beer and have fun!
Calle:
Besides Germany and Sweden, have you been touring in other countries?
J.Sledge, Blanco & Sudden
Calle:
Do you have any planes of touring in the near future? And now that you are playing in Denmark on the 5th of April, what are your expectations?
Maxx:
Our expectations on Denmark are very high. Since we all love Denmark and know that the Danish inhabitants are very nice and polite and like to drink the pilsner. A great little country that we once upon a time clearly hated since we have fought each other for centuries. AND you can't count money as regular folks. But still – the best country in the world!
Calle:
You put out your debut album – Passion For Power - in 2007. How has the response been?
Maxx:
The response has been overwhelming from all over Europe except for some critics in the Swedish magazines. There are also a lot of nice critics from US and Japan.
Calle:
How do you write the songs? Does each of you come up with ideas or do you all write together?
Maxx:
For the most we all finish one member's idea together. Someone has come up with the basic structure and the rest tries to puzzle everything together.
J. Sledge--->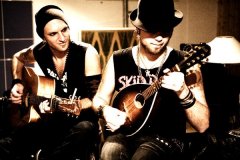 <---Maxx
Calle:
Where do you find the inspiration for the songs?
Maxx:
Girls, booze, events in life, movies, food…
Calle:
What do you do on the "tour bus"? And do you have any "tour bus" rules?
Maxx:
Listening to mixed-music-tapes, telling jokes, sleeping, showing the fuck-you-finger to passing by cars, farting, shouting dirty words acting like tourettess patients. No tour-bus rules.
Calle:
What's the best advice you can give to other up-coming bands?
Maxx
: Do your best and rock!
Poster--->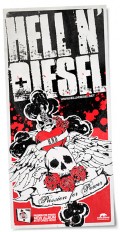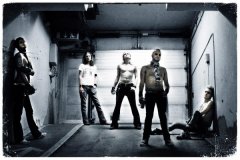 <---Band
And now some questions outside music:
Calle
: What was the first cd you ever purchased?
Maxx:
Don't remember. Wished it were a Guns record.
Calle:
What do you do when you're not playing music? What's your other interest?
Maxx
: Our interests besides music spans over many things. Graphics and arts, motorcycles, cars, PSIII…
Calle
: What's your favorite drink?
Calle:
Do any of you have another education? I mean, what did you do before Hell N' Diesel?
Maxx:
None of us have any completed education yet. Evil will soon have an education. The rest of us are a bunch of losers.
Calle:
Do any of you support a football team? If yes, which one?
Maxx:
We don't support sports at all. If bowling isn't a sport.
Calle:
Any last words for the fans?
Maxx:
Buy our album "Passion for Power" and come listening to us in Copenhagen!

We will fukking rock you!
CD-Cover--->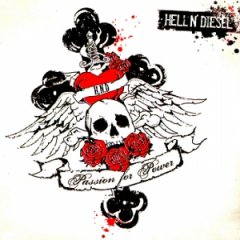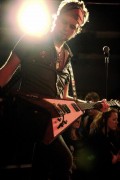 <---Maxx
Hits: 721527

callerock@gmail.com