Chris & Heber fra Kickin Valentina - september 2015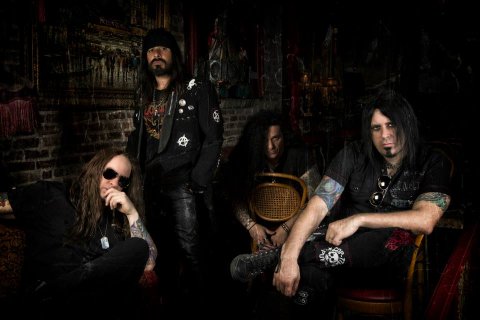 Calle: Can you give us a short story on how the band started?
Heber: Jimmy and myself started the band in late 2013, we started talking one day about what we
missed in rock music and here we are.
Calle: Did any of you guys play together in other bands before Kickin Valentina?
Chris: No, this band is the first time we all played together. I knew Jimmy and ran into Joe a few
times in the Atlanta scene. Never meet Heber until I joined Kickin Valentina.
Calle: What got you into music in the first place?
Chris: My family listened to country music when I was a kid so that was the 1st music I loved.
Around 12 years old I discovered hard rock, punk and metal bands. When I saw my 1st concert at
14, I decided I wanted to be a musician

.
Calle: Who are your biggest influences?
Heber: Wow, I have so many. I love all kinds of music. I would have to say Jimi Hendrix, Jake E.
Lee and John Sykes as guitar players and Kiss as a band.
Chris: There are a lot of bands that have influenced me for different reasons. As far as players
go, I would say Duff McKagan, Pete McClanahan from Warrior Soul, Rachel Bolan and Howie
Pyro from DGeneration.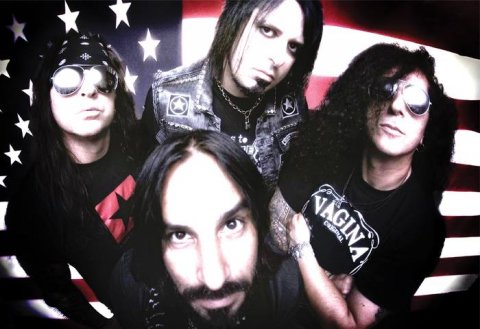 Calle: You'll release your debut full length album "Super Atomic" in November. What can people
expect from that album?
Chris: People can expect fun Rock n Roll. We aren't trying to change the world and make social
change through our music. A lot of rock bands today are trying way too hard to be taken serious
and be accepted as "artists" by whatever critical clique they are trying to impress, and it bores
fans to tears. We sing about having fun, sex and laughing at fake ass people. We just want
people to put the CD on, have fun listening to it, and forget about whatever problems they may
have in their life.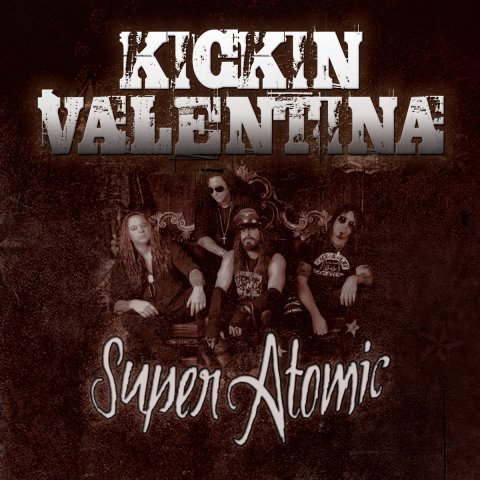 Calle: What song or songs on the album are you most proud of?
Heber: LOL, that's a loaded question!! I like them all..lol. If I had to pick one I would say "Some
Kind of Sex" or "On My Side" or "Wrong Way" or "Fist" or..lol, I can't pick one!!
Chris: My favorites are probably "Get Ready", "When You're Gone" and "Super Atomic".
Calle: The album was recorded and produced by the renowned producer/engineer Andy Reilly.
How did you get in touch with him and why did you choose him for the job?
Chris: I had actually worked with Andy in a previous band and did a couple of songs with him
years ago. I thought his work was amazing and he gets Rock n Roll. When it was time to record
a new CD, I mentioned him to the guys in the band and everyone liked the idea of using him.
Calle: The album will be released on the Danish label Mighty Music. Being an American band,
why did you choose that label and how did you get in touch with them?
Chris: We originally got in touch with them through a guy named Ken Anthony that lives in
Denmark and he had a relationship with the owner of the label. I think Ken 1st heard us on an
internet radio station, liked us and sent us an e-mail. We developed a relationship from that. He
wanted to help us out, and we went to a couple of different labels, but we really liked Mighty
Music and the fact that they were based in Europe. We have a really good underground following
in the US, but feel like as a whole, what we do is accepted a little more in Europe and we wanted
some support over there.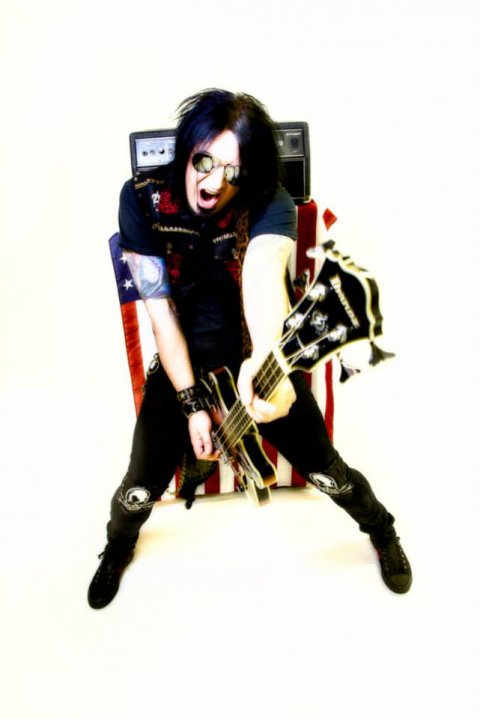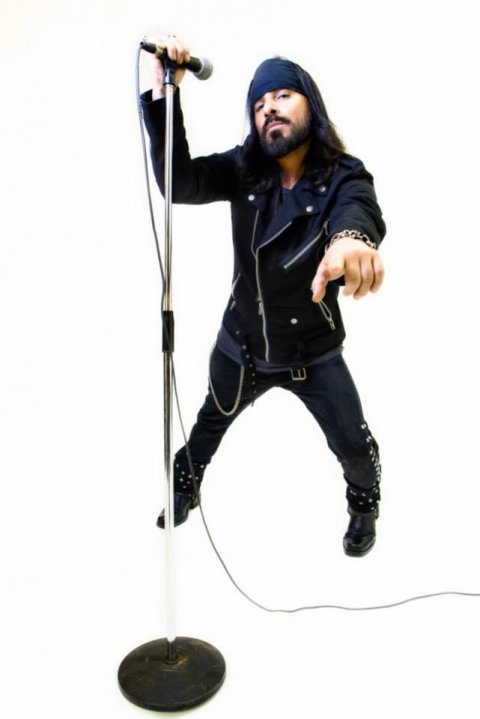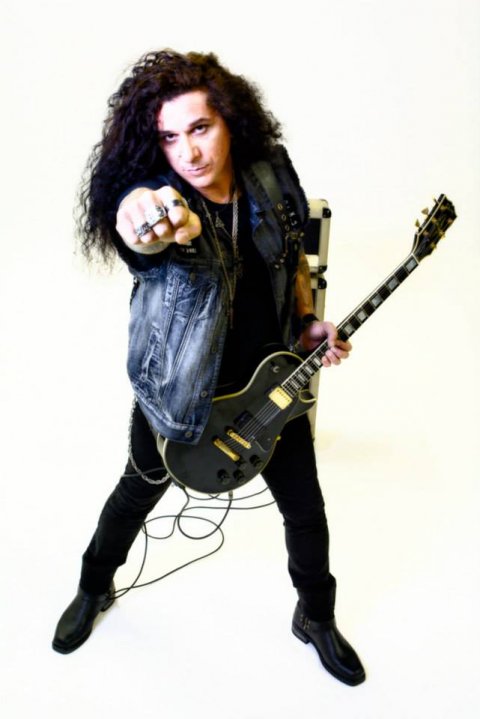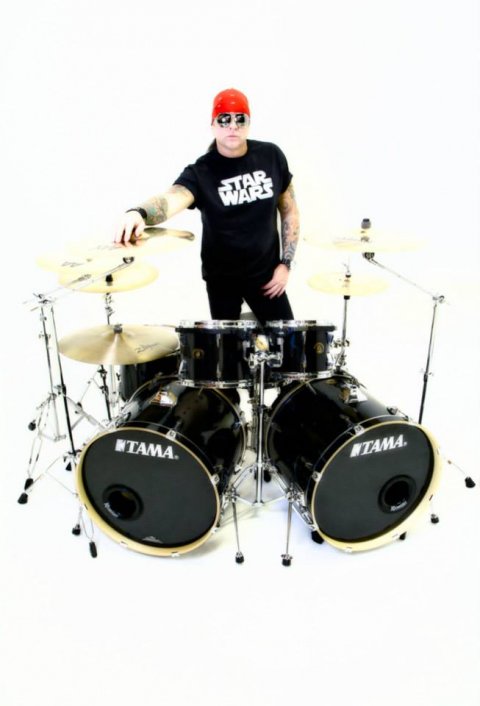 Chris Taylor (bass) - Joe Edwards (vocals) - Heber Pampillon (guitar) - Jimmy Berdine (drums)
Calle: What can people expect if they go out and see Kickin Valentina live?
Heber: A high energy, in your face kick ass show!! The most important thing is that they will have
fun and at the end of the day that's what rock n roll should be about!!
Calle: You have been touring with and opening for artists as diverse as Buckcherry,
Queensryche, Pop Evil, Skid Row, Sebastian Bach, Doro, Eve to Adam, Faster Pussycat and LA
Guns just to name a few. What's the most fun or crazy experience you have had during these
tours or shows?
Chris: Honestly, the most fun part for us is making new fans and meeting new people. Obviously
we love playing music, and we can have fun doing that with each other in our singers basement,
but the best part is playing for people who have no idea who we are and watching them get into
what we do.
Calle: Do you have any plans on a European tour in support of the new album and will Denmark
be included on the tour?
Heber: Absolutely, we definitely have plans and aspirations of getting there soon. We have some
great people working hard at making it happen!! We can't wait for it, we have people messaging
us everyday to please come to Europe…Hell, I'm packed already!! LOL
Chris: We will definitely be over there next year and yes we will be in Denmark. We have some
things in the works and hope to make some announcements soon. We already have some
European fans that have created a "bring Kickin Valentina to Europe" fan page on Facebook. Not
sure who's more ready…them or us. ha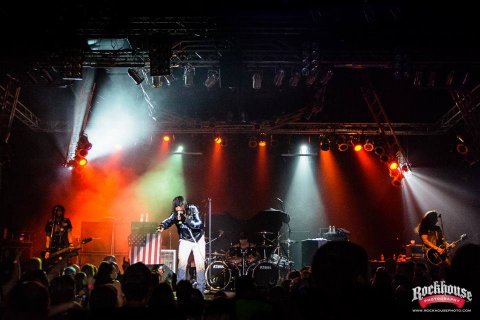 Photo by: Michael Bradley
Calle: Where do you see Kickin Valentina in 10 years?
Chris: That's a tough question. Obviously we would love to see the band be succesful enough to
still be putting out records and touring, but you never know in the music business, or any aspect
of life really. We are just thinking about whats going on right now and enjoying the moment.
And now questions about things not Kickin Valentina releated:
Calle: Besides music, what are your other interests?
Heber: My family is definitely my main interest! My 2 great kids Courtney and Devan, they are the
reason I get up everyday and smile!! I do love to play golf and watch football.
Chris: My wife and son are my world. My son is 6 and I'm enjoying watching him grow up. A few
years ago out of frustration of not being able to buy clothes I like in Atlanta, I started making my
own. So yes, I enjoy sewing. haha The guys always bust my balls about that until they need
some new shit to wear. I've sold some things here and there, but I mainly make it for me. I also
dable in screen printing and do some of the band merch myself. Golf, sewing and football…..we
sound like 2 of the most un-rock n roll motherfuckers ever. hahaha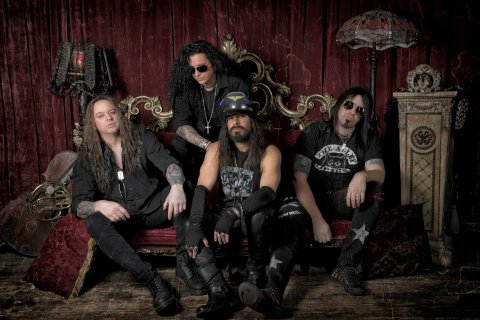 Calle: Can you name 3 other new rock/metal bands you would recommend people to
check out?
Chris: Theres a new punk band called The Interrupters that's pretty cool. They aren't new, but
more people need to know who Turbonegro is, and same thing with Hardcore Superstar.
Calle: Name one song you wish you had written and why?
Heber: Wow, just one song?? I would have to say anything in the Beatles catalog!! ….because
it's the Beatles!!
Chris: "Anarchy in the UK" by the Sex Pistols because it helped start a revolution, and gave rock
music a much needed kick in the ass at the time.
Calle: What's your top 5 album's of all time?
Chris: That's hard to narrow down. DGeneration s/t, Faster Pussycat s/t, Warrior Soul
"Salutations from the Ghetto Nation", Guns n Roses "Appetite for Destruction", NY Dolls s/t. That list would
change if you asked again next week.
Calle: If I say Denmark what's the first thing that comes to your mind?
Chris: Vikings and it gets really cold there. ha
Calle: What's the best advice you can give to other up-coming rock bands?
Heber: Don't give up, keep pushing and do what you believe in!! But most important do it for the
right reasons! "The love of Rock n Roll"
Chris: The number one thing to do is have fun and do what you beieve in regardless of trends. If
you don't have that basic concept down, you will burn out, and you will be chasing fads and forget
why you started doing it to begin with. There are a lot of snakes in this business, and it's very
important to learn the business side of everything or people will take advantage of you..
Calle: Do you have any last words for the people out there?
Heber: To our fans, we can't thank you enough for all the love and support that you guys give us
everyday. We love interacting with you, whether in person or on social media. You guys are the
ones that make this KV train move and make it so damn fun!! Keep spreading the KV love!!
"Love, Peace and Rock n Roll"
Click on the banner to visit Kickin Valentina on Facebook

Pre-order (until November 6th) / Order (after November 6th) the album:
Hits: 722359

callerock@gmail.com