Interview with Stam (Mats) from Mustasch
Calle: Mustasch was formed in 1998. How did you guys meet?
Stam: We met at concerts and rock-bars. How else do rockers meet?
Calle: What got you into music in the first place?
Stam: A band needed a bass player, and as I was fifteen years old and living in a suburb, I really needed something to do at nights.
Calle: Who are your biggest influences?
Stam: Black Sabbath, Deep Purple, Pink Floyd, Yes, Sweet and David Bowie are the ones that got me started.
Calle: There's a big rock-scene in Sweden at the moment and a lot of new bands are coming out. If you should recommend a few Swedish bands to any rock fan, what bands would that be?
Stam: Corroded is a great new band from northern Sweden, and Aggressive Chill which we have as support for our Swedish tour. Our drummer Danne McKenzie favors a band called Satan Takes A Holiday, which I haven't heard myself, but it sure is a great band name!
Calle: What can people expect if they go see Mustasch live?
Stam: If you've heard our albums then you should expect to get run over by a bunch of muscle cars, and if not, you'll feel like a freaking freight train hit you!
Stam Live: Photo by Rickard Johansson
Calle: What's the most fun experience you have had on a tour or at a concert?
Stam: I´m not sure if it's a funny experience but it is at least an experience. It was when we supported Motörhead in Germany a few years ago, and I introduced myself to Lemmy the first time. I meant to say "Hi, I'm Stam, and I'm the bass player of Mustasch", but instead I said "Hi, I'm Stam, and I'm with the bass player of Mustasch". He laughed his head off, but at least he shook my hand while laughing. Stupid me! You get one chance to get it right, and you fuck it up.
Calle: You seem to have a big fan base in Scandinavia. In what other countries do you sell a lot of CD's and have a lot of fans?
Stam: Germany and Finland are the biggest ones outside of Sweden.
Calle: In December you'll play three shows in Denmark with Karma Cowboys as opening act. What do you think of them?
Stam: We haven't met the guys yet, and the only thing I've heard is from their MySpace, so ask me again after the tour.
Calle: You have also played some shows with Super Charger. What do you think of those guys and what other Danish bands do you like?
Stam: A bunch of great guys with a solid rock´n´roll sound! I don't know if they drink too much for their own good, or if they just have a stroke of bad luck, but they always seem to get into trouble somehow. I hope things are looking up for them in the future.
Calle: How would you describe your music to people who haven't heard Mustasch yet?
Stam: Old school hard rock riffs with The Beatles-type choruses with a modern heavy metal sound.
Calle: Before the release of "Latest Version Of The Truth" your contract with EMI ran out you chose to work with Regain Records. Any particular reason why you chose that label?
Stam: That was because a major label doesn't have the proper channels to distribute harder music. Regain Records seemed to have what we needed at the time, and they are not all about a fast profit. Sometimes a whiskey barrel needs to mature a while before it tastes really good.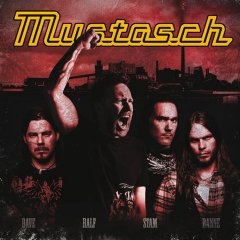 Calle: You just released your fifth studio album "Mustasch". The album seems a little harder then your previous albums. Did you try to make it sound harder?
Stam: No, but we wanted it to be faster and more aggressive, which could result in a harder sound, I guess.
Calle: On the new album you have used a string orchestra in the song "Tritonus" and you also recorded some folk music as part of the song "Desolate". Did you want to try something different?
Stam: We have done strings like on "Tritonus" before, but on "Desolate" it's a several hundred years old Swedish melody made famous by late jazz pianist Jan Johansson, which is performed by folk music violinist Calle Moreaus who often plays for the Swedish king.
Calle: How was the writing and recording process of the new album?
Stam: About the same as the previous one: Ralf writes most of the material, except for a few which are co-written by David. Then we pre-arranged the songs in David's home studio and did the final arrangements in Bohus Sound Studios together with producer Tobias Lindell.
Calle: What song or songs on the new album do you like the most?
Stam: "Heresy Blasphemy", "Mine" and "Lonely".
Calle: How have the fans and the critics responded to the new album so far?
Stam: As expected, the critics either love it or hate it, which always has been the case for us, but our fans love it of course.
Calle: You have had a few changes in the band. How has that affected the band?
Stam: The fact that our previous drummer left the band while in the studio resulted in six weeks shorter time in the studio for this album, but apart from that all else has been on the positive side. As opposed to the old guys, our new members actually want to tour all the time(!).
Calle: How would you describe each member of the band in only three words?
Stam:
Ralf: glad, angry, preoccupied.
David: resolute, shy, thirsty.
Danne: vigorous, social, vain.
Stam: defective, inadequate, worthless.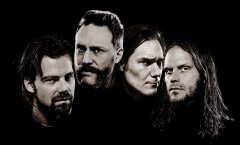 David - Ralf - Stam - Danne
Calle: Where do you see Mustasch in 10 years?
Stam: We are headlining an overcrowded Wembley Stadium, and we're having a duplicated stage built up on our self-owned Caribbean island, performing through web-casted holograms of ourselves.
Calle: What's the best advice you can give to up-coming bands?
Stam: Do not care what others think about you and your music! It is always a bad idea to compromise your own beliefs.
And now some questions outside Mustasch's music: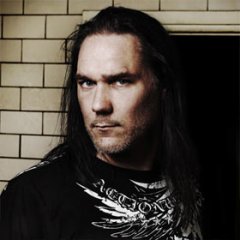 Stam
Calle: What was the first CD/LP you ever purchased?
Stam: Don't remember the first CD/LP, but the first single was Sweet – "Fox On The Run" when I was 7 years old.
Calle: What is the latest CD you bought?
Stam: Opeth – "Watershed"
Calle: If you could put together your dream band (not including members of Mustasch), who would be in it?
Stam: Jenna Jameson on drums, Puma Swede on guitar, Bobbi Billiard on vocals and myself on bass.
Calle: What do you do when you're not playing music?
Stam: The band is not only our sole profession but also a growing company, so the little time I have left I usually spend on chasing young sleazy drunk women with big gazongas. But that's just me…
Calle: Can you name one thing that you think only Swedes do?
Stam: Not calling ourselves "svenskefulla"?
Calle: If I say Denmark, what's the first thing that comes to your mind?
Stam: Pølse og Pilsner. Good stuff!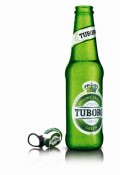 Pølse and Pilsner - Good Stuff!!!
Calle: Do you have any last words for the fans?
Stam: Indeed! Download the album and buy tickets to our concerts instead, because that's how smaller bands like us can keep going. Heavy Metal Hard Rock! Cheers!
Click on the logo to listen to Mustasch
The End
Hits: 721536

callerock@gmail.com