Interview with Erik from Overloaded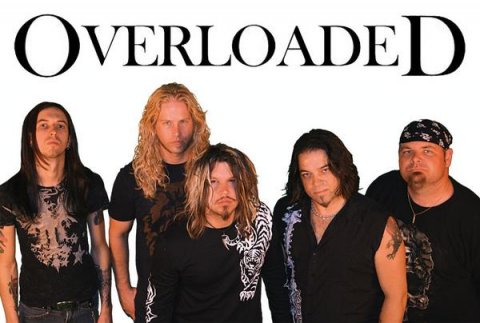 Erik Kluiber                                      The band
Calle: The band was established in 2004. How did you guys meet?
Erik: The original musical lineup of Detroit's Overloaded came from a band called Inner Recipe who's singer had quit.  A month later I jammed with Chris Gillen (who also currently sings for NWOBHM legends Tokyo Blade - see link at the bottom of the interview) at a bar called the Double O pub in Redford, Michigan.  I told him my band was looking for a singer and it turned out the band he was in at the time was calling it quits. 
Originally Chris was going to be the singer of Inner Recipe, but we wrote new music and preferred the metal direction it was heading.  We changed our name to Overloaded and immediately wrote and recorded a 7 song EP called "Hail the Kingdom". We rapidly rose to prominence in the Detroit club scene.  We opened for all the national touring bands that came to town especially at the Hayloft in Mt. Clemens, Michigan.    
Over the next 3 years, we released another EP called "Hellfire", a full length CD entitled "Regeneration", and re-released both EP's as a full length CD called "Hail the Kingdom" (2007).  Both full length cds are available at www.cdbaby.com

Calle: In January 2008 you and singer Chris parted ways with the rest of the band. What was the reason for the split?
Erik: Overloaded ran out of steam.  Although we achieved success in Detroit, we could not break out of the city.  Labels were not interested in us, and it seemed that Overloaded had reached its peak.  Chris and I wanted to write and release new Overloaded music.  The rest of the band was burnt out and had given up. The Overloaded lineup from 2004-2007 was Chris Gillen – vocals, Erik Kluiber – lead/rhythm guitar, John Sullens – rhythm guitar, Michael Massie – bass, Lorenzo Gonzalez – drums.
We split up in January of 2008 and found a rhythm section who were interested in writing new music.  We spent a few months tightening up and learning the old material.  We started playing shows again in June of 2008 including the Rocklahoma Festival in July of 2008.  The new lineup of of Overloaded is still Chris and Erik along with Eli Brown – rhythm guitar, Frank Sapartti – bass, Chris "Bootcheck" Buczek – drums.  You can view live videos of the new lineup at www.myspace.com/overloaded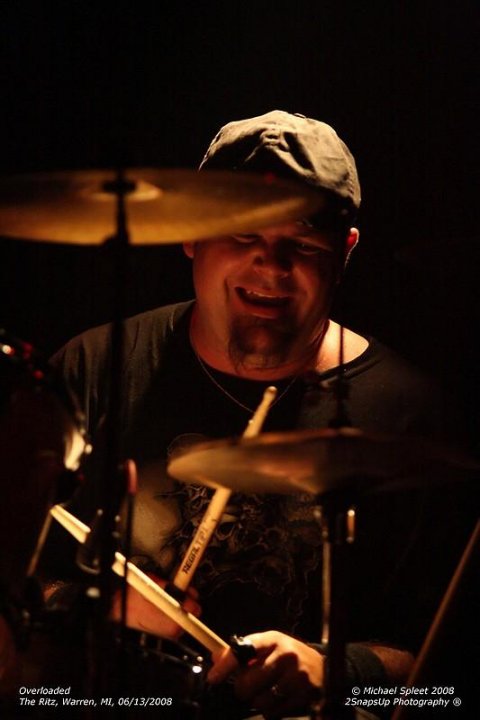 Bootcheck                    Erik                        Chris
                                         Eli                        Frank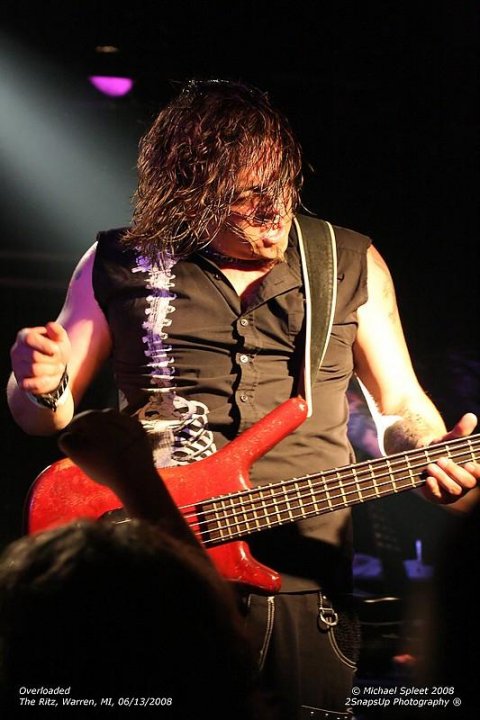 Calle: Who are Overloaded's biggest influences? And who are your own personal influences?
Erik: Overloaded is inspired by high energy metal and hard rock.  We're not fans of progressive music like Rush.  We appreciate singers who have strong original voices from John Fogerty, Klause Meine, Curt Kobain, to Tom Araya.  As for guitar, a good riff that makes your hair stand on end is something to pay attention to.  Casual listeners lazily categorize Overloaded as 80's metal.  If you pay attention and have a solid foundation of musical knowledge, you will hear that there is a lot more to Overloaded than that.  Personally, I have no problem with the 80's metal comparison.  Most of the dominant metal music was written in the 80's.  Unfortunately, the cliché 80's stereotype is used against us by media and industry types.  Ironically, Overloaded singer Chris Gillen is a student of the 90's.  He grew up on Alice in Chains, Nirvana, and Soundgarden.  He can sing Chris Cornell better than Chris Cornell.  He loves greasy metal, but got his start with music through 90's grunge.
As for personal influences, I like guitar players that can sing on their guitar.  Many guitar solos are annoying and I understand why guitar solos are looked down on at times.  In the hands of an immature player, guitar solos are pointless wank-fests in which some aspiring guitar hero attempts to prove his manhood by playing as fast as possible.   No one except competitive guitar players care how fast someone is.  The point of playing guitar is to be able to sing on your guitar.  I admire classic rock players like the Eagles, Lynyrd Skynrd, and guys like Slash who have some chops, but still know how to rock.   
Calle: What got you into music in the first place?
Erik: The 80's guitar tone. There is nothing better than the sound of Marshall Jcm 800.  Seriously.
Calle: To me it seems like you are trying to keep the heavy/metal spirit alive, and do things your own way. Are you tired of the music industry like it is today?
Erik: I own a massive cd collection that spans back decades that I listen to.  Every once in a while, I'll find an unsigned band that has something unique and exciting going on.  Check out I Decline, Colic, South Normal, Beatallica, Swashbuckle, and Graveyard BBQ to name a few.  The problem is, with no support 99% of unsigned bands will die regardless of talent.  Modern music labels are infatuated with these "extreme" metal bands.   I think there is more to metal music than non stop screaming and double bass.  I extend my middle finger and give a big fuck you to all the labels out there. You are idiots.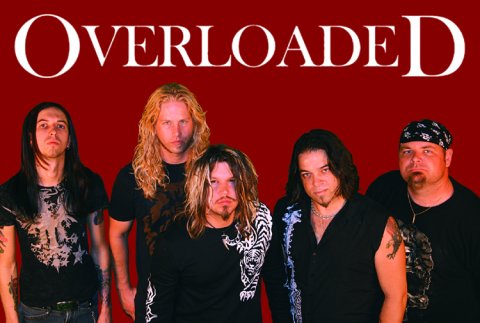 Overloaded gives the middle finger
to all the labels out there!!
Calle: Name 3 "older" bands and 3 "newer" bands you can recommend?
Erik: I'll try and name some music that isn't acknowledged as much.  As for older music that rocks that you might not have heard of or given a chance, Cinderella's "Night Songs" is an amazing record.  Most people won't ever give Cinderella a chance because they were lumped in with the cheesy glam metal movement. "Night Songs" is a straight up NWOBHM album.
Ozzy Osbourne's "No Rest for the Wicked" is Zakk Wylde's (my favorite Ozzy guitarist) best work.  My only complaint about the album is that the drums sound weak.  Randy Castillo was a good drummer, but he got buried in the mix. 
In the 90's I listened to a lot of Entombed's "Wolverine Blues" and "To Ride…."  Entombed combined death-ish metal with blues based hard rock.  It's a tough mixture to get right.  Entombed nailed it on these two recordings. 
As for newer music, I'm a big fan of Dethklok. Brendan Smalls writes amazing songs and riffs. I hope he can deliver the goods a second time around as well.
Brand New Sin is a great band out of Syracuse, New York. They play straight forward biker metal. They just replaced their singer, which are a big shoes to fill.
Life of Agony release a solid hard rock album a few years ago called "Broken Valley". I don't think the media paid any attention to it, but I really enjoyed it.
Calle: After releasing a few EP's ("Hellfire" and "Hail The Kingdom", which have been re-issued as full length CD entitled "Hail the Kingdom") you released your debut full length CD "Regeneration" in 2007. The CD was well received by the critics. How has the response from the fans been?
Erik: Some fans complained that Regeneration isn't "80's" enough. What they don't realize is that Overloaded never set out to be an 80's band. We write what we feel at the time. There is no pre-set formula that we follow.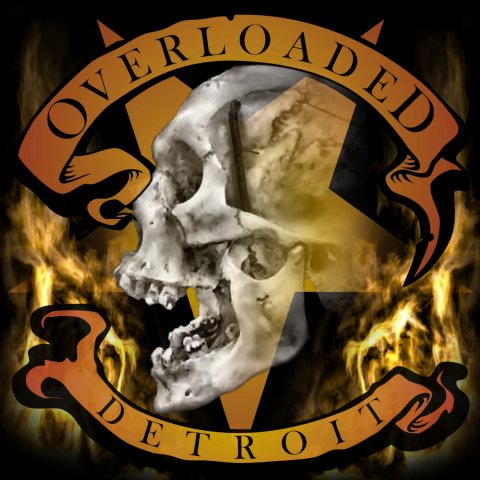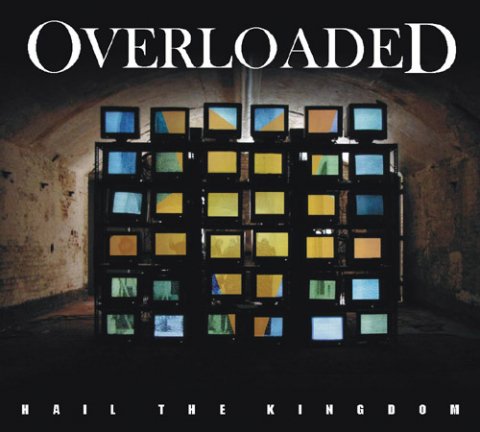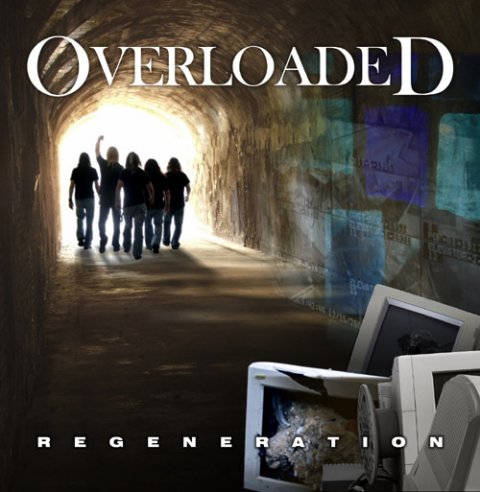 Hellfire                Hail The Kingdom          Regeneration
Calle: How do you write the songs and where do you find the inspiration for the songs?
Erik: Songwriting is a very simple and organic process. The foundation of all the songs is a good guitar riff, which sets everything in motion.  Some guitar riffs are written at home, many riffs come from out of no where in the middle of practice.  From there, the rhythm section starts grooving and Chris starts singing.  If the stars are aligned we might have 83% of a song complete within a few hours.  Overloaded adheres to the age old philosophy of "Keep it Simple Stupid". 
To me, inspiration comes from the music sounding good acoustically so I can feel it.  If I can get in the groove, I can write for days.  I get no inspiration from outside sources such as emotion, tragedy, drugs, pussy, etc.  There is one simple inspiration to music – ROCK. 
Calle: If you could chose one song you wish you had written, which song would that be, and why?
Erik: The most powerful cover songs I have ever performed in front of an audience were Credence Clearwater Revival songs. John Fogerty is the man. 
Calle: If you get the chance to write and play a song with another musician, who would you like that to be? 
Erik: It would be fun to jam with Slash. It might also suck. I dunno, I've never met the guy.
Calle: Overloaded are from Detroit. How will you describe the music scene there, and in the US in general?
Erik: I think Detroit is better than most towns in the rock and roll dept.  Detroit has die hard rockers who come out and support local music at some decent clubs scattered across town.  It's a small scene where everyone knows everybody. Most shows are in front of 75-200 people. We perform, everyone has fun and spends all their money on booze The bars make all the money.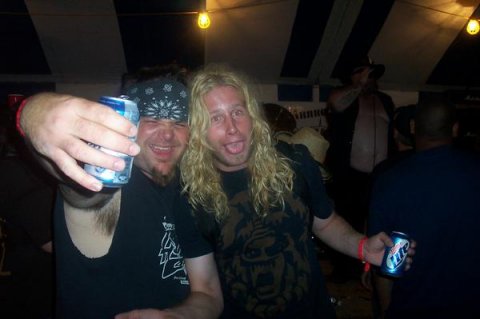 Bootcheck and Erik at Rocklahoma
Calle: You have played with a lot of different bands like Mötley Crüe, Hellyeah!, Skid Row, Godsmack, Soil, White Lion, Alter Bridge to name a few. What tour or concerts has been the best and most fun experience?
Erik: Godsmack was the best because they treated us like a real band and it was 2 big shows in a row.  They gave us a full sound check and lights and made sure we sounded good onstage and out front.  Overloaded does not normally get that sort of treatment.
Calle: What can the fans expect from Overloaded when they go see the band live?
Erik: It's very simple.  Overloaded travels to some tiny club, we plug in our amps and play.  There is no light show, and hopefully the soundguy knows what the fuck he's doing.  People have a good time and the bar makes money.  You have to be there to experience it.  Overloaded has good recordings, but the music is more entertaining live.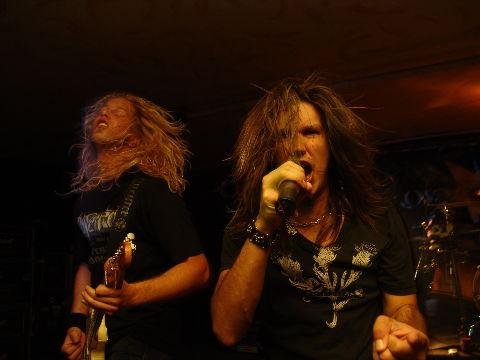 Erik and Chris live on stage           Erik, Eli and Frank live on stage
Overloaded kickin' ass live
Calle: If you could put together your dream band (not including anyone from Overloaded), who would be in it?
Erik: I don't believe in dream bands.  You don't pick out stars, throw them in a room and think they're going to be able to write one song worth a piss.  Most "supergroups" suck ass.
Calle: Where do you see Overloaded in 10 years?
Erik: I don't know. We have as much going against us as we do going for us.  This isn't a Disney movie, this is real life. 
Calle: What's the best advice you can give to up-coming metal bands?
Erik: Time is the most valuable commodity of all.  If you don't think your band is good enough, quit and find a project worth your time.  Also, if you're still in school, take choir.  I wish I did.
Erik wish he had taken choir lessons in school
And now some questions outside music:
Calle: What was the first CD/LP you ever purchased?
Erik: The first cassette tape I ever purchase with my own money was Cinderella's "Night Songs".
Calle: What was the latest CD/LP you bought?
Erik: The most recently released cd I bought was Dethklok although I've been meaning to pick up the new Testament cd.  I purchase many cd's through ebay, but they are not new releases.
Calle: What do you do when you're not playing music?
Erik: I recently went fishing a few miles out on Lake Michigan in Milwaukee, Wichigan with my dad.

 

We caught some Salmon and a Brown Trout.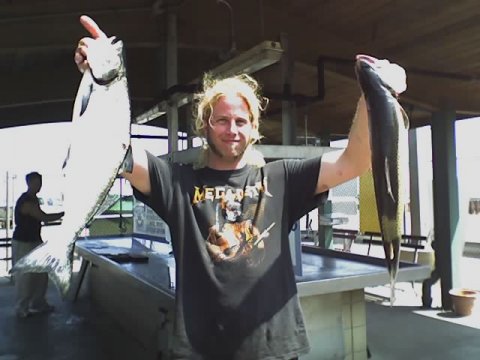 Erik showing what he caught
Calle: Overloaded are sponsored by Jägermeister. What's your favorite drink? :o)
Erik: I love Jager, but I have to be careful with it.  If I drink too much of it, I trip out.  I like simple American beer like Budweiser or Bud lite.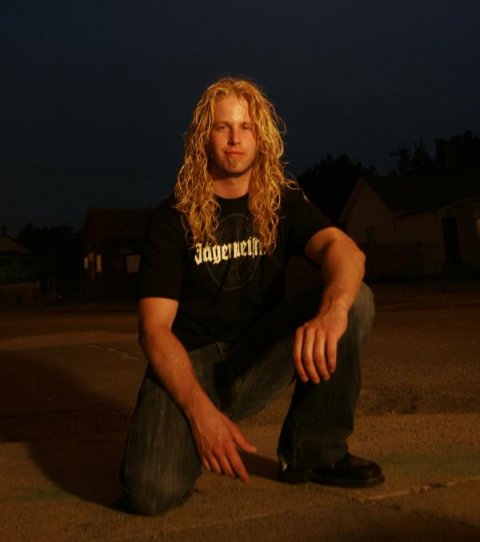 Erik wearing a Jägermeister t-shirt
Calle: How would you describe each member of the band in only one word?
Erik:
Frank Sapartti – Jack Daniels
Calle: Any last words for the fans?
Erik: Purchase Overloaded CD's "Hail the Kingdom" and "Regeneration" at www.cdbaby.com
Chris and Frank will be touring Europe as part of NWOBHM legends Tokyo Blade in November 2008. 
Chris and I also perform in a band called The Allies.
Click on the images and check out the bands on MySpace
And listen to Overloaded here
Hits: 722520

callerock@gmail.com