Interview with Swan from BlackRain

Calle: Can you tell us a short story of the band?
Swan: Blackrain is a sleaze band from France; we released our firsts demos from 2004 to 2006 with Max2 at the guitar, Heinrich at the bass, Big Balls at the drums and myself at the vocals. We released our first album "License To Thrill" in 2008, from here Iann replaced our former drummer and we started to tour quite a lot in Europe, we signed a deal with Listenable Records, re-released the "License To Thrill" opus and we're now mixing our new album. We now have a strong team around us and are ready to explode.
Calle: What got you into music in the first place?
Swan: Rock n roll made me crazy the first time I've listened to it... can't do anything bout that, I was young and innocent, I guess it's chemical!!
Calle: Who are your biggest influences?
Swan: We re all listening to many different things but I guess our biggest influences come from bands like WASP and Guns n Roses or Mötley Crüe!
Calle: Did any of you guys play in other bands before BlackRain?
Swan: Na, BLACKRAIN is our very first band!!
Calle: How would you describe your music to people who haven't you?
Swan: I would talk about rock n roll made by Blackrain, very melodic, you'll find party songs and also some darker tracks, anyway its all about catchy vocals melodies!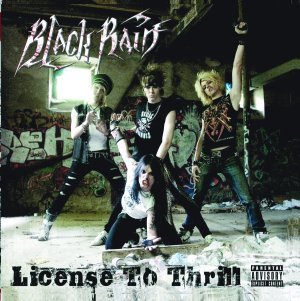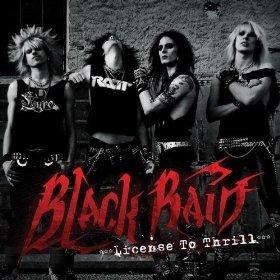 License To Thrill CD cover (old and re-release)
Calle: Like you said, you released your first CD "License To Thrill" in 2008. How has the response from the critics been?
Swan: We had good n less good critics, depends on the country, we re satisfied with what we heard in general, this is not a perfect album but it contains some awesome songs in my opinions. We always listen to the critics, we still have a lot to learn and we're more motivated than ever.
Calle: Where do you find the inspiration for the songs?
Swan: In everyday life dude, it comes with all the shits that happen in your life and how it makes you feel then... believe me we're far from being out of inspiration, you'll get the proof soon with our upcoming album.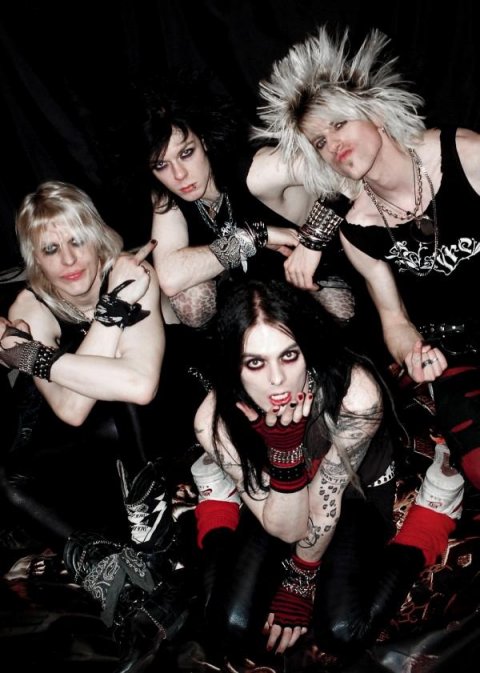 Calle: The CD was recorded in Polar Studios in Sweden with Chris Laney. How did you get to work with him?
Swan: I heard quite a lot about him since I like to travel to Stockholm, he made some albums that we love so we just contacted him and he made the job!! He's an awesome guy.
Calle: What bands have you been on tour with or played with?
Swan: Only "small" bands like us, we also recently supported Europe in Paris, we've been touring quite a lot "by our own", we moved our ass to Germany, Italy, Spain, Holland, Switz, Sweden, Norway and even Japan, so I think I can say we had some live experience, we love the life on tour.
Calle: What bands would you like to play with or open for?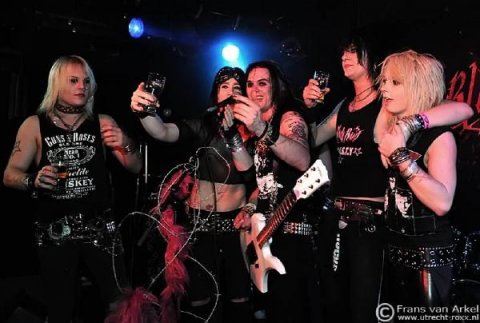 BlackRain and Sister
Swan: I'd "like" to play with friends (Sister/Crashdiet) because I know it would be lots of fun but we d love to support any other bands, its a pleasure to play n I think time has come for us to get on bigger stage. Can't wait to kick everybody's ass!!
Calle: On June 4th you'll be playing at Rock The Night Fest III. This is your first time in Denmark. What do you expect from the rock fest and the Danish people/fans?
Swan: Fuck yeah, our first time there, I've seen some nice video from the rock club and it seems to be a pretty place.... I hope people will enjoy our show, its going to be the first time we play our new setlist, we re really exited about that date, hope its the same for Danish people hehe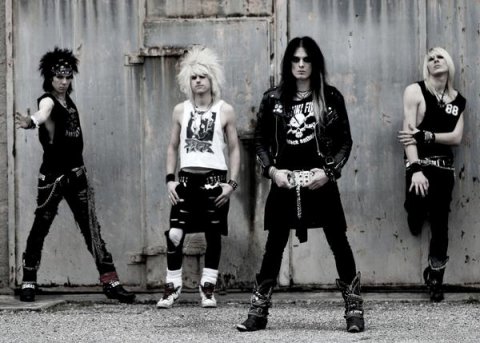 Calle: I actually recommended BlackRain to Martin D'Amour (the guy behind the whole thing), and he finally booked you. What can I, and the rest of the people attending Rock The Night expect from you guys live?
Swan:
Thanx a lot for your help man! Well, we re actually rehearsing everyday the new set list so I guess we'll be able to make quite a good show that night, its usually a lots of energy with BlackRain on stage, don't think you'll be disappointed, hope we'll see you guys moving your ass like hell during the gig!
Calle: What's the must fun or crazy experience you have had on a tour or a Black Rain concert?
Swan: I have nice "memories" from our tour with Sister in Germany/Holland, especially in Holland, I don t think its a good thing to give you more details actually. Anyway, everybody knows what can happen with rock n roll bands n alcohol n stuff on tour...?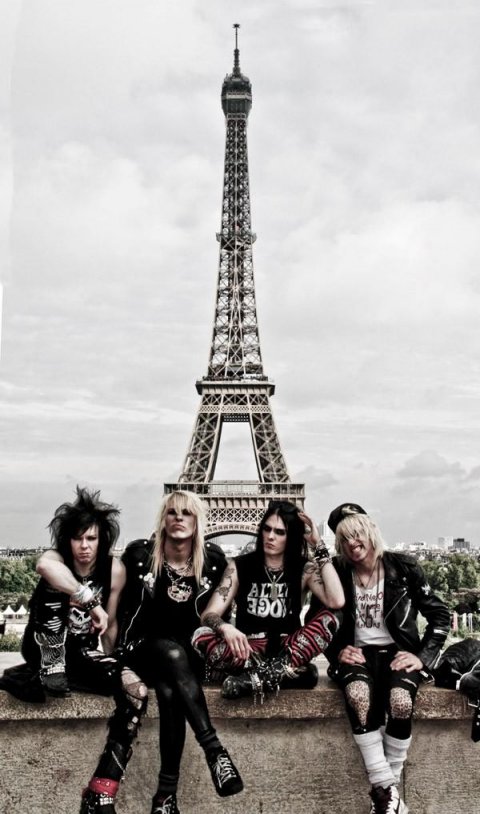 Calle:
Black Rain is from France. How will you describe the music scene there?
Swan: hmmm?? What scene....we re just trying' to make a scene...
Calle: Can you recommend 3 bands coming from France?
Swan: We like our friends from Frenchkiss/Rakel traxx and Aesthesia, that's about the rock bands, then you'll find great metal band like Dagoba but that's another style.
Calle:
You have recorded "Lost Horizons" as a bonus track for the "Reborn In Sleaze – A Tribute To Dave Lepard" CD that are being released by Street Symphonies Records. Did you choose the song yourself?
Swan: Yeah, I love that song, I always thought that was a waste to keep that song unreleased, so we recorded two versions of that track, it wasn't especially for that tribute record in the beginning. It's good to know we can find a version of that ballad on a CD.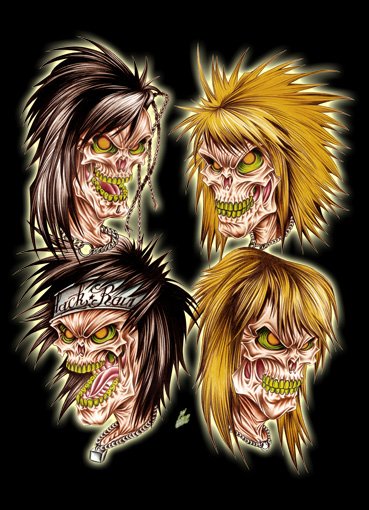 Calle:
When can we expect a new full-length CD from BlackRain?
Swan: Hopefully in October, we re still in the studio to mix new songs, we're working hard on the record, I think we have killer songs, we re mixing the shit in a great Parisian studio with an awesome sound engineer, we're expecting something real nice with the prod... we re really really proud of our "almost new born baby"
Calle:
How would you describe each member of the band in only 3 words?
Swan:
Max2/ the joke guy
Iann/ the dick man
Heinrich/ the clever dude
Swan/ don't like to talk about myself hehe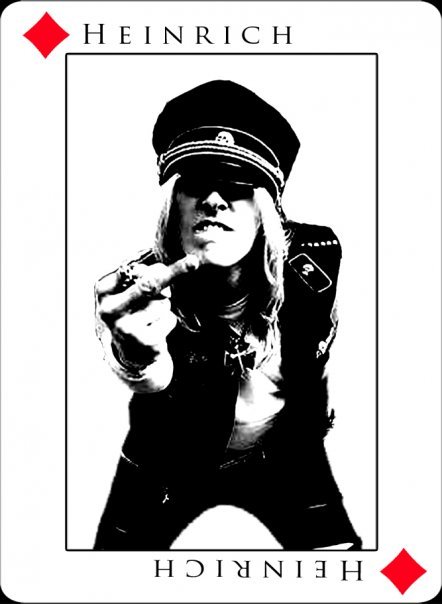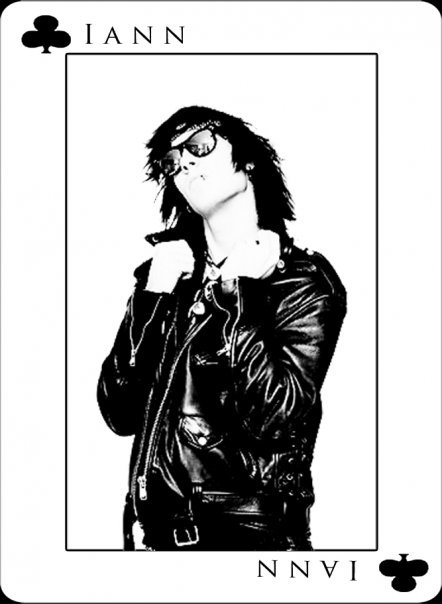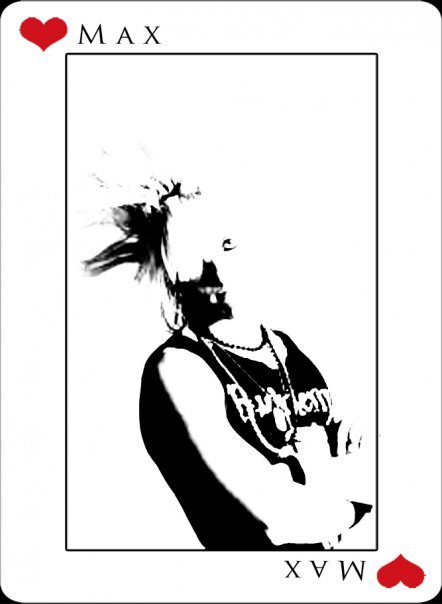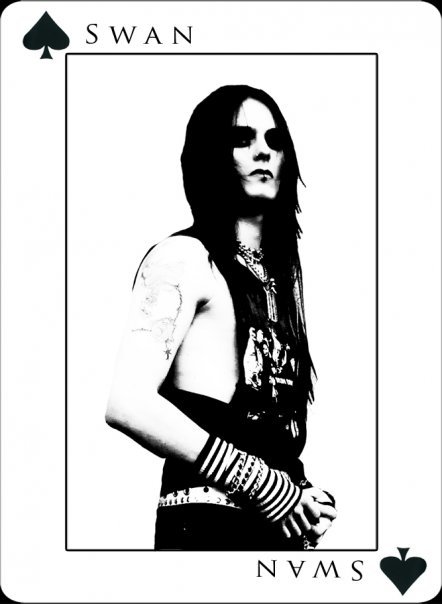 Calle: Where do you see BlackRain in 10 years?
Swan: Well, I tend to be scared when I look around me n see how bad is the music industry nowadays... But lucky us, we got such a great producer that help the band like hell, so I can hope we'll headline some great fest, I hope Blackrain will start to be a "way of living" that we'll eventually start to make some money, in 10 years we'll have spread rock n roll in France (which is the most complicated thing EVER!!!) Blackrain will take over the fuckin world!!
Calle: What's the best advice you can give to other up-coming bands?
Swan: Think twice before you've lost your job, your girlfriend and all of your money, you better be sure you have the guts to live that rock n roll life.
And now some questions outside Black Rain's music:
Calle: What was the first CD/LP you ever purchased?
Swan: First CD Iron Maiden "The Number Of The Beast" or Nirvana's "Nevermind" and my first tape was Metallica's "Ride The Lightings"!
Calle: What was the latest CD/LP you bought?
Swan: CD "Rest In Sleaze" by Crashdiet and LP "The Headless Children" by WASP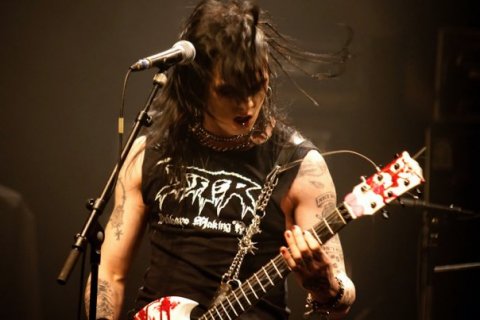 Calle: What was the first song you can remember listening to?
Swan: Something from Janis Joplin that I can t remember the title but the first song that really made something bad to my poor brain was "Jumping Jack Flash" from the Rolling Stones!!
Calle: What do you do when you're not playing music?
Swan: I don't really have time to do something else now, but if I could, I d love to take a walk alone in a good old forest.... get drunk would be maybe cool before the walk thingie hahaha
Calle: If you could put together your dream band (not including the guys in BlackRain), who would be in that band?
Swan: That's tuff!!! I would say, Slash at the guitar, Nikki Sixx on bass, Vik Foxx on drums, Blackie Lawless or Sebastian Bach for the vocals!!!
Calle: If you could chose one song you wish you had written, which song would that be, and why?
Swan: "Estranged" from Guns n Roses, because I still don't understand how to make a song like that...
Calle: What's the best and worst concert you have been to yourself?
Swan: The return of Mötley Crüe in Europe was something good, can t remember what was the worst one... was probably too bad to be remembered
Calle: Can you tell us one secret about yourself?
Swan: I listen to "Joe Dassin"
Calle: If I say Denmark, what's the first thing that comes to your mind?
Swan: Blond hair, rock n roll, boobs rock the night!!
Calle: Do you have any last words for the fans?
Swan: Rock like fuuuuck, cya all the 4th of June for a great show and a fuckin afterparty!!!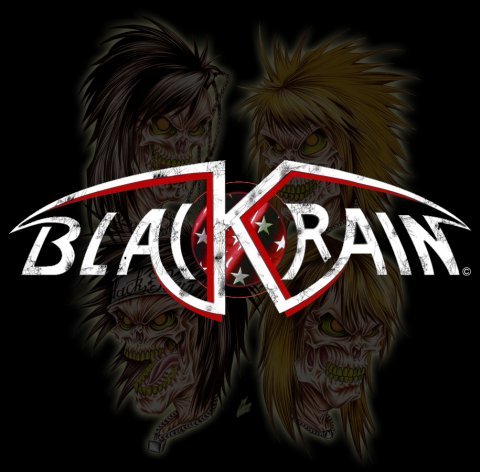 Listen to the band on MySpace, click here
The End
Hits: 720795

callerock@gmail.com