Interview with Fatal Smile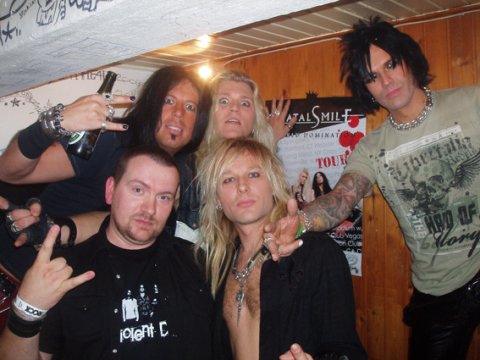 Me and the band backstage before the show at The Rock
Calle: Fatal Smile was formed in 1995. How did you guys meet?
Y: It was a long time ago. I knew the bass player Markus and we were looking for a singer. We found H.B. Anderson through an add in the newspaper. And until now, we have had three different drummers.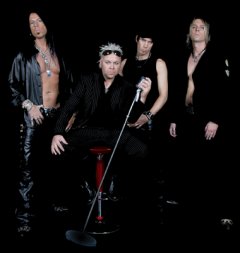 The old Fatal Smile
Calle: In 2007 there was a line-up change in the band. What happened with the other guys?
Y: We didn't want the same thing anymore. The other guys wanted families and I wanted to move on with the music. I've known Alx (new bass player) for about 10-15 years, because we grew up in the same little town in Sweden. I told him, if I ever got a band together and was in need of a bass player, I would call him.
Alx: Before I joined the band I was the lead singer in a thrash band.
Calle: What got you into music in the first place?
Y: I saw John Sykes in a Whitesnake video for "Love Ain't A Stranger". And all I wanted to do after that was to play guitar.
Zteff: The main reason I got into music is KISS. They are amazing.
Alx: I think there was a lot of crap music around, but then I discovered Judas Priest and later on Iron Maiden.
Calle: Who are your biggest influences?
Blade: Dr. Alban and Ace Of Base. (all the other guys laugh including me).
Y: Whitesnake, WASP, Mötley Crüe and a lot of the other bands from the 80's.
Calle: How do you write the songs in Fatal Smile?
Y: I wrote the music before this band got together.
Blade: Alx and I met in my house where I have a studio. We worked on the lyrics for the songs.
Y: We also used the help from a guy in the US. His name is Paul Sabo and he wrote the lyrics for four of the songs on "World Domination". We send him the melodies on the Internet and he sends them back with the lyrics.
Blade: He rewrote some of the lyrics we had written and I thought they were pretty cool, so we went with his lyrics instead.
Alx (bass), Blade (vox), Y (Guitar) and Zteff (drums)
Calle: Where do you find the inspiration for the songs?
Blade: Female genitals, Danish beer and Jim Beam. Ha...Ha….
Y: I usually find the best inspiration the day after a party when I'm a little hung-over. I have written the best melodies that way.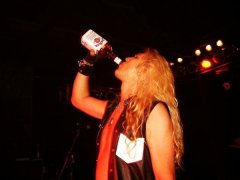 Blade with his inspiration Jim Beam
Calle: If you could chose one song you wish you had written. What song would that be?
Y: That's a hard question.
Blade: What song has made the most money?
Alx: I wish I had written "Fear Of The Dark" by Iron Maiden.
Blade: For me it has to be "Still Of The Night" by Whitesnake.
Y: Still hard to chose just one song, but I'' say "Wild Child" by WASP. It's a f**king great song.
Zteff: For me it has to be "Gods Of Thunder" by Kiss or maybe "Jailhouse Rock".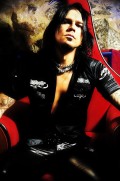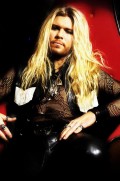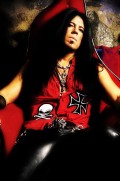 Fear Of The Dark Still Of The Night Wild Child Gods Of Thunder
Calle: I know you have opened for Dio at some shows in June and you are opening for Vince Neil on some European dates in December. That's a great opportunity to play in front of some big crowds.
Y: Yeah...the shows with Dio were a dream come true and we're really looking forward to the shows with Vince Neil. He is one of the guys from the 80's music scene in L.A./Hollywood and he's still around. So it's going to be great.
Calle: What are the biggest and smallest crowds you have played in front of?
Blade: We played some great shows in the US and I guess some of the biggest crowds were about 4000 people.
Zteff: We also played K-1 – Rumble Of The Kings in Stockholm (it's said to be one of the largest martial arts events in the world) on May 31st. We opened the show and played a few songs. And there were about 8000 people there, so that must be the biggest crowd. Backyard Babies has also opened the K-1. (see Fatal Smile performing Live And Let Die at K1 at the bottom of the interview).
Y: I guess the smallest crowd we have ever played was at a private party for maybe 200 people.
Calle: Do you know haw many people there'll be here tonight?
Y: No we're not sure. The date was changed on a short notice, so we don't know if the message got out in time. Guess we'll have to wait and see.
(There were only about 100 people at the show at The Rock, but I talked to the band after the show and they were satisfied anyway. They said the loved what they do and still try to put on a great show no matter how few people shows up. And they did put on a great show if you ask me - See my pictures from the show here).
Calle: In the beginning of the year you toured in America opening for Doro and WASP. That must have been a great experience?
Y: Those were two different tours. But both tours were great. I can't name one thing that I thought was the best experience. On the WASP tour we had our own tour bus.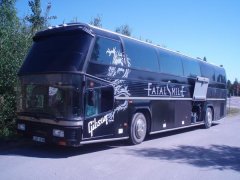 Alx: Just being on the road and to see all those cities were great.
Blade: Doug Blair (guitarist in W.A.S.P.) came to visit us in Sweden after the tour. He loves the Swedish girls a lot and he plans to come visit us again.
Y: He's a really cool guy and we went out on town a few times.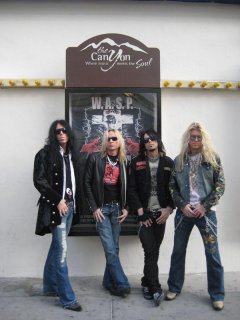 On tour with WASP Fatal Smile with Doug Blair of WASP
Calle: What about the Doro tour?
Y: On the Doro tour we shared the bus with her and the band.
Blade: Yeah it was fun and they had some fans following us around from city to city. There were about 10-15 people following us for about 9-10 cities, so it was kind of cool and we got to no them.
Y: There are actually a few German fans here in Copenhagen tonight.
Calle: On the tour in the US you also headlined the legendary Whisky A Go Go. That must have been another great experience?
Zteff: It was kind of a release-party for the US release of "World Domination".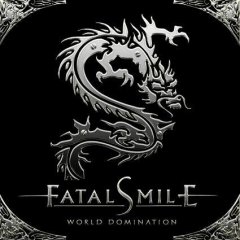 World Domination cd cover
Y: Yeah...KNAC.Com and some of the L.A. Guns dudes helped us put on that show. And it was a great experience to play that legendary club.
Calle: What other bands would you like to play with/open for?
Y: Whitesnake, Metallica and Mötley Crüe.
Zteff: KISS for sure.
Alx: I would really like to open for Iron Maiden.
Calle: What has been the best and the most fun experience you have had on the road or at a gig?
Blade: It's hard to point out one thing. Just visiting all those great cities like New York, Las Vegas, New Orleans, Toronto etc.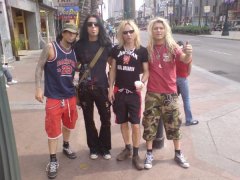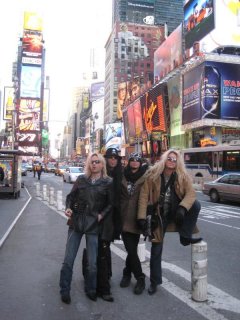 Fatal Smile in New Orleans Fatal Smile in Manhatten (New York)
Y: And it has also been great to meet all those nice people in the US and around Europe.
Zteff: When we were in Seattle and saw Jimi Hendrix's grave. Maybe it's not something to do with our music and being on the road, but it was great.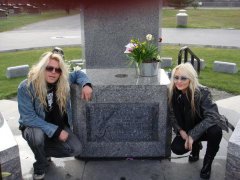 Blade and Doro by Jimi Hendrix's grave
Alx: I think everyday was one new great experience.
Calle: Do you guys have a special thing you do before you go on stage?
Y: We just chill and have a few beers. Not to many though. We have seen other bands go on stage to drunk.
Blade: We try to load up and focus on the show.
Y: But we don't have a special thing we do.
Calle: What can the fans expect when they go to a Fatal Smile concert?
Y: A kick ass rock 'n' roll show and also a lot of energy.
Blade: They can expect four front men. None of us hides on stage. We all really like what we do.
Y: And you can see that we all have a blast when we are on stage.
Some of my pictures from Fatal Smile show at
The Rock in Copenhagen on sept. 26th 2008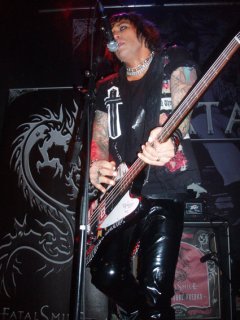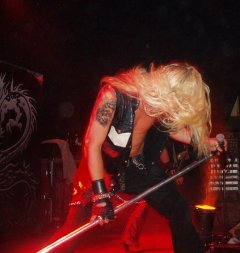 Alx Y Blade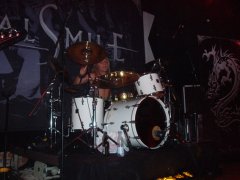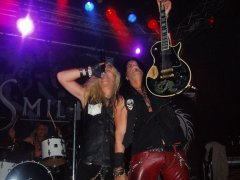 Zteff Zteff, Blade and Y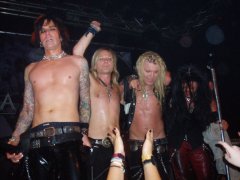 End of a kick ass show
Calle: Y, you produced the new CD "World Domination" and Michael Wagner mixed it. Why did you choose him for the job?
Y: We chose him because 9 out of 10 of the old CD's we listen to, he either produced or mixed. And he really liked our songs, so that was great.
Blade: And not to forget, he is legendary.
Calle: How would you describe your sound?
Blade: In your face rock 'n' roll and fun to play.
Y: There is nothing new to it. Just straight ahead rock 'n' roll.
Blade: Just anger and energy.
Calle: To me it sounds like you are mixing the rock sound from the 70's, 80's and 90's.
Y: I totally agree on that.
Anger and energy in your face rock 'n' roll
Calle: If you could put together your dream band, who would be in that band?
Y: Tommy Lee on drums, John Sykes on rhythm guitar, Nikki Sixx on Bass, David Coverdale singing and me on lead guitar.
Calle: The rock scene in Sweden seems to be "big" at the moment. What's your opinion on that?
Y: Yeah..there are a lot of great bands in Sweden at the moment.
Blade: You can go out to a club almost every night and see a band live.
Y: In the US we have had some shitty bands open for us. But in Sweden the "shittiest" bands are still good and they believe in them selves.
Calle: Where do you see Fatal Smile in 5-10 years?
Y: On the top of the world.
Calle: Dominating the world?
Y: YES!!!!
Blade: We have high hopes and we are living the dream.
Calle: What's the best advice you can give to up-coming rock bands?
Y: Never give up!!!
Blade: Tour, tour, tour and stop whining. You got to work your ass of if you want to make it out there.
Y: Yeah...like I said, don't give up and do what you believe in.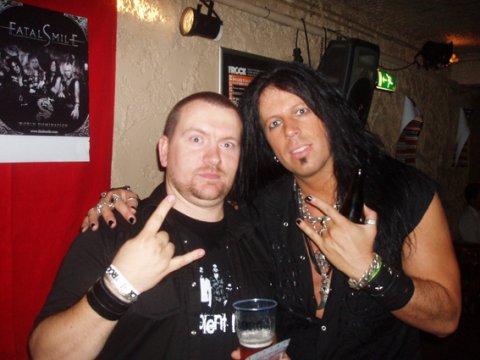 Me and Y talking after the show
And now some questions outside the music:
Calle: What was the first LP/CD you ever purchased?
Blade: Destroyer: KISS
Y: Best of: Elvis
Alx: Number Of The Beast: Iron Maiden
Zteff: Linkin Park (all the guys laugh) - no it was Destroyer by KISS
Calle: What was the latest CD you bought?
Y: We buy CD's all the time when we are on tour, but the last ones I have bought are the new Metallica and the new Mötley Crüe.
Blade: The new In Flames CD and The new Backyard Babies.
Zteff: I also bought the new Metallica
Calle: What do you do when you're not playing music?
Blade: Going out to town or relaxing by the pool.
Calle: Don't you live in Sweden? I mean, it must be freezing lying by the pool.
Blade: Yeah..ha...ha..We travel to Thailand on vacation in the winter.
Calle: If I say Denmark, what's the first thing that comes to your mind?
Y: Tuborg beer
Blade (at the same time as Y): Carlsberg beer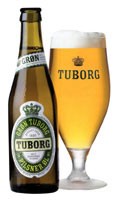 Tuborg and Carlsberg
Y and Blade: And we really like D:A:D
Calle: Do you have anything else you want to say to the readers of CallesRockCorner?
Y: Buy "World Domination" and come see us live. Cheers.
Hits: 720799

callerock@gmail.com