Interview with Gustav and Peter from Stallion Four
Gustav and Peter <---------------> Stallion Four
Calle: The band was established in 2006. How did you guys meet?
Gustav: Peter and me had been playing together since the 90s in various other bands! We continued on to form Stallion four! Our drummer Oskar and me went to the same high school! I have known him since and we called him up for a jam and everything clicked directly! We called up Björn after some friends had recommended him as a great rock singer, (and hell he was)! Here we are now!
Calle: What got you into music in the first place?
Gustav: The first bands I liked were Judas priest, Dio and Saxon!
Peter: I grew up listening to Kiss! I first heard them when I was seven years old!
I had Kiss - Alive 1 on tape and it totally rocked!
Calle: Who are your biggest influences?
Gustav: AC/DC, Ufo, Lynyrd Skynyrd !
Peter: Kiss & Guns n´ Roses!
Calle: What did you guys do before joining Stallion Four?
Gustav & Peter: We played in various other local bands!
Calle: Name 3 "older" bands and 3 "newer" bands you will recommend?
Peter:
Old: Kiss, Guns n´ Roses & Lynyrd Skynyrd.
New: Velvet revolver, Black label society & Circus.
Gustav:
Old: AC/DC, Ufo & Lynyrd Skynyrd.
New: Airbourne, Backdraft & Die hard.
Calle: You have released one EP "Devil In Me" on SPM Records. How has the response from the critics been?
Gustav & Peter: Mostly really good! But you know, there's always people out there that wants to put you down, LOSERS!
Calle: How do you write the songs? Does each of you come up with ideas or do you all write together?
Gustav: Peter is the riff`"master" and then we put it all together!
Peter: It usually depends; a song can start with a riff that we jam on!
Calle: Where do you find the inspiration for the songs?
Gustav & Peter: Life, women & beer!
Calle: If you could name one song you wish you had written, which song would that be, and why?
Peter: Nightrain - Guns n´ Roses because it's the ultimate party song!
Gustav:: Love to love - Ufo & Children of the grave - Black Sabbath! Simply some of the best and heaviest songs ever done! Masterpieces!
Calle: The rock scene in Sweden seems to be big at the moment with bands like Innocent Rosie, Pretty Wild, Bullet, H.E.A.T and Takida topping the Swedish hard rock chart in front of bands like Metallica, Nickelback, AC/DC etc. How do you see the music scene in Sweden at the moment?
Gustav & Peter: Overall it's really good; just look at all the festivals that sell out, SwedenRock, Rockweekend & Metaltown etc. But mostly all new bands play "sleazerock" which at the moment is very popular! But is Takida or Nickleback hard rock? NOT in our world!
Click on the banner to visit the Rock Gone Wild website
Calle: In August Stallion Four will play the Rock Gone Wild festival in Iowa, USA along bands like Skid Row, Warrant, Saxon, Great White and other classic rock bands. That must be a dream come true playing with those bands and to play in USA?
Gustav: YES, it's a little bit unreal! But we're going to kick ass over there!
Peter: YEAH! It's going to be a blast! We are really looking forward to it!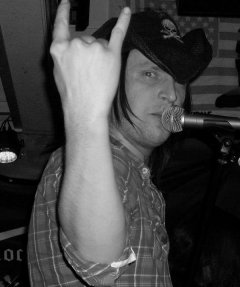 Björn (vocals) and Oskar (drums)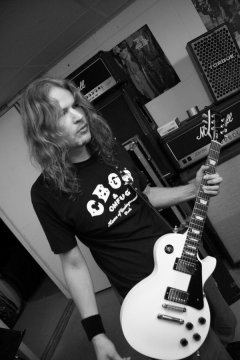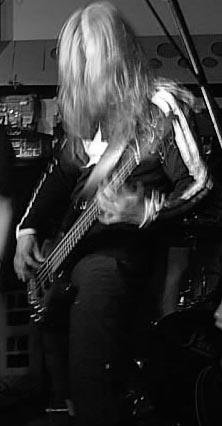 Peter (guitar) and Gustav (bass)
Calle: How would you describe each member of the band in only three words?
Gustav & Peter: There's just there words for all of us: ROCK N´ROLL!
Calle: Do you have a special thing you do before going on stage?
Peter: Oskar always drinks a glass of Whiskey before he enters the stage!
Gustav: The other of us drinks a lot's of beer!
Calle: What's the most fun or crazy experience you have had on the road or at a Stallion Four concert?
Gustav: We tell you after the USA trip!
Stallion Four - Live
Calle: If you could put together your dream band, who would be in it?
Peter: I'm already in my dream band, but it would be nice to jam with Slash!
Gustav: To have played a song together with Ronnie van Zant or Randy Rhodes would have been a dream!
Calle: When can we expect a full length CD from Stallion Four?
Peter: Hopefully in a near future! We release a 7" single with the song "Devil in me" on May 29!
Calle: What's the best advice you can give to other up-coming bands?
Peter: Have fun and rehearse a lot!
Gustav: Do your own thing and don't follow the trends!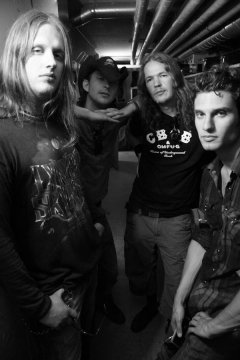 And now some questions outside music:
Calle: What was the first CD/LP you ever purchased?
Gustav: AC/DC - Back in black.
Peter: Kiss - Destroyer or Mötley Crüe - Too fast for love.
Calle: What was the latest CD you bought?
Gustav: Ufo - No place to run (remastered) & Rose Tattoo´s first album (remastered).
Peter: Judas priest - Turbo (remastered)
Calle: What do you do when you're not playing music?
Gustav: Everything that's fun, party, family, friends & football!
Peter: I am with my family, my girlfriend and my guitar!
Calle: What's your favorite drink?
Gustav: White Russian!
Peter: Whiskey & coke!
Calle: Do any of you have another education?
Gustav: NO!
Peter: NO!
Calle: If I say Denmark, what's the first thing that comes to your mind?
Gustav: The Denmark football team, "Vi e röde, vi e vide" or the Roskilde festival!
Peter: D.A.D, which is a great band!
Calle: Any last words for the fans?
Gustav & Peter: See ya all out there & raise your hands to rock!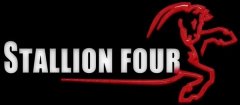 Click on the banner to visit Stallion Four's MySpace
The End
Hits: 739850

callerock@gmail.com