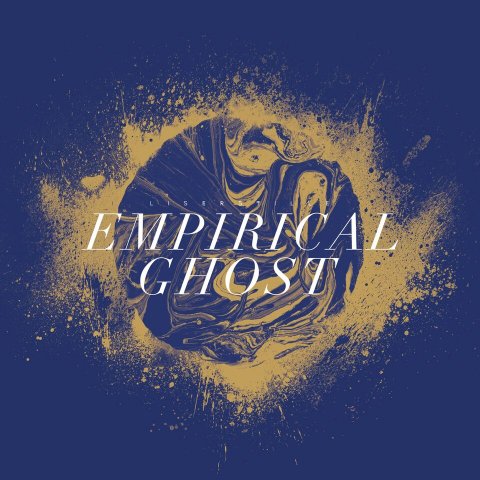 Lis Er Stille - Empirical Ghost
Reviewed by Lars Frosz Nielsen: 12-08-2015
Brave men from Denmark have made a band and called it Liserstille and they have made a CD called Empirical Ghost.
The style is progressive rock with lots of synthesizer. Actually it should get me to give them six skulls immediately, since that mix is talking to me, but there's something.... not quite catches me. It is well played and well produced, but it's doesn't turn me on.
Some of it makes me think of Jean Michel Jarre's first album, Deserted Palace (1972), very experimental, which of course is a good thing, but anyway ....
Empirical Ghost takes about 50 minutes and has 10 numbers.
There are some really good moments (for my taste, but others would certainly think that it's all fabulous well) and ideas and there is as I said well played and experimented. One can hear that they want to hit a dark and gloomy atmosphere, but for me it will be only dusk.
Martin Byrial's voice is hardly distinguishable from David Bowie's on several tracks, which dress style quite well.
I have heard the CD many times and I'm not tired of it, although it is not 100% my favourite, and this must of course also say something about the quality of this disc.
I would definitely recommend Empirical Ghost to those who like '70s experimental rock
Empirical Ghost was released april 24th on G-Records/Rough Trade.




(4
ud af 6)
Visit Lis Er Stille on Facebook here.
_________________________________________________________________________________________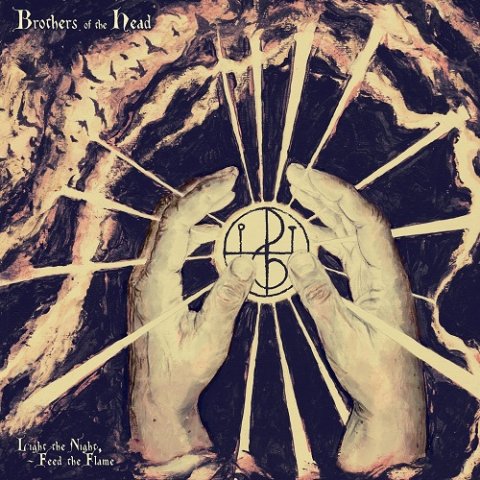 Brothers Of The Head - Light The Night, Feed The Flame
Reviewed by Lars Frosz Nielsen: 25-05-2015
Stuttgard, Germany has produced the band Brothers Of The Head (abbreviated BOTH) which plays toward Doom / Stoner Rock but with more power. There is a thick, smoky and sweaty atmosphere throughout the debut album Light The Night, Feed The Flame.

They have caught a very intimate atmosphere so you feel that they really had a good time in the studio. Almost as if you are invited to visit the rehearsal room on a particularly lucky day when it all goes up to a higher level and it all waves in an orgasmic haze.

The six tracks that the album contains, are produced greatly by Swedish Hans Olsson and the tracks go nicely hand in hand with each other. There are bombarded with fat guitar riffs in the best 70s style throughout the album.

Cody Barcelona's voice fits well with the style, and it is clear without being too nice. Cody also plays the bass, which is steady and tight and gives a fat ground. Karl Francis and Pappy Van Linkle stands for guitar-wall-of-sound with the dense fat distortion and Amin Axestoneville bangs the drums.

"Supernova City" stands out a little .... It is the last track .... it starts with a zitar-esque guitar sound (but they come quickly into their usual sound) ..... with its nine minutes this is it longest track on the album. I would really have loved to hear the late, great Jim Morrison on this track ....
Light The Night, Feed The Flame was released april 17th on Metalapolis Records.






(5½
ud af 6)
Visit Brothers Of The Head on Facebook here.
______________________________________________________________________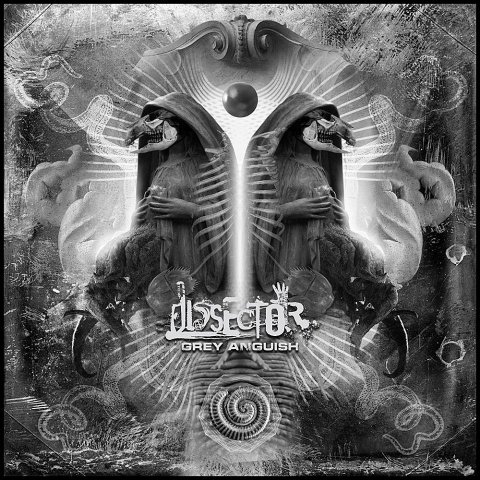 Dissector - Grey Anguish
Reviewed by Lars Frosz Nielsen: 20-04-2015
Dissector from Saint Petersburg, Russia plays solid Thrash / Melodic Death Metal on their new release Grey Anguish. I have been pleasantly surprised by the quality and nerve as russian metal bands have. I must admit that I have not listened much to russian metal before, but bands like Grenouer & Dissector have turned me on.

There are lots of cool riffs on Grey Anguish where I swung my air guitar and turned extra up for the volume. The sound is super nice but in a dirty way clear and gloomy. There are lots of energy and vigor that can only delight the listener.

A single ½ ballad has also got into the album: "Keep My Trust" - very beautiful, where guest singer Mirla from The Lust sings duet with frontman Yan. There are 10 numbers to swing the wooden leg to, adding the intro which is a mood picture created by keyboard player Max Delmar.

The drums have a good sound and location in the mix. Deadline Pressure starts with lo-fi guitar and then the drums comes along, resulting in a bold contrast. Together with the bass creates a solid bottom. The bass is precise and crisp.

Dissector consists of Yan Svetlannen on guitars and vocals, Oleg Aleshin on bass, Andrey "Circle" on drums and Max Deelmar on keyboards. Guest musicians are Mirla on song and Alex Bolotov on guitar on the end tune "Keep My Trust". I highly recommend a closer acquaintance with Dissectors music.
Grey Anguish was released april 12th on Worldlessness Records.






(5½
ud af 6)
Visit Dissector on Facebook here.
______________________________________________________________________________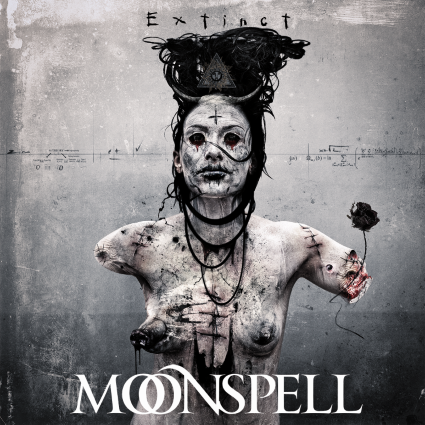 Moonspell - Extinct
Review by Lars Frosz Nielsen: 15-04-2015
Moonspell from Portugal gave me something to think about .... The first time I heard their new CD Extinct I was confused ... I could not decide whether I liked them or not, because there was a mixture of pop and Metal that I had not quite put in place in my music mind. BUT after repeated listening over time began the CD to grow on me .... now I think it is really cool.
Fernando Ribeiro has a voice that reminds me of Philip Oakey of Human League ... and yet not understood in that sense that Phil did not growl, but Fernando do both .. sings neatly and growls. It provides a good varied sound. There are quite a few pop elements, which means that it might entice a new audience to the Metal genre.
Moonspell plays Gothic-Dark-Metal with pop attitudes, and handle their instruments well.
As I said, I could not quite like them at the start of the listening phase and that is probably because Extinct starts pop-ish and moving around in the genres. I my imagination I will not put things in the crib, but was trapped in my own petard because I just could not put them in a musical stall, and then I got something to think about, and it's lovely.
I have not heard of Moonspell before, but now I really want to dig into their treasure chest, which dates back to 1992.
The ten tracks on Extinct flies and is good for both listening to and just run as a background.
A number that stands out - and made me think of Bertolt Brecht / Kurt Weill is the last track La Baphomette which is in waltz time and with detuned piano, and is a great tune to end the cd, and it's in French.
Otherwise there is plenty things going on on the other tracks. I also like the Arabic-inspired "violins" which makes me think of Deep Purple's use of oriental elements in the Rock music.
Besides Fernando Ribeiro (Langsuyar) on vocal, Miguel Gaspar (Mike / Nisroth) is playing drums,
Ricardo Amorim (Morning Blade) on guitar, Pedro Paixão (Passionis / Neophytus) on synthesizer and guitar and Aires Pereira (Ahriman) on bass.
The production is great and gloomy with lots of reverb, so it seems dreamlike and gives it a pop-like character. There is worked well with the balance between the different instruments so that it appears as a whole,
I think I have become a fan :)
Extinct is out March 6th via Napalm Records.





(5
ud af 6)
Visit Moonspell on Facebook here.
_______________________________________________________________________________________________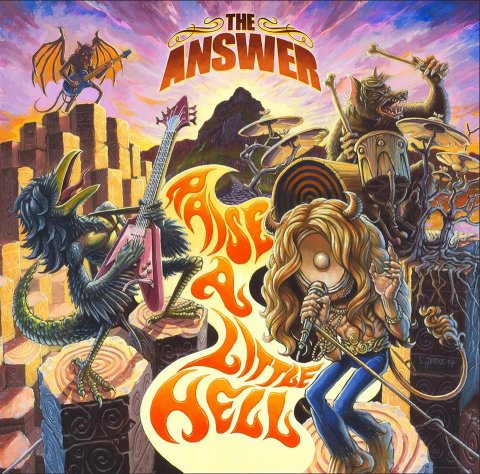 The Answer - Raise A Little Hell
Review by Lars Frosz Nielsen: 07-04-2015
The Answer from Northern Ireland has committed a masterpiece, nothing less. With their Raise A Little Hell, they have nailed their love to the Rock music with 12" nails. The style is something that was founded in the early 70s. It is played with an authenticity and love so one can not but to love it. There is not anyone who can accuse them of plagiarizing certain bands but they get one to think of groups like Free, SWEET, Led Zeppelin, Deep Purple, AC/DC and alike.

12 declarations of love to the rock it has become on this CD. It opens with Long live the renegade which set the style for the rest of the CD. Lots of great guitar riffs that characterize the genre that in my childhood was described as Concrete-Rock.
Cormac Neeson sings with a genuine raw rock voice, Paul Mahon plays guitar, Micky Waters on bass and James Heatley plays drums in this great rock band.

As you can probably sense I was pleasantly surprised by this CD. The production itself is authentic and beautiful. One senses almost vinyl and pickup, and then you have reached as far as you can in my opinion. The mix is, like everything else perfect. All I can say is: If you like ROCK... go and buy this masterpiece.
Raise A Little Hell is out March 9th via Napalm Records.






(6
ud af 6)
Visit The Answer on Facebook here.
_________________________________________________________________________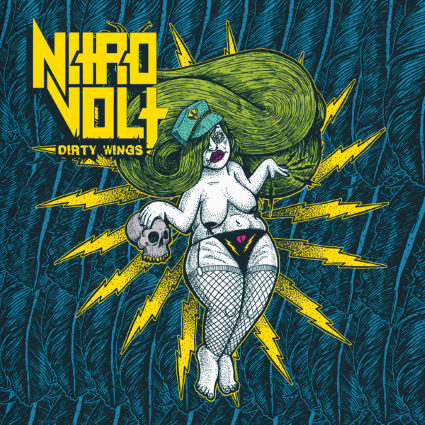 NitroVolt - Dirty Wings
Reviewed by Lars Frosz Nielsen: 16-03-2015
Nitro Volt from Austria is not boring ... ABSOLUTELY NOT. On their new album Dirty Wings is the pedal to the metal from start to finish. It is varied and reckless ROCK as we like it. They are not without humor. "Zeke Saturday" is a fast track in 5 seconds and will make happiness to every concert. "Runnin 'the Race" has a start you know ... they have borrowed quite clear from "You Really Got Me" but it's ok...
There is so much going on so you can not help but be elated and in good spirits. The sound is raw, but well produced raw. It is Punk meetings D.A.D and Motörhead. Any biker-club with self-respect should hire Nitro Volt to their parties, in my opinion.

NitroTom sings / screams and plays guitar, Louis Nitro Volt pumps bass NitroTim plays guitar and NitroUlas is playing drums.

It's hard not to get carried away by the atmosphere Nitro Volt supply and jumping around and just wanting to party, drink and headbang all night long.
Dirty Wings is out March 20th via Mausoleum Records.






(6
ud af 6)
Visit NitroVolt on Facebook here.
___________________________________________________________________________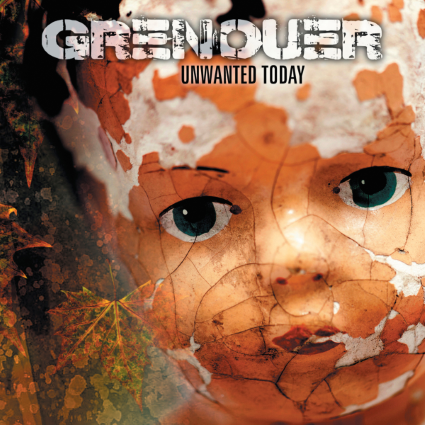 Grenouer - Unwanted Today
Reviewed by Lars Frosz Nielsen: 16.03.2015
Grenouer from St.Petersburg in Russia has committed another masterpiece of the genre.
It was with great excitement and high expectations I put Grenouer in player .... and I was not disappointed. A great mix of melodic pop and Metal / Hard Rock gives a really good listenable CD.

Unwanted Today contains 12 great tracks (13 tracks incl. Intro) intro reminiscent of the soundtrack to a strange dream ... a sort of a sound collage, if you will, going straight into the title track "Unwanted Today", which offers it all and represents the rest of the album quite well. Number 7 "I Can not Stand It" and the last track "Clearway" has the heaviest start, which I could use more of. However, there is generally some great riffs through the CD which automatically gets me in air guitar pose.
Andrey Ind who sing, have a voice that is very listenable. Simon LeBon (Duran Duran) is not remote in the mind when you hear the tone and singing style. It's just the style Andrey In the which coincidentally is close to that of Simon LeBon's. Alexander Motor stands for the great guitar sound I like so much. Danny D plays the drums ... no easy task, but does it really well. Al Bolo works fine with the bass and provides a good solid base. There is also synthesizer on some tracks, but have not found information about it. The synthesizer is used in a very subtle way and is not at all exaggerated.
Each number (except the Daily Miracles, which is a small dreamlike intermezzo of approximately 2 min) have both heavy parts and quiet / melodic pieces, making the tracks pretty exciting for the listener.
Unwanted Today is well produced and a great piece of craftmanship.
Unwanted Today is out March 20th via Mausoleum Records.






(5½
ud af 6)
Visit Grenouer on Facebook here.
_________________________________________________________________________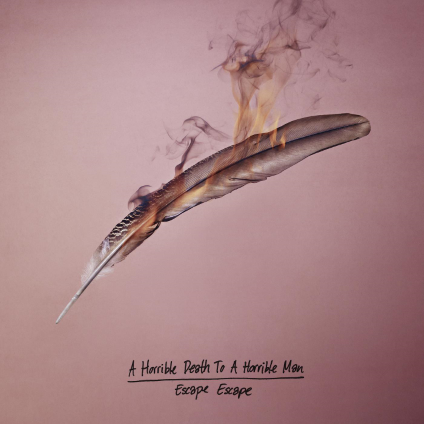 A Horrible Death To A Horrible Man - Escape Escape
Review by Lars Frosz Nielsen: 09.02.2015
A Horrible Death To A Horrible Man (AHD2AHM) from Copenhagen (Denmark) have made an EP with five tracks: Escape Escape. The style is dark grunge. I think it sounds a bit like Black Sabbath meets Nirvana and Sort Sol (DK).

There is good intensity and energy through all the numbers. The speed is for the most part slow and somber but there is also a little faster tracks without losing depth in the darkness created around the speakers when you hear AHD2AHM. The energy in the genuine Punk is present and at times I was pulled back to both end-70s (punk) and 90s (grunge). I think they do it perfect on this ep Escape Escape and am looking forward to a whole album.

The production is perfect and form a symbiotic unity with the way Christian Lee on drums, Peter Strange Echwald Vocal and Guitar, Jesper Bech Hessel on guitar and Nick Ebert on bass delivers the goods.
Escape Escap will be released on March 23rd on Mighty Music/Target Group.






(6 ud af 6)
Visit A Horrible Geath To A horrible Man on Facebook here.
____________________________________________________________________________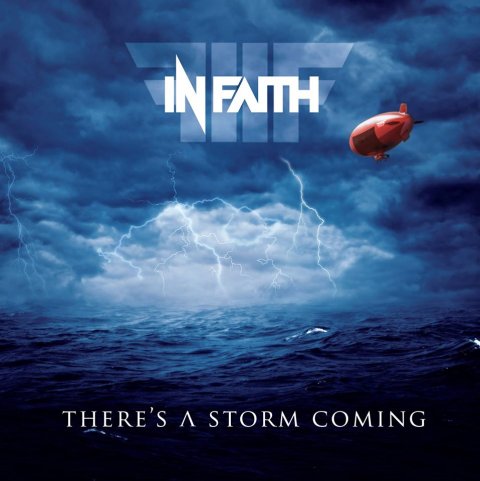 In Faith - There's A Storm Coming
Review by Lars Frosz Nielsen: 02.02.2015
In Faith from Manchester plays melodic rock, and I actually thought it was a CD from 90s I had put on the stereo. The style and the sound comes straight out of the middle 90s. The style is a nice mix of Bon Jovi, De 5 (Denmark), a touch of Slash, a touch of Rainbow and Def Leppard.

I highly recommend There's A Storm Coming, as their CD is called, if one is to the melodic 90s rock. Personally I am not completely silly with with it, but it is absolutely listen worthy. I need to make it clear that there is absolutely nothing wrong with either the band or production.

In Faith consists of three people who rootstock and then there are guests on the CD, and I suspect them to have guests on stage as well. There are a few songs, where I easily could be tricked into believing that it was a new Bon Jovi song as both voice, singing style and playing style is very "Bon Jovi-ish", perhaps because Bon Jovi well put some sort of agenda for melodic rock for a period of time.

Pete Godfrey sings and makes it extremely excellent. A very clear and good voice that suits the genre. Tony Marshall plays a stylish guitar and Pete Newdeck playing drums as they should be played. Then there are, as mentioned above, some guests on the CD - noone I immediately recognize but they play well. All the lot are guitarists and it's Brooke St. James, Chris Green and Pat Heath. The two band members Pete Newdeck and Tony Marshall are in charge of the production and the mixing, so they've got the sound they wish.
There's A Storm Coming was released on October 24st 2014 on Rocktopia/Cargo Records.





(4½ ud af 6)
Visit In Faith on Facebook here.
_______________________________________________________________________________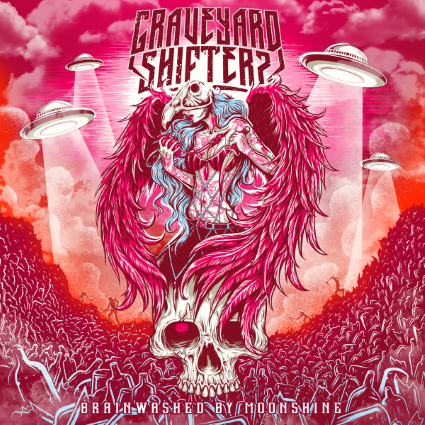 Graveyard Shifters - Brainwashed By Moonshine (EP)
Review by Lars Frosz Nielsen: 27-01-2015
Graveyard Shifters from Finland are playing a proper fist full of melodious punk'n'roll with lots of bold raw energy that goes directly after the genitals on everyone and everything on their EP Brainwashed by Moonshine. There is not so much technical skill, but certainly not only .... 1-2-3- guitarrrrrrrrr .... The last number is for example starting with a quiet classical guitar ... but soon pass to the "style" again.
There are well taken tempo changes and good riffs on the 5 numbers there are too fast gone.
As a "teaser" Brainwashed by Moonshine is a good business card for Graveyard Shifters.
15 min. - then have time to hear the CD before you slip into town and party on.
Graveyard Shifters:
J. Matilainen on Lead vocals, J. Sumkin on Bass and backup vocals, A. Salmenoja hit the Drums, percussions and backup vocals, V. Vainionpää on Guitars and backup vocals and H. Kansonen on Guitars.
Brainwashed By Moonshine was released on October 31st 2014 on Eternal Sound Records.






(5½ ud af 6)
Visit Graveyard Shifters on Facebook here.
____________________________________________________________________________________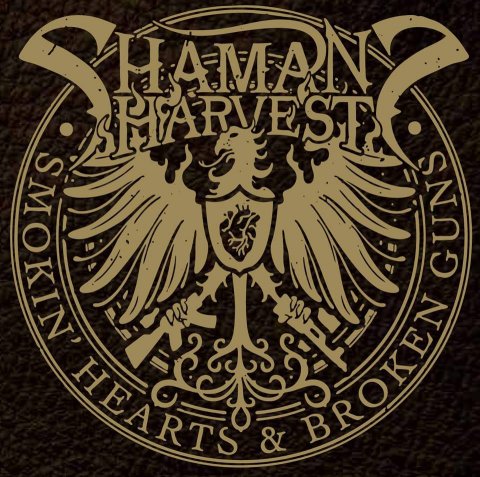 Shaman's Harvest - Smokin' Hearst & Broken Guns
Review by Calle: 03-11-2014
Shaman's Harvest is from Jefferson City, Missouri, USA and the band consists of Nathan Hunt (vocal), Josh Hamler (guitar), Matt Fisher (bass), Joe Harrington (drums) and Derrick Shipp (guitar). The band plays modern hard rock in the same style as Black Stone Cherry, Theory Of A Deadman, Stereoside and Pop Evil.

Smokin 'Hearts & Broken Guns is Shaman's Harvest's fifth album, but the band is a new acquaintance to me. And this is a big shame. The album is packed great songs and there is also a great variation across the album. There are the up-tempo hard rock songs such as the opening track "Dangerous", "Here It Comes", "Country As F * ck" and one of my personal favorites "Ten Million Voices", but also the quieter songs like "The End Of Me "and" Silent Voice ". In the latter piano driven song you will find also a Slash-like guitar solo before the song again go into a cozier and more quiet piano finish. In addition to these songs, there is also an excellent cover version of Michael Jackson's "Dirty Diana" and an acoustic version of the band's own megahit "Dragonfly". The original version of this song can be found on the band's previous album "Shine".

I cannot write anything bad about this album. On the contrary Smokin 'Hearts & Broken Guns is an incredibly well-written, well-played and well-produced album with a good combination of musicians along with a super vocal performance from Nathan. Everything just clicks on the album. This album has certainly surprised me. I had no expectations. Like I said before; I didn't know the band before I got this album send for review. But I have definitely become a fan now!!!

Smokin 'Hearts & Broken Guns will undoubtedly be in my top 10 albums released in 2014. If you like any of the bands mentioned above, then you will surely like Shaman's Harvest. So do yourself a favor and check the band out!!
Smokin' Hearst & Broken Guns was released on September 16th 2014 on Mascot Label Group.






(5½ ud af 6)
Visit Shaman's Harvest on Facebook here.
____________________________________________________________________________________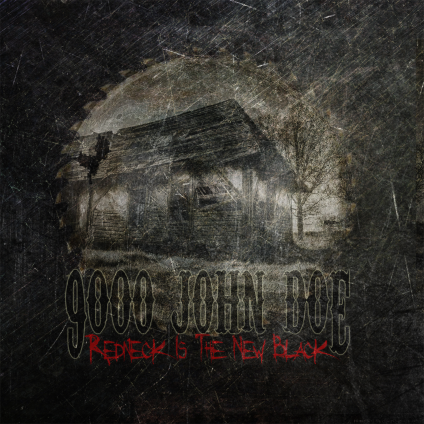 9000 John Doe - Redneck Is The New Black
Anmeldt af Lars Frosz Nielsen: 28-10-2014
GREAT ..... 9000 John Doe from Aalborg, Denmark have thrown a new album at the market. Redneck Is the New Black as they call it and they call their music for Hillbilly Hardcore, a mixture of punk, metal and Rock (not to be confused with Rock'n'Roll as many actually do) with lots of power. I was in a really good mood the first time I heard the CD through - and that feeling kept repeating itself every time I've listened through the album.
They do not take themselves too serious, which is a definite plus because lots of bands think they're Gods. Although the lyrics are in English some Danish words finde their way into the cd ... 1-2-3-4-5-6-6-6-7-8-9 ... 0-0-0 you can not help smile because it is really quite brilliant. (9000 is the zip code for their home town, and 666.....)
There are 11 raw tunes and everything is played with an authenticity and intensity that reminds me of when Punk started in the late 70s; ENERGY and just hit it off for their own amusement. There's a touch of early D * A * D and AC / DC to the songs - and it's probably not so strange because it is all about raw Rock. Simple as that.
9000 John Doe is a band I would love to experience live, I think it can only be a great party and a sore neck for days after. Tommy Knøs screams through the CD, Mikkel R. Clausen plays bass, Morten Larsen punishing the drums and Thomas Gajhede playing the guitars. Jonny Hefty is guest-rapper on Country zombie, which sounds great.
Redneck Is The New Black was released on October 6th 2014 on Mighty Music/Target Group.






(5½ ud af 6)
Visit 9000 John Doe on Facebook here.
_______________________________________________________________________________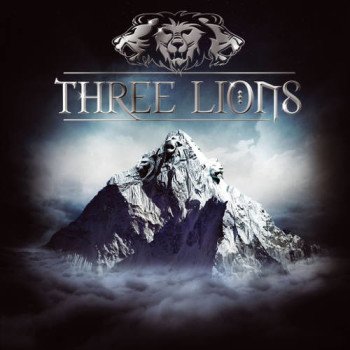 Three Lions - Three Lions
Review by Lars Frosz Nielsen: 27-10-2014
Brittish Three Lions play Melodic Hard Rock and have made a great debut CD titled: Three Lions ...
The style is late 80s - start 90s in the style of Whitesnake and such bands. The trio consisting of guitarist / keyboard Vinny Burns (Dare, Ten, Asia), drummer Greg Morgan (Dare, Ten) and bassist / vocalist Nigel Bailey.
At first, I was captivated by the truly great production. Not anything you can put a finger on. It is a very distinct and beautiful voice Nigel Bailey has and it goes very well with the style.
I was convinced that it was a retro CD because of the style and the sound, but it is from 2014.
There are a lot of catchy song tunes and one instrumental "Sicilian Kiss" on the CD where Vinni Burns is in front. For my part, it may be too nice in the long run. An entire CD then it's enough, but don't be a stranger.... check it out.
If you like the melodic hard rock from the 90s, you should not miss out on this gem, a masterpiece in its genre.
Three Lions was releasen on April 18th on Frontiers Records.





(5 ud af 6)
Visit Three Lions on Facebook here.
_______________________________________________________________________________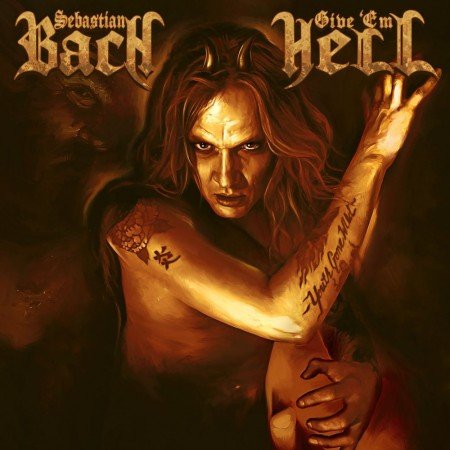 Sebastian Bach - Give 'Em Hell
Review by Lars Frosz Nielsen: 31-08-2014
Sebastian Bach has committed a new CD; Give 'em Hell, and I must make it clear right away; it is very successful. There is nothing new under the sun, but he certainly did not disappoint me. It is a follow-up to his 2011 album; "Kicking & Screaming", and it goes in the same thread as this.
He has put a good band together for this CD, namely Devin Bronson (Avril Lavigne, Pink) on guitar, Bobby Jarzombek (Rob Halford, Riot) on drums and Duff McKagan (Velvet Revolver, Guns N 'Roses) on bass, and guest guitarists, John 5 (John Lowery) (Rob Zombie, Marilyn Manson) on "Temptation" and Steve Stevens (Billy Idol) on "Push Away", "Had Enough" and "Gun to A Knife Fight".
Sebastian's voice is in top shape and the CD's 12 tracks fly away. A simple country-style tune is also included (-an April Wine cover track). The production is once again in the hands of Bob Marlette. We know Bob Marlette from: Black Sabbath, Rob Zombie, Alice Cooper, (and countless others since 1980)
Both vocal work and the music itself is treated with love and respect. Sebastian Bach & Bob Marlette has been co-writing all the songs (except for "Rock N Roll Is A Vicious Game" an April Wine cover)" If you like Sebastian Bach is a "must-have" .....This is an "Mid.-tempo-Hard Rock" album, and I like it :)
Give 'Em Hell is out on Frontiers Records.





(5 ud af 6)
Visit Sebastian Bach on Facebook here.
____________________________________________________________________________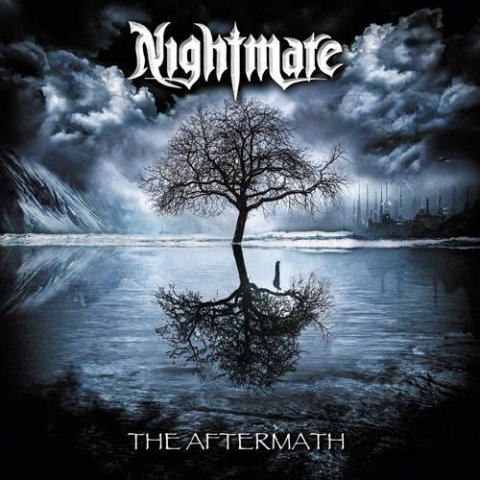 Nightmare - The Aftermath
Review by Lars Frosz Nielsen: 24-08-2014
Nightmare from France is playing aggressively and in-your-face Power-Metal on their latest album The Aftermath. I've never heard of them before even though they are from 1979 .... my fault, because they're really good. The singer Jo Amore has a voice and singing style that brings Ronnie James Dio to mind without being corny, it sounds genuine and not meant as plagiarism.
The Intro pissed me a bit of (pardon my french) ...a female who does not fit in, tells a little story. The mood of the music and the structure is really good ... and the story would have gained a great deal if it was a deeper voice with a more dramatic atmosphere and not a voice for soap advertising ... BUT 55 seconds out of 51 minutes one can survive ... and you can always skip the intro :)
REST OF CD The Aftermath is, as I said very good. Well played and well produced and with a genuine joy of playing that shines through. In addition to Jo Amore lead vocal it's Franck Milleliri and Matt Asselberghs on guitars, Yves Campion on bass and backing vocals and David Amore on drums. I have no info about the Keyboards that are used moderately.
There are 10 great tracks and it's hard to pick a favorite because everyone has good qualities, but The Bridge Is Burning stand may look like a possible favorite. I can hear elements from Metallica, Dream Theater, Iron Maiden, Dio in a nice mix which I think works well. That's the first I've heard of Nightmare but certainly not the last.
The Aftermath is out on AFM-Records.





(5 ud af 6)
Visit Nightmare on Facebook here.
______________________________________________________________________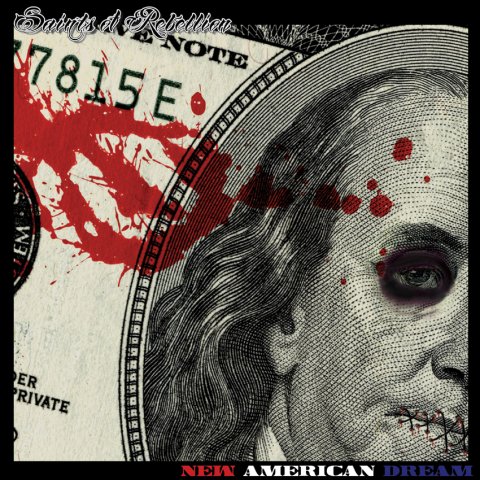 Saints Of Rebellion - New American Dream
Reviewed by Lars Frosz Nielsen: 22-04-2014
I wanna buy a Harley Davidson, a bottle of Jack D and grab my woman by the hair... together we'll ride like the wind... we'll stop... drink and I'll take her, bend over the fuel tank... that's how I felt the first time I heard the new CD from Saints of Rebellion - New American Dream.
I had never heard them before, but it 's not going to be a one-night stand ...The CD takes off with two slaps in your face and a kick to the balls ... well meant . New American Dream which is the starting number is raw, dirty and delicious rock ...

Hard Rock the Southern way . A mixture of Black Label Society and Cult rips of your Sunday School clothes and leaves you only wearing leather pants, long hair and snakeskin boots, playing air guitar ... can't help it .. no a bad start , especially when you do not expect anything special.

10 tracks and 40 minutes later you'll find yourself pressing start again .... and again .... just want more . The cigarette lighter song " Alone" starts with a Hammond B3 and piano and then something G'n'R rouhness ... then quiet singing , while the lighter gets hotter and hotter and you're rocking your head hard, for though it is a quiet ... relatively quiet song ... it's definitely not boring. There is so much power in the lead vocals that there is a savage battle between the guitar and the vocal about who has the most rocking sound ... that's the punch line through the whole CD .

The production itself is incredible successful and the musicians are accomplished and the interaction between them is perfect . Coby DeShazo as I've mentioned earlier, has a very authentic rock voice that is enviable nice. Guitarist John Adams has total control over his intrument. It is a very nice, powerful and saturated sound he has. Bassist / keyboardist Jay Hitaffer is a good base along with drummer Ryche Green. It's a perfect CD that only deserves kneefall from me.
New American Dream will be released on June 4th on HighVol Music.






(6 ud af 6)
Visit the band on Facebook here.
_________________________________________________________________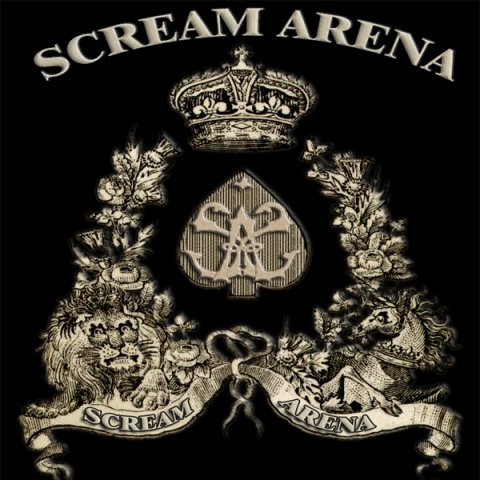 Scream Arena - Scream Arena
Reviewed by Lars Frosz Nielsen: 21-04-2014
Scream Arena from England took me on a journey back to the "Hair Glam Stadium Metal 90s" with their debut album with the same name as the band itself . I would like to say that I initially was not crazy about the CD, but after a few listenings the cd wins actually quite a lot.
They are very accomplished and knows their back catalog. Names such as Alice Cooper, Quierboys , Poison, Guns'n'Roses and Bon Jovi flies through the mind when listening to the Scream Arena CD - not plagiarism, but inspired by....
The CD kicks off with the words " Gentlemen, start your engine" and then "Born Ready" is kicking ass. There're no ballads on the CD but a few quieter tunes is at hands . A very evocative tune is "Queen of Dreams " where you hum along with the chorus from the first time you hear it.
A little surprise is the old Elvis song " Heartbreak Hotel " which has been spruced up to 90s metal version. Otherwise, the other songs are self penned. It is excellent work they've done and the style is maintained throughout the whole CD, making it seamless and authentic .
A single tune that seams as if there were no more studio time back is " Goodnight LA " Right in the middle of the track comes a quickending to it . It amazes me every time I listen to it .
The singer Andy Paul has a good voice that perfectly suits the style .If you are into 90's Metal / Hard Rock then I would like to recommend Scream Arena, and give them a few listenings through - they deserve it.
Scream Arena is out on Mighty Music/Target.




(4 ud af 6)
Visit the band on Facebook her.
_________________________________________________________________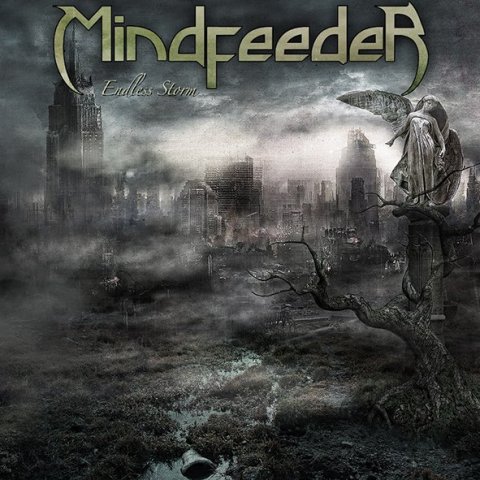 Mindfeeder - Endless Storm
Review by Lars Frosz Nielsen: 18-04-2013
Mindfeeder from Portugal plays Power Metal in the heavy part of the scale, and they do it extremely well. The album Endless Storm starts off with the number "The Call", where you hear a phone call in which the keys are pressed, so there will be a series of tones that will be to the melody line in. .. The Call.
Leonel Silva, who sings often sounds like Paul Stanley (KISS) when he is at his best - and that is a huge plus in my world. But he also sounds "like himselve".
Mindfeeder plays, as I said earlier, Heavy Power Metal with a true unadulterated joy of playing, and it's a great honor to put ears to the CD. One can not help but be a little hyper when you hear them. I can vividly imagine a bold double concert with Forcentury and Mindfeeder ... it would be a win-win evening.
Nuno Carranca plays one guitar and sings backing and Nuno "Piri" Serrador plays the second guitar. There is strong cooperation between the two Nunos who can master their instruments and genre to perfection. Sérgio Themudo punishes with bass and also sings backing, Ricardo Martins is Mindfeeders keyboard wizzard and Henrique Sobral holds everything together with great energy on the drums. Mind Feeder has made an EP in 2006, but Endless Storm is their first "real" album.
There are a few guests mingle. It is Piet Sielck that has a bold voice that also stands for something in production. Hugo Soares, Artur Almeida and Célia Ramos also sings as guest artists.
The production is nice and rich and has a good balance. I can only recommend buying this CD, which has 8 tracks. "Memories (suite in 4 parts" occupy nearly 10 minutes of one's time, but it is worth spending time on listening. There is great variation from typical fast-paced to the quiet and very beautiful, with great guitar riffs.
Endless Storm is out..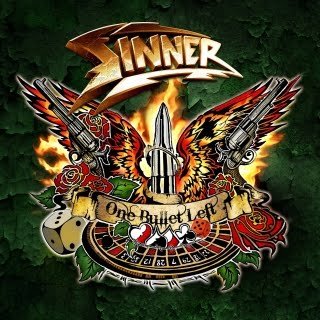 Sinner - One Bullet Left
Review by Lars: 25-11-2011
The German 80's metal band Sinner is back in great style with a new album One Bullet Left The CD is shot started .. literally with ... a gunshot ... and one could fear that, that's that, but after the first album listening. I could see that it was false advertising. There was not only one shot back, but 12 good shots, many of which are direct bulls-eye.


What surprised me the most may be their tribute to Phil Lynott "Back on trail." It could actually very well have been a Thin Lizzy tune - (and then I have been on youtube and watched the video. and of course they played on a black Fender bass with mirror pickguard in the well known Phil Lynott way.

The style is pure 80's - 90's Metal / Hard Rock, which of course is not so surprising, but what I think is that it sounds through solid and genuine. They're not trying to sound retro - they are just Sinner ...

There are 3 guitars in the band, but they can easily find out not to stumble over one another or to have the devastating "me me me" attitude - they have managed to get a good, rich guitar sound out of it. The vocals are rough and strong as it should be in such a band and back-up vocals and harmony vocals are spot on and you can
easily hear Sinner's musical love must lie with Thin Lizzy, however, without sounding as dull imitation. There is a good ballance between the instuments, and the song is crystal clear throughout the CD.

There is surely a ballad, but it's ok because it is beautiful and meaningful with good power in the voice and guitars. The album ends, also with a semi-ballad - quite a neat finish and it all feels like a complete work I think.

If you had to go and be philosophical, one could compare the album with a lifetime. It started with a bang, then the full power of all senses, a little quiet mid life crisis, so once again living life at the most, and then a quiet end ... maybe it is to over-interpret ... ; O)

Every time I've listened through the album, I had the feeling that it was comfortable with the 12 numbers. One will not be super satiated but on the other hand you'll not feeling cheated either, which actually is an art in itself. However, I have not wanted to press the repeat button, but waited a few hours or a day or so before the next listening.

All in all a great job - horns up
One Bullet Left is out on AFM-Records





(5 ud af 6)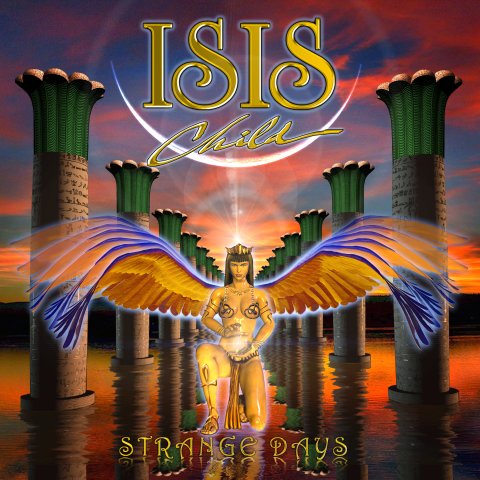 Isis Child - Strange Days

Anmeldt af Lars: 17-10-2011

The first time I did hear Isis Child's latest album, Strange Days I thought for a split second that it was Gary Moore. Of course it wasn't, but the start of Moore's "You Gonna Break My Heart Again" from the "Corridors Of Power" and Isis Child's "Let's Take A Walk" is quite identical except for a small up-tempo in the latter. I DO NOT accuse someone of stealing - I think it's cool and a bit cheeky to start the same way. Isis Child consists of Freddy Mazzucco on guitar, Nathalie Pellissier the song, Alain Rinallo, Hugo Adam & Mathias Lechartier shares the bass, David Zecca & Chris Drouin share the drums and Robert Geoffroy, Julien Spreutels share keyboards.
Freddy Mazzucco comes originally from the French Riviera, has spent 12 years in America but returned to the Riviera, and there he met Nathalie Pellissier. They recorded this CD in Belgium and had it mixed in Sweden. They have actually been quite happy with Sweden, which hopefully will give us some Denmark visits.
The reason for all the talk about the background etc. is because I have become more and more fond of this CD. There are, first, some great tracks and secondly it is very nice played, beautiful and charming sung and the production is fab.
It's hard to choose a favourite track because there are so many great songs - so it must be the entire CD; Strange Days.
The style is classic rock/pop-rock at its best, with a vocal that reminds me of Doro. There is a clear '80s rock feel and sound, but do not know if this is intented. As I said before, there's some Gary Moore-ish, some Doro-ish and also some Heart-ish in the songs ... not a bad mix when you've got it to succeed so well as is the case here.
There are some great bass lines that stands out here and there. The sound is generally very nice and "Someone" has a erotic dreamy feeling.
There are 12 gems on this CD. Maybe I owe you this little information, although it is titled Strange Days it has nothing to do with The Doors.

Strange Days is out on Yesterrock








(6 ud af 6)

Listen to Isis Child: www.myspace.com/isischild
______________________________________________________________________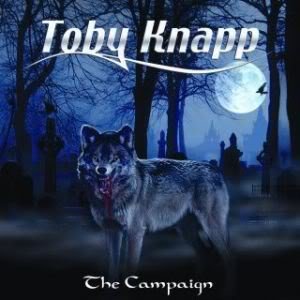 Toby Knapp – The Campaign
Review by Dianna: 14-09-2011
I have had the great opportunity, (thank you Mike McDowell of SHREDGUY RECORDS) and even greater pleasure of listening/reviewing this amazing album. The skills of this guitar-magician are no less than absolutely outstanding! I was in every sense totally blown away from the first track to the last one, and it just kept surprising me.
The diversity of the songs on this album is another plus and it doesn't throw me off at all by serving all kinds of metal in one album , thrash, black, death, you name it, it's there and it's fkn awesome.
Oh, and did I mention it is badass, kickass and then some? Well maybe not in those exact words, but I believe that I come across with my enthusiasm about this album. Right!?
It is a very unique type of album, at least it is to me, I haven't heard something like this before. Not with such a multi- talented musician, featured by with really great guest-vocalists, each doing a damn good job, each representing one genre/sub genre of metal - and I have to say that a guitarist like Knapp, his passion, and his obvious talent, as a guitarist of course, but also as a composer he has managed to write some epic instrumental tracks, and he is a shredder, yes, but there are some lovely melodic passages. where the speed isn't required, but he can play it all with such technical superiority, it's mind blowing and it simply amazes me. I have difficulties though, about chosing some favorite tracks of this album, but I'll do it anyway.."We Are Legions" is a fave, it's technical and extreme-like metal, but as I said, each and every track is worth a 'fave-status'
A great album where we as listeners, is being given the gift of a technical skilled musical prodigy, a passionate and diverse album.
The Campaign is released on Shredguy Records.
(5 ud af 6)
Listen to Toby Knapp: http://www.myspace.com/knapptoby
______________________________________________________________________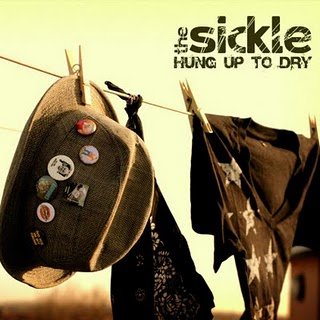 The Sickle - Hung Up Tp Dry
Review by Lars: 19-08-2011
The Sickle from Italy, even they're singing in a clear american dialect on their CD Hung up to dry. They call their music Punk Rock and Roll and I'll partly agree....partly
I'll call it "Kicking-ass-happy-rock". Their music reminds me of early american punk and not the "dirty" rough original english (or danish) punk. I really liked the cd from the first time I heard it and it's even getting better and better.
You can't help getting in a good mood if you listen to Hung Up To Dry, and it fills you with positive energy. I was quite surprised to learn that The Sickle comes from Italy because they sings in a perfect (and for me) very charming American, which fits perfectly the music they're playing.
The cd contains 12 great rock songs. Every thing in its time - and by that I mean that if you want to listen to the dark or sinister and aggressive rock or the "original" punk you should not put this cd on, BUT if you want to have a good time kick ass party then I want to recommend The Sickle - Hung Up To Dry.
Hung Up To Dry
is out on New Model Label
(5
ud af 6)
______________________________________________________________________
New scale - from here and up
Old scale - from here and down
______________________________________________________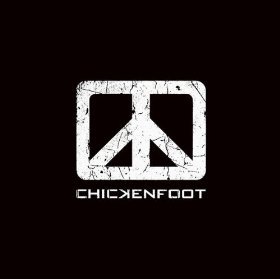 Chickenfoot - Chickenfoot
Review by Jesper: 01-07-2009
A few days ago, in an article which origin has escaped me, I read this question followed by this answer: What is Chickenfoot? About time, is what it is!
Please allow me to second that with a screamin' HELL YEAH! It's been a while since my hard earned money has been better spend, than on this, their self titled debut album. The four members of Chickenfoot are all highly acknowledged musicians: Joe Satriani, out-of-this-world guitarist with numerous releases in his past as well as a couple of years playing with Deep Purple. Sammy Hagar, former vocalist of Van Halen, whose vocal abilities are in a league of their own. Michael Anthony, bass-player, co-founder of Van Halen, manufacturer and owner of "Mad Anthony" hot sauces. Chad Smith, drummer of Red Hot Chili Peppers and several other projects – as well as a but on the more fun side of sanity.
The album is a mix of 11 great tracks. From the first track, "Avenida Revolution", which is sort of an off-beat track, a bit dark but still very melodic - to "Sexy Little Thing", "Running Out" and "My Kinda Girl", which are strait forward, sing-a-long-friendly tunes - to "Give It Up", "Down The Drain" and "Turnin' Left", which are the more heavy tracks of the album - to the funk-like track, "Future In The Past" and finally the very cool ballad, "Learning To Fall".
The thing about Chickenfoot, is that most of the album sounds very different from anything the four members have done before (although I think that there are some very Van Halen-sounding bits here and there), the signatures of each member really shine through. Satriani's guitar style is unmistakeable, yet his usual fly-high experimentation is a bit toned down, but that really suits both him and this album. Hagar and Anthony bring something unique to the band, and I think that them together outside of Van Halen proves, that they were a really big part of what – in my opinion - made Van Halen what it was. Sure, Eddie is a guitar player with God-given abilities, but when you listen to this album, you will learn where a great deal of the VH-magic came from.
The album was released June 5th on earMUSIC in Europe and Redline Entertainment in the US.
Chickenfoot will perform at Vega in Copenhagen on July 8th, 2009 – And I will be there!










(9½ ud af 10)
Listen to Chickenfoot here: http://www.myspace.com/thechickenfoot
_______________________________________________________________________________________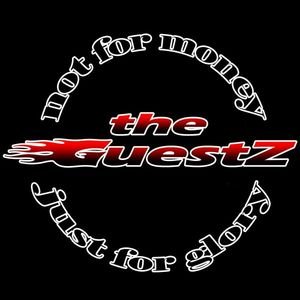 The Guestz - Not For Money, Just For Glory
Review by Calle: 03-10-2008
Once again I've been sent a promo CD and this time all the way from Italy. The band is called The Guestz and they were formed in Rome in 2006 and consist of Mimmo Good (vocals), Jonna (Guitar), Rob 'n' Roll (Bass) and Matt Svarione (drums). The band began by playing cover songs of bands like AC/DC, Motorhead, The Cult and Buckcherry.
Before they had even found a name for the band they had gotten a gig opening for the German band Soul Doctor and on the poster it simply said 'guests'. Since the guys didn't have a better idea for a name they called themselves The Guestz. In order not to have the same name as another group they put a Z in the end of their name. In early 2008, after several jobs, the band began working on their own songs which resulted in
Not For Money, Just For Glory.
There are five songs on this CD and it starts out with full power on "Jonna Wants Two Beers". This is a very good opening song and my first thought was, if the CD continues this way, it can only turn out good. The next track "Piracy" has a good guitar solo, but the rest of the song is a bit boring and monotonous. "House Of Rock" is the next song and here they are back with full on power. It is a song about the rock 'n' roll life and it could easily be the band's rock anthem. The track is built up really well and it has a really great chorus. Up next is "Naked Alice", which is the fastest song on Not For Money, Just For Glory

, as it is inspired by AC/DC and mixed with a 'hair metal' chorus in the style of Poison. The final cut, "In The Blink Of An Eye", is even more inspired by AC/DC as Angus Young could have written the main riff.
With The Guestz you get a really good mix of rock and sleaze. You can hear that they find their inspiration in the bands mentioned above (those that they originally covered in their formative years). Not that it is bad thing, but it has been heard before. The band plays very well and Mimmo God's voice fits well with the style of music. The band produced Not for Money, Just for Glory

themselves and they did a great job, but it would be cool to hear a full-length CD that is even better produced.








(7½ ud af 10)
______________________________________________________________________________________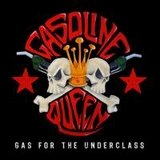 Gasoline Queen - Gas For The Underclass
Review by Calle: 25-02-2009
Gasoline Queen is yet another group in the long line of good Swedish bands that are playing dirty and sleazy rock. The band, with the current members, was formed in 2004 and consists of Dee Hoffmann (vocals), Mart Wildheart (guitar), Mad Dog (bass), Mike Spider (guitar) and Andy McQueen (drums). They have released three promos/EP's, with Gas For The Underclass

being their third release.
Gas For The Underclass
consists of four songs which are all pure rock 'n' roll. From the opening riff in "Down All Around" to the last note of "Stalker" this is kick ass rock 'n' roll! I can't help but put this CD on repeat, and replay it when the four songs are over. Besides the two songs already mentioned, the CD also consists of "Young Man Burnin'" and "Broken, Cursed & Damned" which are my two personal favorites, but all four songs are worth listening to more than once.
Gasoline Queen manages to write great catchy songs with good melodies and memorable choruses. Dee Hoffman has a great voice, the guitars are superb and the bass and drums hit you like thunder and lightning. Their inspiration lies in the 70s rock and street punk as well as 80s glam rock. They mention bands like The Who, Led Zeppelin, Guns N'Roses, Gluecifer, and Bon Jovi as their main inspiration. There is not much new about Gasoline Queen's music, but as the band say themselves; "Its fuel for your rock 'n' roll soul!"
There are only four songs on Gas For The Underclass

and to me that's not enough, I want to hear more from these Swedes. On their MySpace page you can hear more songs from their two other promos and they are almost as good as these four songs. I hope that Gasoline Queen will release a full length CD in the near future as I want more dirty and sleazy rock from them!









(8½ ud af 10)
Hits: 722518

callerock@gmail.com