Interview with Ronnie Atkins from Pretty Maids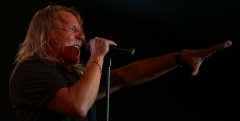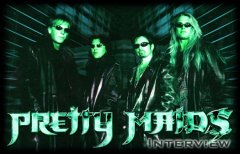 Ronnie Atkins Pretty Maids
Calle: How did the band get together back in 1981?
Ronnie: We were boys, only 16-17 years old, who wanted to play rock. There weren't many rock bands back then. The other guys came from Horsens and I came from Vejle. But I put up an add in the local music store, searching for a band, who neede a heavy metal singer. Earlier I played in a "ZZ Top and Free - kind of blues band" with some elder guys. One day those Horsens boys called me up and we met, and started playing Thin Lizzy and Rainbow songs, and the chemistry was there and I was in the band.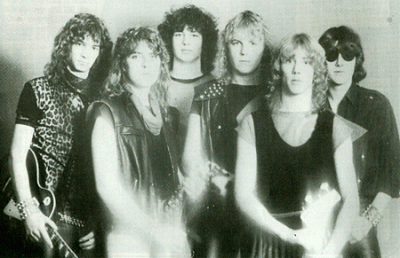 Early version of Pretty Maids
Calle: How did you come up with the name Pretty Maids?
Ronnie: The band already was called Pretty Maids when I became a member. It was something Ken had read in a book and then somebody had design some t-shirts, which we thought were pretty cool. And because we didn't have money to have other t-shirts made, we stayed with the name. Some people back then thought it was a girly band.
Calle: What was the reason you got into music and wanted to be a singer?
Ronnie: It started when I was 10 or 11 years old, when I sang in a band. We played Sweet and Slade songs. I was listening to the same music as my elder siblings, so you can say I grew up with it.
Calle: Besides Slade and Sweet, who was your other influences?
Ronnie: We were listening to bands like Thin Lizzy, KISS, Deep Purple etc. And for me personally it was early Black Sabbath and Led Zeppelin. Led Zeppelin is still my favorite band. We also listened to some of the NWOBHM bands like Iron Maiden and Def Leppard. In the beginning of the 80's we read Kerrang! magazine and through this we found out about the new bands.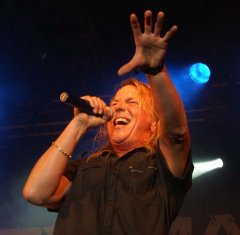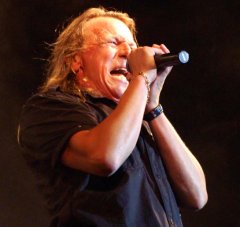 Ronnie Atkins - The man with the heavy metal voice
Calle: What about some newer bands. What are you listening to?
Ronnie: I actually don't listen to that many new bands. The newest band I listen to is Sixx A.M. and I also just bought the new AC/DC album... I know that they are not a new band, but I really like the CD. I think it's the greatest album they have mad since Back In Black and I think Brian sings better then he has on the last three records.
Calle: How do you write the songs in Pretty Maids? It seems like you and Ken are the main songwriters. Are the other guys not "allowed" to come with input?
Ronnie: No, they aren't allowed to...(laughs).... For the last twenty years it has been Ken and me, who had all the ideas and we usually sit with two acoustic guitars, and write the songs, and then bring it to the other guys. But if the other guys have a great idea, they are welcome to bring it to the rehearsals.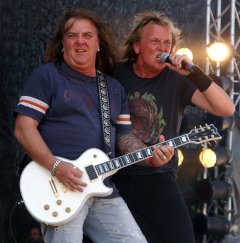 Ken and Ronnie - Main songwriters
Calle: In America Pretty Maids is mostly known for "Red Hot & Heavy (1984)" and "Future World (1987)". Do you still have a dream about making it big over there?
Ronnie: No, not really, but you can never say never. It's a tough place to make it and we had the chance back in the late 80's. We had the opportunity to move over there, and if we should have made it, it should have been back then. In 1987 we got the chance to open for Whitesnake on a 3-week tour, but we were committed to play with Deep Purple on some Monsters Of Rock festivals. If we had gotten the Whitesnake tour things might have been different.



Red, Hot And Heavy Future World Jump The Gun
Calle: To me the next CD "Jump The Gun" is the most polished and 80's sounding Pretty Maids CD, but it never really took of in America. Do you have any idea why?
Ronnie: It took to long to make, and when it came out bands like Guns 'n' Roses was the next big thing. People wanted a more dirty and sleazy sound.
Calle: Is there something you would have done differently with that record?
Ronnie: Everything! I never really liked "Jump The Gun". There was so much bad karma about that record. Our drummer got into an accident and the recordings were delayed. We also had to wait for Roger Glover (he produced it), because of some trouble in Deep Purple. The demos for the CD are actually really great and raw sounding, but the final result was overproduced. You can't blame Roger, because the band wanted to make a CD like Def Leppards "Hysteria", and he wanted to record the CD live, in a barn, in the states.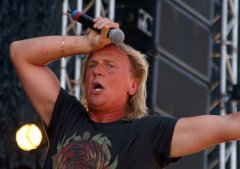 Ronnie - not satisfied with Jump The Gun
Calle: On "Sin- Decade" you had a cover version of "Please Don't Leave Me" and it made you quite big in Japan...
Ronnie: We already made an impact in Japan on "Jump The Gun", so if that record did anything...it was to break the ground in Japan. But you are right..."Sin-Decade" really made us big in Japan. "Sin-Decade" was a fun record to make, because we had two new members in the band. We actually broke up after "Jump The Gun". We were all tired and three of the band members left, after the tour and I was out of the band for a day or two...(laughs)...but then Ken and I talked on the phone and we both wanted to continue. Then we got Michael and Kenn in the band and the chemistry was back.

Sin- Decade Off-Side Stripped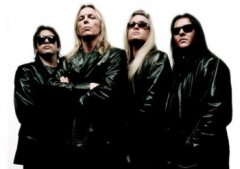 Pretty Maids with
Michael (far left) and Kenn (second from right)
Calle: I read somewhere, that the Japanese people really like your ballads. Was that one of the reasons you made "Stripped"?
Ronnie: I have to tell you something. First of all, we didn't want "Please Don't Leave Me" on the record, but we recorded it anyway and wanted to use it as a b-side. But the record company really liked it and wanted it on the CD. And as you said earlier it became a big hit in Japan, so the company wanted more of the same. We were on SONY back then and we recorded an EP called "Off-side", which were only meant for the Japanese market. They really loved it and SONY Europe wanted to release something similar in Europe. So to get out of the record deal, we agreed to record five more songs and release one more CD, which ended up as "Stripped". So to be honest we made that record to get out of a record deal.
Calle: On many of your records you have recorded cover songs like "Perfect Stranger" and "Hard Luck Woman". Then Hammerfall made a cover of your song "Back To Back" from "Red, Hot & Heavy". Isn't it cool, to have other bands playing your songs?
Ronnie: Yeah...that's pretty cool. It is always fun to hear, the songs that have been covered, for the first time and it is also great, when you have been an inspiration to other bands. There are also a lot of French and German bands that have recorded "Future World", but Hammerfall is the most famous band, to have covered one of our songs.
Calle: You have had some hot producers on your records like Eddie Kramer, Flemming Rasmussen, Tommy Hansen and Roger Glover. But you have produced your latest records yourself. Is there any particular reason for that?
Ronnie: We can't afford them anymore.....(laughs)...No, Ken and I already know what we want and it always ends up like that, so that's why we produce it ourselves these days. But I wont say that we never want to use a producer again. I would really like to work with Tommy again, because he contributes with something, where as on the other hand Flemming is more a technician. They are both really good in their own way.

Scream Planet Panic
Calle: From "Scream" and forward you have gone back to the heavier sound and especially "Planet Panic" is the most experimental.
Ronnie: Your right...
Calle: Is it to follow the trends of the time?
Ronnie: Yeah...especially with "Planet Panic" and "Scream". Between those two records we made "Spooked", "Anything Worth Doing Is Worth Overdoing" and "Carpe Diem" which is very similar in sound. But whatever we try to do we always end up sounding like Pretty Maids.

Spooked Anything Worth Doing.... Carpe Diem
Calle: Yeah you have a really characteristic sound, just like Iron Maiden and AC/DC have their sound.
Ronnie: We are pretty conservative that way. If we really wanted to change our sound, we should put all our money and soul into it and hire a producer like Rick Rubin or Brendan O'Brien.
Calle: What's your opinion on the Danish rock-scene, like it is know compared to the time when you came out?
Ronnie: There's a lot more rock today compared to when we started in the 80's. Back then you only had us, and in Copenhagen you had Witchcross and Mercyful Fate. There hasn't been that many rock bands up until the 90's, where you had a whole new generation of rock bands like Kashmir, Dizzy Mizz Lizzy and those types of bands.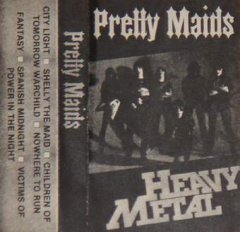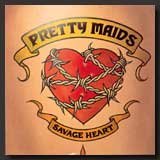 Early cassette 7" single for Savage Heart
Calle: What's your opinion on the development in the music business? When you started, there were only vinyls, 7" and cassettes.

Where as today, you have the Internet with MySpace, Youtube etc.
Ronnie: I think it's great with the Internet. There are so many things you can do with it. But on the other hand it has been my "death". About ten years ago you could start seeing the sales numbers go down, because of the easy way of downloading. That's the reason I said to the other guys in 2002, that I couldn't do this full time anymore because there isn't enough money in it. That's why we have only made one record since then, plus a live CD. I still love the music, and if you are in a band like AC/DC you can wait 8 years before you put out a new record, but it's hard for bands on our level. I know some German bands that were big in the 80's/90's that feel the same way as me. But I can see why...if you can go on one website and download a song for 1 dollar, or you can go to another site and download the whole album for free. I'm not better myself. If I wanted to have a wall in front of my house build, I would have a mason do it without taxes...well I'm a mason myself...so ...(laughs)...but you now what I mean!!
Alive At Last... Wake Up In The Real World
Calle: Yes, I do.
Ronnie: But the Internet is great. I can sit for hours and watch old video clips of the bands I grew up listening to.
Calle: What about your fans. Do you see a lot of the "old" fans in the crowd when you play live and do you see a lot of younger fans?
Ronnie: Actually I'm a little excited, because we are going on the first tour in six years starting next Friday in Germany. I think and hope to see some of the "old" fans and then there are always the die-hard fans. We were playing some festivals in Sweden, Spain, Greece and Germany last summer and there we saw some young fans in the crowds.
Calle: Do they sing along to the songs?
Ronnie: Yes they do and especially the songs from the old records. But it's like when I grew up, I had all the Rainbow records before I bought any Deep Purple albums. I knew Deep Puple but I was more into Rainbow with Dio. I had the same thing with Black Sabbath. I just had to buy all the old albums with Sabbath. Now we can see the same thing happening with our old records. "Future World", "Jump The Gun" and "Red, Hot & Heavy" still sell and that must have something to do with new young fans getting to know Pretty Maids.
Calle: What's the best or must fun thing you have experienced on a tour?
Ronnie: It is always fun to be on tour. If it wasn't we wouldn't be doing it. We always have fun on stage and in the bus. We have had a lot of accidents in the last 25-26 years, but we have always been able to look at even the worst things in a funny way. For the most parts anyway!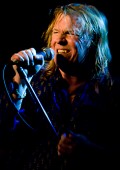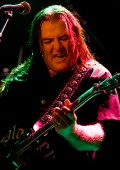 Kenn (bass) Ronnie (vocals) Ken (guitar)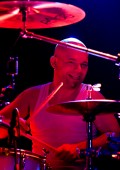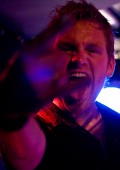 Allan (drums) Morten (keyboard)
(The two newest members to the band)
Calle: I read somewhere that your third concert ever was as opening band for Black Sabbath in Oslo and you were nervous as hell. Are you still nervous when you go on stage?
Ronnie: You have to be. I'm always nervous in the first couple of songs and I always have to go to the toilet 3-4 times before I go on stage. And it doesn't matter if I have to play in front of 20.000 people or 50 people I'm still nervous. If you aren't nervous when you go on stage you don't have it in you anymore and you might as well quit. That's my opinion anyway!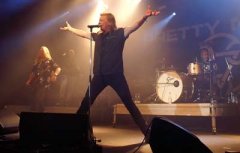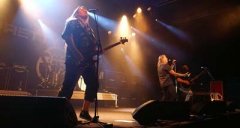 Pretty Maids Kickin Ass Live On Stage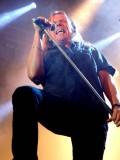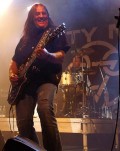 Allan Ronnie Ken Kenn
Calle: How long do you think you can keep on making records and tour?
Ronnie: As long as people want to be entertained and want to come to our shows, we'll continue. And of course we have to be able to do it. If I couldn't sing anymore I'll stop right away. I don't want to make a fool out of myself. It's getting harder and harder to hit the right notes, but I still feel I can deliver on stage.
Calle: Do you have any plans on a new record in the near future?
Ronnie: Not right now, but we have started writing songs. And we are planning on a new record in 2009 or 2010. Maybe it'll be at the end of next year.
Calle: What's the best advice you can give to a new upcoming band?
Ronnie: Be careful whom you work with and make sure they know what they are doing. We were deceived the first ten years, when we sold a lot of records in the 80's but we didn't get the money we should have. So get a good lawyer...(laughs)...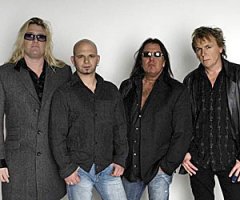 Pretty Maids 2008
And know some questions outside Pretty Maids music:
Calle: What was the first record you ever bought?
Ronnie: hhhhmmmm...I'm not sure, but it must have been something with Sweet, Slade or Gasolin.
Calle: And what about the latest CD you bought?
Ronnie: The latest CD I bought was AC/DC's "Black Ice". I was in Berlin at the Hard Rock café the day the CD came out and they made a big deal out of it. So it was quit fun. I had heard the first single and I really thought it was great. It reminded me of "You Shook Me All Night Long".
Calle: What's your interests when your not playing music?
Ronnie: I work as a mason and I have my own company. But if you ask me, I would rather stand on stage singing...(laughs)....
Calle: Now I have five quick questions. Tuborg or Carslberg? Ronnie: Carlsberg
Calle: Traditional food or pizza/pasta? Ronnie: I like both, but my wife makes some great traditional food.
Calle: Blondes or Brunettes: Ronnie: Brunettes
Calle: Studio or live? Ronnie: Both.
Calle: Jack Daniels or Johnny Walker? Ronnie: Good ol' Jack, but I prefer a Carlsberg.
Calle: Any last words for the fans?
Ronnie: I hope they like our music and will keep buying our records and come to our shows.
Now some questions for the Danish readers (in Danish), because they are about the Danish football league:
Calle: Interesserer du dig for fodbold?
Ronnie: Ja for fanden!
Calle: Du kommer jo fra Vejle. Er det så dem du holder med?
Ronnie: Ja, jeg har altid holdt med Vejle.
Calle: Tror du de bliver i den bedste liga?
Ronnie: Det ved jeg sku ik. Det bliver fandme svært. Der er flere hold der kommer til at ligge og kæmpe og Vejle har sku ikke været for gode de sidste par kampe. Og så er det jo Sønderjyske, Horsens, AGF, Esbjerg og Aab, som

Vejle skal ligge og kæmpe mod. Det er jo rystende at de hold ligger dernede. Men når det kører for Vejle, så synes jeg de spiller seværdig fodbold. Jeg synes bare de skal manifisterer sig i Superligaen de næste par år.
If you dont already know Pretty Maids
you can check 'em out on MySpace by clicking at the banner below.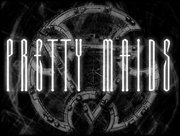 The End
Hits: 739856

callerock@gmail.com