Interview with Ricky Warwick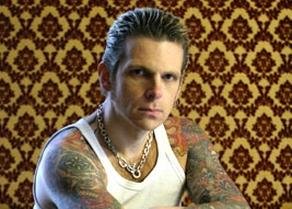 Calle: You formed The Almighty back in 1988. How did you guys meet?
Ricky: I moved from Belfast to a small town outside Glasgow when I was 14 and myself, Stump and Floyd met at our last year of school. Tantrum, our first guitarist, was recommended by a friend of ours.
Calle:
What did you do before forming The Almighty?
Ricky: I grew up on a farm. So I was a farmer.
Calle: What got you into music in the first place?
Ricky: I went to see Stiff Little Fingers play in Belfast and I knew straight away that that's what I wanted to do with my life.
Calle: Who are your biggest influences?
Ricky: Life, Stiff Little Fingers, Johnny Cash, Motörhead and my father.
Calle: Name 3 "older" bands and 3 "newer" bands you can recommend?
Ricky:
Old - Stiif Little Fingers, The Rolling Stones and MC5
New - The Gaslight Anthem, And You Will Know Us By The Trail Of Dead and Drive BY Truckers.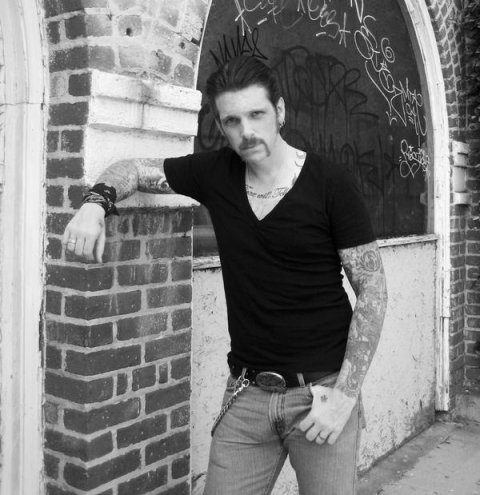 Calle:
The Almighty was formed in Glasgow, Scotland. How will you describe the music scene in Scotland back when you started?
Ricky
: It was mostly full of pop bands. We were the heaviest thing to come out of Scotland since Nazerath and The Sensational Alex Harvey Band.
Calle: The Almighty released their debut CD "Blood Fire And Love" in 1989. How was the response from the fans and critics?
Ricky: I think we all were amazed how quickly everyone took to the band fans and critics alike. We went from playing to 50 people to playing to 2000 a night in a year.
Calle: The second The Almighty album "Blood Fire And Live" was a live CD. Why did you choose to release a live album as your second album?
Ricky: Because we were not entirely happy with the overall production of Blood, Fire And Love. We felt we had become such a force live that we wanted to try and capture it on record.
Calle:
After the band released "Soul Destruction" in 1991 Tantrum left the band. Why?
Ricky: Tantrum is a good guy and a great guitarist. But he just didn't see eye to eye with the rest of us.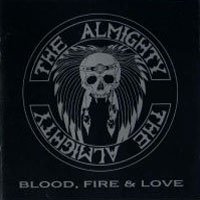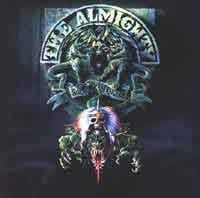 Blood, Fire & Love - Blood Fire & Live - Soul Destruction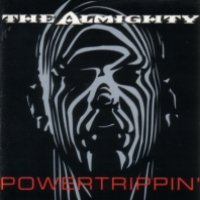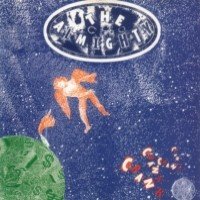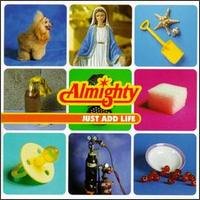 Powertrippin' - Crank - Just Add Life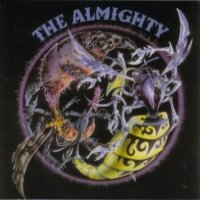 The Almighty - Psycho-Narco
Calle:
From 1993 to 1996 The Almighty released three more albums ("Powertrippin'", "Crank" and "Just Add Life"), but then the band disbanded. Why?
Ricky: Boredom, drink, drugs, fights, record label bullshit and I felt we had gone as far as we could.
Calle:
In 2000 the band reformed with a few changes in the line-up and released two more albums ("The Almighty" and "Psycho-Marco"). Soon after the band disbanded again and you started a solo career. Was that something you had always wanted to do?
Ricky: I had never imagined I would be a solo performer until it actually happened, so I kind of fell into it by accident.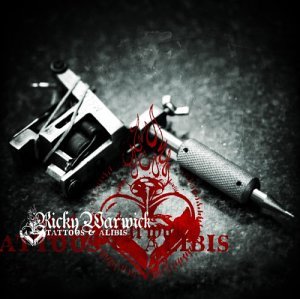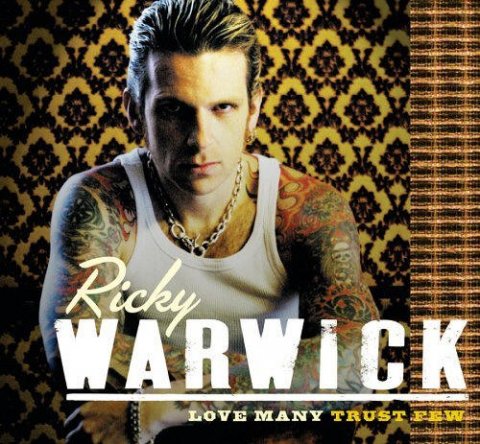 Tattoos and Alibies - Love Many, Trust Few
Calle: As a solo artist you have released two albums ("Tattoos & Alibis" and "Love Many Trust Few"). Those albums have a more acoustic-rock sound with some Celtic inspiration. Why the change in style?
Ricky: There was absolutely no point in me doing something that sounded like The Almighty. I have always loved Americana folk and Celtic rock music. I felt I could do it in my own style. It's something I feel very comfortable doing.
Calle: How did the Almighty fans welcome your solo stuff?
Ricky: Some of them dig it and some of them don't. If you see some of my solo shows even though I'm armed only with an acoustic I still put on a hell of a rock 'n' roll show.
Ricky and Joe Elliot (Def Leppard)
Calle:
Joe Elliot from Def Leppard produced both your solo albums. How did you guys get to know each other?
Ricky: We met at a secret David Bowie show in Dublin.
Calle:
In April you released your third solo CD "Belfast Confetti". What can the fans expect from that album?
Ricky: It's all songs of grit, heart and soul. All about experience of mine, family, friends, places all connected to Northern Ireland.
Calle: Where do you find the inspiration for the songs?
Ricky: Life in general.
Calle: If you could name one song you wish you had written, which song would that be?
Ricky: Born To Run by Bruce Springsteen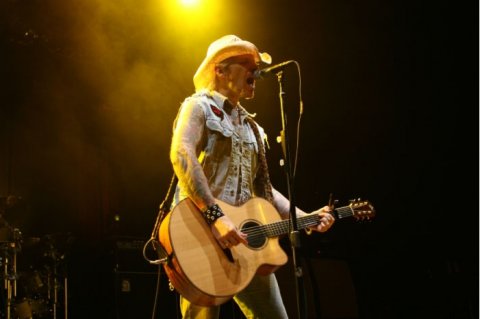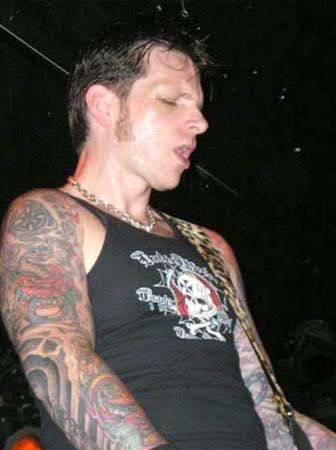 Calle:
Back in the early nineties you played with a lot of great bands like Alice Cooper, Megadeth and Motörhead to name a few. If you get the chance to open for/play with some other bands, who would you like that to be?
Ricky: I'm blessed in that I have opened for nearly all the great bands that have influenced me or am a fan off. I would have loved to played with or met Johnny Cash.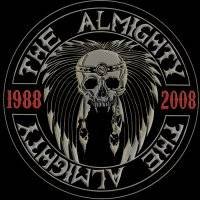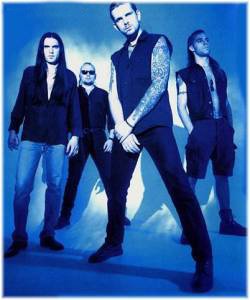 The Almighty - never got the big break in America
Calle:
The Almighty did a few smaller tours in America, but never seemed to get the big break over there. Why do you think that is?
Ricky: Quite simply it was record company bullshit!!
Calle: If you could put together your dream band, who would be in it?
Ricky:
Drums: Bun E. Carlos – Cheap Trick
Bass: Lemmy – Motörhead
Lead guitar: Jake Burns – Stiff Little Fingers
Rhythm guitar: Malcolm Young – AC/DC
Lead vocals: Bruce Springsteen
Calle: You have also been a part of Circus Diablo (with Billy Morrison and Billy Duffy). How did that project start?
Ricky: I have known the two Billy's for a long time. We were just sitting around jamming at Billy Morrison's place one day and it sort of evolved from that.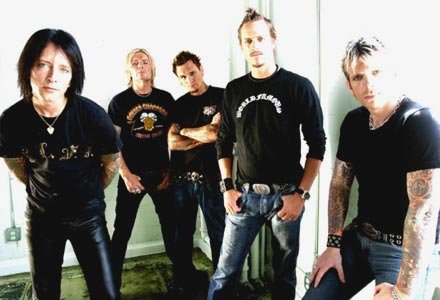 Circus Diablo feat. Billy Morrison, Billy Duffy (The Cult), Bret Scallion (Fuel), Ricky Warwick (The Almighty) and Matt Sorum (Velvet Revolver - only on the CD)
Calle:
Do you think it's harder or easier to get the music out to people today with MySpace, iTunes etc?
Ricky: It's easier!!
Calle: A lot of people also use the Internet to download music illegally. Do you think that it "kills" smaller bands?
Ricky: It kills all kinds of bands/performers. It's stealing. End of story!!!
Calle: What's the best advice you can give to up-coming bands?
Ricky: Work hard. Self believe and determination.
And now some questions outside your music:
Calle: What was the first CD/LP you ever purchased?
Ricky: Sham 69 – Hersham Boys
Calle: What was the latest CD you bought?
Ricky: And You Will Know Us By The Trail Of Dead
Calle: What's your top 5 CD's of all time?
Ricky:
1. Inflammable Material – Stiff Little Fingers
2. London Calling – The Clash
3. Ace Of Spades – Motörhead
4. Nebraska – Bruce Springsteen
5.
Highway To Hell – AC/DC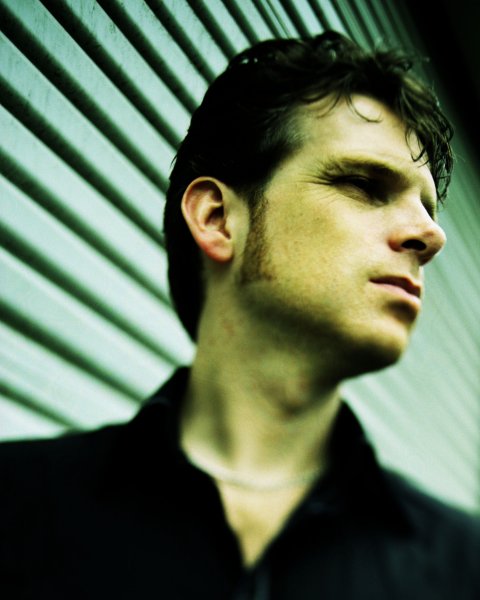 Ricky loves his wife and children
Calle:
What do you do when you're not playing music? What's your other interest?
Ricky: My wife and my children.
Calle: Do any of you have another education?
Ricky: Well as I said, I was brought up on a farm, so I'm quite knowledgeable about agriculture. I'm also a fully qualified fitness instructor.
Calle: What's your favorite drink?
Ricky: Guinness and coke But not together!!
Calle: What's the first thing that comes to your mind when I say Denmark, and what do you know about Denmark in general?
Ricky: I love Denmark, always had a great time there. Cool people. I think the countryside reminds me a bit of Ireland at times as it's quite green.
Calle: Any last words for the fans?
Ricky
: Keep the fights real and leave some blood in the place!!!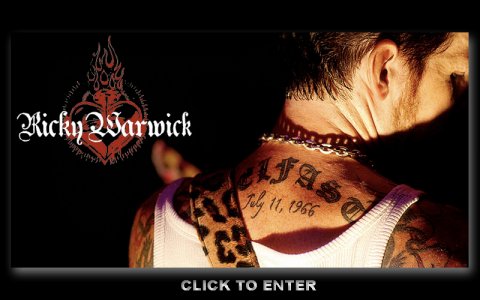 Click on the banner to visit Ricky's MySpace
Click on the banner to visit The Almighty's MySpace
The End
Hits: 720796

callerock@gmail.com