Interview with Hot Rod from Gemini Five 29. may 2008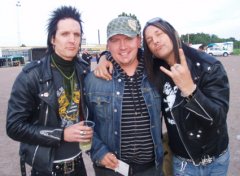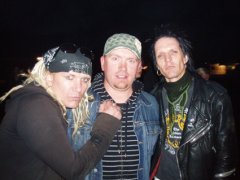 Slim Pete, me, and Hot Rod Tin Star, me, and Slim Pete
Calle: Gemini Five started out in 2001. How did you guys meet?
Rod: Tin's been asking me for years to join his team as a bass player. When I came home from Hollywood in 2001 a mutual friend of ours called me up to try out for his new band that were about to be formed in Stockholm. Tin knew I was back in Sweden, and he saw his chance to finally put together the ultimate Rock band. At the time, Tin and Slim where the only members, but some prospects were asked to audition as well...
Tin and Slim knew Snoopy from hanging out at Tin's rock club 'Star Bar' passing out in the corners every weekend...
However, Snoopy and I auditioned at the same time and no one else needed to be tried out!!! Gemini Five was born on July 21st 2001. ...AND THE REST IS HISTORY. We had from the very start an upcoming deal with a major label that never fell through. We knew WE were the winning team and continued to break new ground writing and performing. We spent a full year doing gigs and demoing the songs until' we finally got signed
on September 21st 2002. ... It took us less than 10 gigs!!!
Last August Snoopy was fired and was replaced by Dee Dee in 2008. We found Dee through a mutual friend Cat (Deathstars). Cat had acted as a temporarily guitarist in G5 on several occasions when Snoopy wasn't around.


Gemini Five live at Rockhimlen Festival in Helsingborg July 2007
Calle: What got you into music in the first place?
Rod: I guess both my dad and mom did. I've always had loads of music surrounding me; Elvis, Rolling Stones, Abba and all kinds of music really. But Kiss and Mötley made me REALIZE that this was my way of life from that day on :) I wasn't a usual kid and I guess you could say that music found me. I didn't really fit in the clean-cut football league. As a young boy I realized there was something much bigger out there to aim for and my gut feeling was right.
Calle: What are your biggest influences?
Rod: Kiss made me wanna Rock n Roll all nite and Mötley
made me wanna quit sports - FOREVER
Calle: Name 3 "older" bands and 3 "newer" bands you can recommend?
Rod: Since most people already know about KISS or/and Mötley
I would say:
1. Spread Eagle - Their first album is the best true SLEAZE album ever!
2. Vinnie Vincent - Also, his first album "Vinnie Vincet Invasion" is fantastic
3. Accept - Balls to the ball. This ias good as it gets :D
1. Beautiful Creatures - an American band I was in :) First album ROCKS!!!
2. Rob Zombie - any record!
3. CrashDïet - Fantastic true vibe.
Calle: Gemini Five have put out 3 cd's now. ("Babylon Rockets" in 2003, "Black Anthem" in 2005 and "Sex Drugs Anarchy" in 2008). You seem to have a different sound on each cd. Are you following the "trends of the time" or are just finding new inspiration?
Rod: We are not followers. But we like to develop and to push the envelope further with each release. That one thing a always liked with Mötley, each release was fresh, strange and up-to-date. New sound, new logo, new hair style...hee hee. I mean, its 2-3 years between each release and new influences or/and flashbacks of what you grew once up with. I love the 80's. The girls - the bushes, the clothes, the music, the image, the metal...



Babylon Rockets Black Anthem Sex, Drugs, Anarchy
Calle: How do you write the songs and where do you find the inspiration for the songs? Does each of you come up with ideas or do you all write together?
Rod: Tin and I write almost everything by bringing our ideas down to rehearsal and from there work out the arrangements together as a band. The inspiration comes from everywhere. Could be an old record you just had a listening to or a line for a chorus that you wake up with. Tin has this great melodic feeling to his writing and I bring the toughness and metal to the table. Together you have music that will kick most bands asses in this genre.
Calle: In the late 90's you moved to Hollywood and tried your luck over there. You were playing with Joe Leste and Dj Ashba in
Beautiful Creatures and Johnny Jetson and Johnny Crypt in The Jetset among others (see link at the buttom). What made you return to Sweden?
Rod: I was forced to! It's a long story but immigration and visa problems made it impossible for me to stay. But man, I had a blast and the whole experience made me into what I am, a HOT motherfucking ROD. hee hee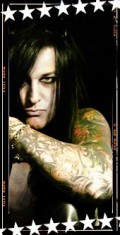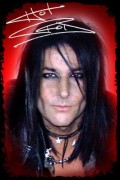 Hot Rod (photo far left by: Ola Johansson)
Calle: What's the best advice you can give to other up-coming bands?
Rod: It's all about the music and the songwriting. I mean, if you're in this because you think you will get a little more pussy (or dick!!??) you a total loser in the first place. Work hard and be serious about your songwriting and rehearsals then it will be loads of time to be not so serious... But most important; DONT TAKE "NO" FOR AN ANSWER!
Calle: What do you do when you're not playing music? What's your other interest?
Rod: When I think about it, all my life is about the music. The art. The Design. The feeling. The vision. The traveling. All my previous jobs has been chosen from the point of view to be able to have evenings and weekends off. All the money had been put into equipment (or replacing smashed ones). Would you die for your art? I would!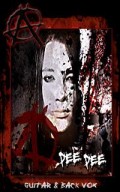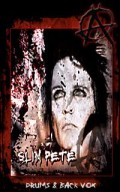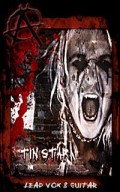 Calle: Any last words for the fans?
Rod: We can't do this without your love and support. You are the reason we keep wanting to get better. Please, help us spreading the word of GEMINI FIVE by simply introduce your friends to our music. Just send them a link to our MySpace-w

ebsite

and from there they are usually hooked.
(use this link if you want to check out more about Hot Rods time in Beautiful Creatures, The JetSet, Cocaine Cowboys and Gift)
We would love to visit your country or even your city and that
may be possible if you can introduce the band to your local club
or promoter.
Hope to see you all very soon.
Have a rocking hot summer

.
This photo by:
The End
Hits: 696832

callerock@gmail.com