P.J. Farley fra Trixter - May 27th 2015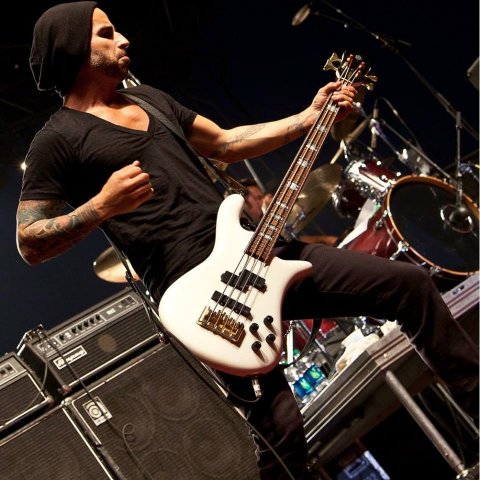 Calle: Can you give us a short story on how the band started?
P.J.: Steve started the band with Pete back In 1984 in Paramus N.J. I joined in 87' (think I got that timeline right lol)
Calle: What got you into music in the first place?.
P.J.: Kiss got me hooked on music and planted the seed for me wanting to perform live.
Calle: Who are your biggest influences?
P.J.: Influences range. From Kiss,Bon Jovi & Aerosmith to Stevie Wonder, The Beatles, Journey…etc
Calle: I guess Trixter had their biggest success in the beginning of the 90's with the release of your debut album "Trixter" and the second album "Hear". How was that experience?
P.J.: It was a surreal experience being able to live out our childhood dreams IN our childhood essentially haha. Making records and touring with all of our favorite bands, #1 videos on MTV….etc was all something we felt very comfortable with lol. We couldn't have wanted those opportunities more at that time!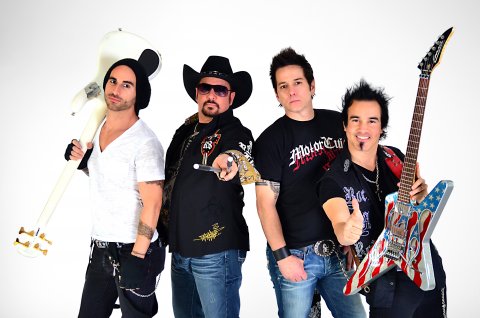 Trixter 2015
P.J., Gus, Pete and Steve
Calle: Was it hard to record a follow up to the debut album when you think about the hit singles on the first album (both on Mtv and radio)?
P.J.: We didn't really put that pressure on ourselves as far as commercial success. We were absolutely more concerned with making a record we were proud of.
(judging by record sales…..our mistake hahaha). We are extremely proud of HEAR. Wish it came out alittle earlier then "Nevermind"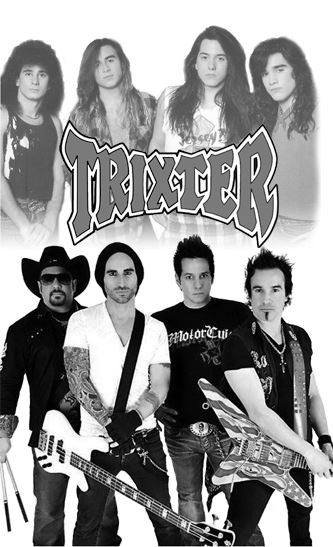 Calle: Trixter is one of the few bands who have had the same line-up through the years. What do you think is different from your band to a lot of the other bands form the 80/90's?
P.J.: I think because the band was formed at such an early age that there was a bond formed based on more than just making music and money. We were able to tolerate each other on a whole different level than most other bands.
Calle: There was a long gap between the release of "Hear" in 1992 and the release of "New Audio Machine" in 2012. Why did it take so long to record a new Trixter album and what did you guys do in all those years between the two albums.
P.J.: Steve and I continued to write and record music together. We had a band that went through a few band names (Throwan Rocks, Soaked, 40ft Ringo, Stereo Fallout). In 2002 I joined a Hard Rock/ Metal band called Ra that was signed to Universal/Republic Records. I toured and made records with that band up until 2013. Pete moved to Phoenix AZ and had a number of different projects/jobs keeping him busy and Gus owned a restaurant for about 8 years. We put Trixter back together in 2008 with the idea of just doing some shows for fun. We weren't jumping back in all guns a blazin. I, for one, was not into doing a reunion if it wasn't gonna feel the same and it wasn't going to be honest so I wanted to take baby steps. We all agreed to just do shows first and see how it feels. After 2 years or so Frontiers approached us about making a record and it felt like it would be a genuine effort so we did.
Calle: You'll release a new album called "Human Era" in June. How was the recording process of that album and who in the band mainly writes the songs and lyrics?
P.J.: The process starts mainly with Steve sending me demos of songs to bounce ideas off of. If the song needs some tweaking with arrangement/editing or maybe a new bridge or something, I'll pass notes and parts to him. If the song has a great flow from the get go then I'll just leave it alone.Sometimes Pete might have some lyric ideas to add as well. On the other hand a song like "Human Era" was a song that I wrote but didnt have alot of the verse lyrics, I had the melody and story/theme, I told Steve what I was going for and he filled it in perfectly. Once we have finished songs, Steve, Gus and I start tracking drums and building the foundation. Pete will record his vocals by himself in Arizona and send them to Steve. From there, Steve will finish any guitars/bells and whistles the song may need and then start to mix and make the songs come alive.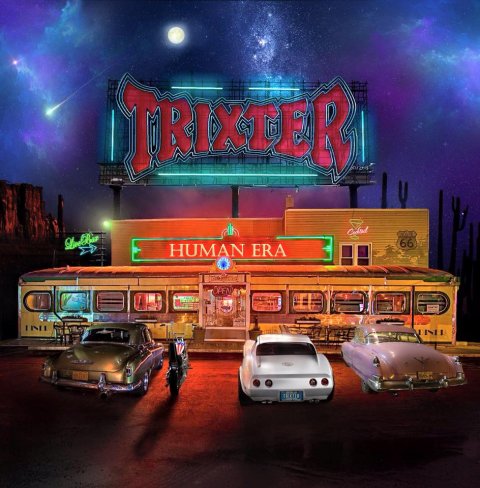 Calle: Why did you guys name the record "Human Era" and who came up with the title?
P.J.: I came up with the title "Human Era" as a play on words and it also refers to a number of scenarios. Back before the technology era, people formed relationships differently and had a more human connection but also it refers to bands playing and making music. People made mistakes in life and while making music and they weren't just deleted or auto corrected and that was FINE, it was HUMAN. By no means am I taking a stand against technology in or out of the studio whatsoever because lord knows we embrace every aspect of it, I'm just saying I/we kinda miss those days and believe that you learned alittle more and worked alittle harder for things back then. The reward was greater also, hence us 4 guys still making music together after all of these years.I think because we formed this band back in an era where you had to connect face to face and speak on the phone etc it built a stronger bond. Another aspect is that the people MAKING the music were the Rockstars back then, not the people spinning it. Im all for anyone making money in the music biz but I think its become alittle lopsided. A person walks into a venue with a hard drive and makes more then a band loading in a PA/band gear and sweating their ass off onstage playing music that they wrote. At the end of the day the title refers to connection and ironically the lack there of.
Calle: I think the new album really rocks and it still sounds like a Trixter album. Did you guys ever consider changing your style musically? Also back when "grunge" killed the so called hair-metal genre?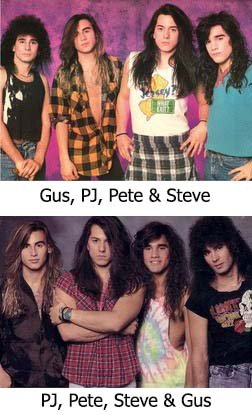 P.J.: No, I think its funny though that a genre of music that Trixter gave its look killed our music lol. Who knew Seattle would take our flannels and choke us with them!! But no, we never made an effort to force a conforming sound.
Calle: What song or songs on the new album are you most proud of?
P.J.: Very proud of "Rockin to the edge of the night" because of the history of the song and that it has been with us for like 25 years. "For You" has some amazing playing by everyone on it, "Human Era" means a lot and really sums up our concept. I'm really proud of this record and how it came together. Everyone is playing great and Pete sounds better than ever. We are kinda hitting our second prime.
Calle: It seems like your style of music is starting to get popular in the US again and there are a lot of festivals with bands from the 80's/90's playing those festivals. I think about MOR Cruise, M3 Festival, Rocklahoma, Skull Fest etc. But you signed a deal with a European label. How come you didn't sign with an American label?
P.J.: None of them asked lol. Frontiers is the best place for us though. They truly understand and support what we(and all bands) in our genre are trying to do. They reached out to us and if not for them, "Human Era" and New Audio Machine would not exist!
Calle: Personally I haven't seen you guys live, but what can people expect if they go out and see Trixter live?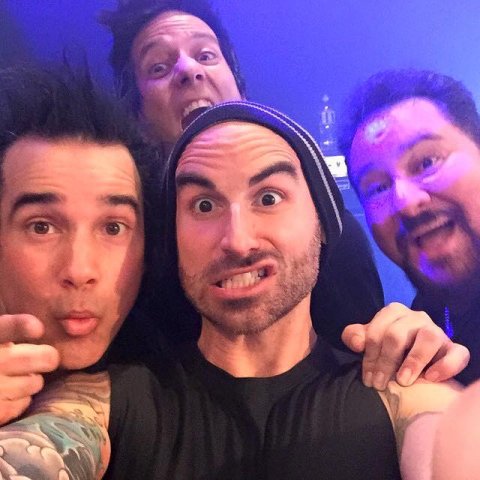 P.J.: Tons or energy by 4 guys who truly love what they do. Along with some humor lol!
Calle: What's the most fun/crazy experience you have had during a show?
P.J.:
Some moments are classified! We did have a cool jam with Poison and Slaughter onstage in TN which was a blast. Poison called us all out for the last night of the tour. Has some doozies with Warrant dowsing us with beer and flour….etc
Calle: I don't think you have ever played in Denmark. Do you have any plans on a European tour in support of the new album and will Denmark be included on the tour?
P.J.:No plans yet but definitely a desire!!!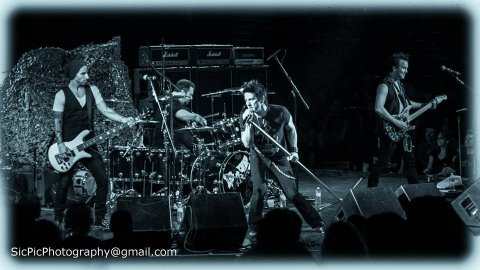 And now questions about things not Trixter related:
Calle: Did you play in another band before Trixter?
P.J.: Yes, a band called Prisoner. Think I was 13-14?Calle: Besides music, what are your other interests? My kids and family .leaves little time for other interests lol
Calle: Who are your biggest influences?
P.J.: Kiss and Motley were my world growing up.

Calle: Can you name 3 other new rock/metal bands you would recommend people to
check out?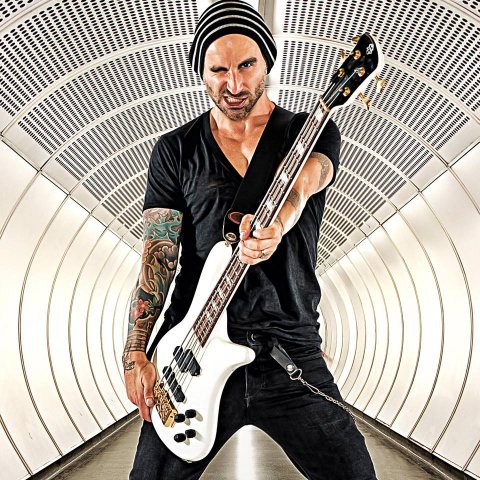 P.J.: Starset, The Pretty Reckless and Nothing More
Calle: Name one song you wish you had written and why?
P.J.: There are soooo many but one is "Every Breath you Take" because it's a great pop song that commands attention where most pop songs beg for attention.
Calle: What was the first CD/LP you ever purchased?
P.J.: Kiss. "Love Gun"
Calle: What is the latest CD you bought?
P.J.: Tony Bennet and Lady GAGA
Calle: What's your top 5 album's of all time?
P.J.:
1) Jellyfish –Spilt Milk
2) Jellyfish- Bellybutton
3) AC/DC- Back in Black
4) Hall & OATES- Rock n Soul Part1
5) Mr.Big- Lean into it
Calle: If I say Denmark what's the first thing that comes to your mind?
P.J.: When will I get there??!!!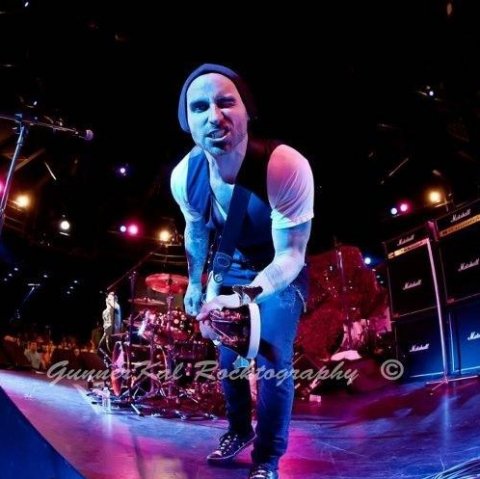 Calle: What's the best advice you can give to up-coming rock bands?
P.J.: Theres no longer a pot of gold at the end of the rainbow, All the hard work and dedication we (and bands in our time) put in used to pay off greatly and it just doesn't anymore. Make music because its something you MUST do for yourself first and cant live without, but keep your eye on the ball financially somehow with a back up support system.
Calle: Where do you see yourself in 10 years?
P.J.: I don't know where I see myself in 10 days
Calle: Do you have any last words for the people out there?
P.J.: The band is always shocked by the support we get after all these years and cant tell you how appreciative we are!. Thank you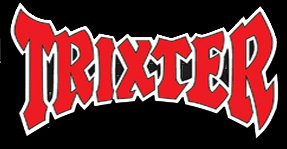 Click on this logo to visit Trixter's website

Click on this banner to visit Trixter on Facebook
Hits: 721526

callerock@gmail.com