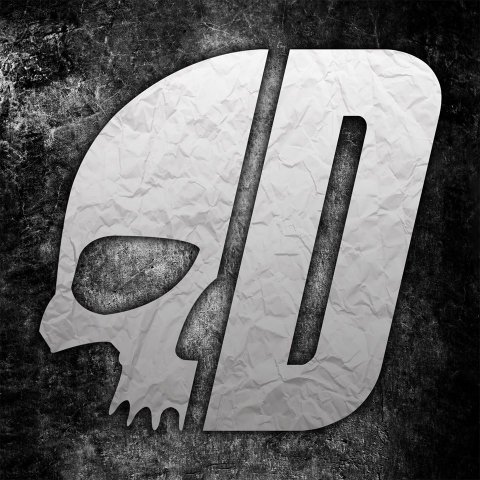 I had the great pleasure of meeting the Danish metal band Defecto, right before one of their concerts in Elsinore 17 november 2017. It was a very pleasant and relaxed meeting, and the guys are just so cool and easy to talk to.

Peter: How did you come up with the name, and does it have any meaning?

Band: Actually we looked for a name that DID NOT have any meaning or association. We didn't want to get put in a certain category just by the name, so we looked for something neutral. Many metal bands have names that, kind of defines their style, just by saying the name, and we did not want that. We like to have a degree of freedom in the genre. And when you search for the name we didn't want to get mixed up with a lot of other hits. Another good thing about the name Defecto is, that it works in all languages, and we don't have to explain or spell it. The only thing about the name is, it actually translates into "standard" in Spanish… Afterwards we found out that there is actually a Mexican band with the same name. They've been around since 2005, so a bit longer than us, but we don't consider it to be a problem.

Peter: I read somewhere that you would like to take on the German market, but then I found out that you have just been to Japan. Why Japan, and what happened to Germany?

Band: We did go to Germany to play four shows, and it's still a plan to get back to Germany and play some more. The Japan trip was a promotion tour for Scandinavian rock / metal bands to show off for the Japanese music industry. A jury picks out a band from each of the 4 Scandinavian countries, that they consider to be the "hottest" names at the moment, to go to Japan and Defecto was chosen. So we played 2 concerts in Japan, with a mixed crowd of both Japanese and Scandinavian.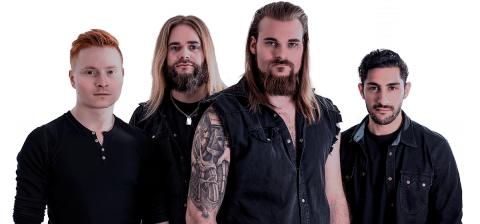 Defecto
Peter: Was it great in Japan?

Band: It was awesome. Great crowd, nice people and oversize CD stores, that are open 24/7, to sell our new album . The Japanese market is one of the largest markets in the world for CD and DVD. For some reason they are not nearly as much into the streaming wave. We would definitely do it again, and the Japanese crowd really knows how to have a metal party. When you play a show for the Japanese, you feel like a true rockstar afterwards. They truly made an effort, and there was even some guy who had tried to learn some Danish words, to impress us. That's a whole new level of dedication.

Peter: Where are you going next?

Band: We are definitely going to play a lot of shows, and we ARE going to play around Europe, but for now, it's a secret where we are going to play. But we CAN say that we are going to play some 8-10 weekend shows in Denmark in the spring. And there's a pretty good chance that we get invited to go to Japan again, now that we made the promotion tour. After all, there is a new album to promote…

Peter: How much influence do you have on the next step or destination?

Band: None. As long as we don't have our own headline tour, and we are not quite there yet. We have to look for the offers to go and play with some of the well known bands. That way we can come out to a lot of different places and play our music, and hope for more people to get to know about Defecto, and who we are.

Peter: Do you have a favorite track off the new abum?

Band: "Nemesis" and "Savage" it seems to be..
Peter: So, what was the coolest. The Rammstein or the Metallica job?

Band: They were both cool, but we think that the Metallica gig was the coolest. Metallica has always been our heroes, and to meet them backstage was just the best experience. They were absolutely cool and nice and they liked our music. Also we had their sound technicians come and assist us with our sound check. And to play Royal Arena is a cooler experience than playing open air in Horsens. It is somehow a more intense experience to play a dark room, instead of daylight.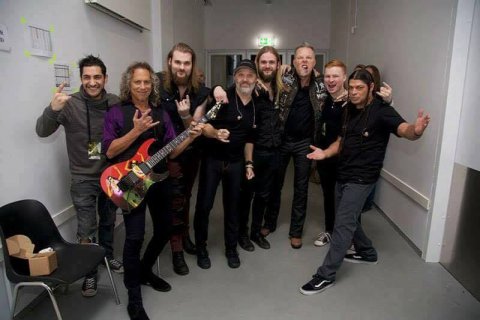 Defecto and Metallica at Royal Arena in Copenhagen
Peter: How easy is it to write new songs?

Band: Sometimes Nicklas has to work for a couple of hours in the middle of the night because he dreams of a guitar riff, and just has to work on it. It's mostly when we have something else to do, that the good idea comes along, and then we just have to follow the idea and get it recorded before it disappears.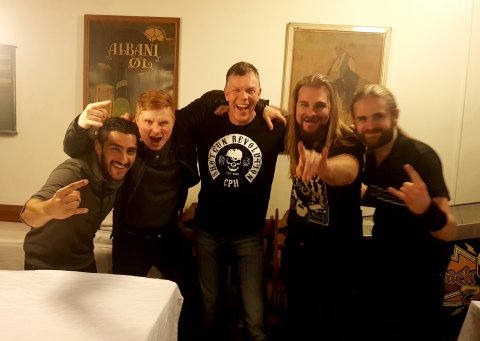 Peter and Defecto in Elsinore, Denmark

Visit Defecto on facebook by clicking the banner/picture
Peter also did a review of the new album. Read the review here.
The End
Hits: 720793

callerock@gmail.com