Interview with Luke Rivano from Crazy Lixx

Me, Luke and Joey (Nov. 2007)
Calle: Crazy Lixx was established in 2002 and you joined in 2005. How did you know the guys?
Luke: I knew them all from before, Dannys older brother is my best friend, and I used to be in a band with him and Danny.
Calle: What did you guys do before joining Crazy Lixx?
Luke: As I said Me and Danny were in another band called Crucible parallel to Danny being in Crazy Lixx and Andy was recruited from Stockholm rockers Sharp. Before Starting up Crazy Lixx, the other guys and Vic played a metal outfit called Blindead.
Calle: I have heard that you played guitar before joining Crazy Lixx. Did you switch instrument so you could be in the band?
Luke: Yes I did. There was an opening for bass in the band and they asked if I wanted to try it out, so I did. At first I didn't think I could hack it, but it soon turned out I'm a better bassist than I ever was a guitarist.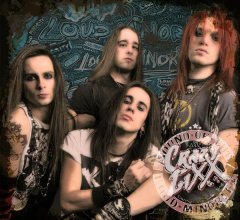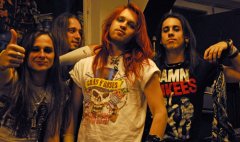 Crazy Lixx with Vic Zino
Calle: Who came up with the band name Crazy Lixx and does it have a special meaning?
Luke: It was Danny's idea. As a kid he had a Japanese toy guitar that played rockin' lixx when you pushed it's buttons. Turns out we got it wrong and the thing was actually called Hot Lixx, but we discovered that a little too late so the name stayed. Besides Crazy Lixx is a better name than Hot Lixx
Calle: Who are your biggest influences?
Luke: My personal influences are Mainly Alec John Such, maybe Duff mcKagan Steve Harris and probably others. I'm not really bothered with names tho, it gets in the way of enjoying the music.
Calle: What got you into music in the first place?
Luke: When you're twelve years you'll do anything to get the girls...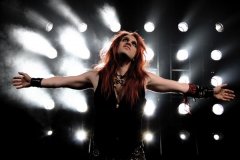 Luke did anything at the age of twelve to get the girsl..
Calle: Name 3 "older" bands and 3 "newer" bands you can recommend?
Luke: I'm really traditional with my "old" bands, but three good ones might be Whitesnake, Black Sabbath and Judas Priest. That doesn't begin to cover it though. As for newer bands, there's not so many I actually listen to. Anyone who hasn't heard Semi Precious Weapons should definitely check them out. At the moment, I also listen to a lot of The 69 Eyes.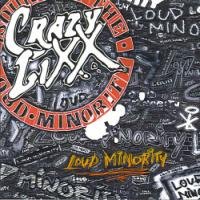 Loud Minority cd-cover
Calle: Crazy Lixx released their debut album "Loud Minority" in 2007. How has the response from the press and the fans been?
Luke: Press has been awesome. I read one or two bad reviews, but overall it's been quite overwhelming. As for fans, everyone that has or has heard the album seem to love it, and we're getting more and more people come to our shows all the time.
Calle: How do you write the songs in Crazy Lixx? Does each of you come up with ideas or do you all write together?
Luke: Danny does most of the writing, a lot of it together with Andy at the moment. We don't have any fixed roles though, anyone can contribute.
Calle: Where do you find the inspiration for the songs?
Luke: Where does anyone find inspiration? I guess you just put bits and pieces together from everyday life as well as past experiences. Usually you come up with a riff or a phrase, and the song sort of grows around it.
Calle: If you could name one song you wish you had written, which song would that be, and why?
Luke: If I had written Heaven's on Fire or Thriller I would be filthy rich by now.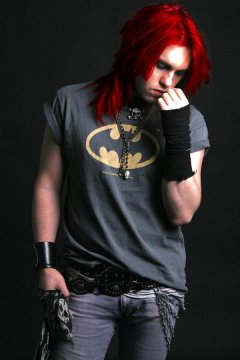 Luke Rivano
Calle: Crazy Lixx are based in Malmö. How will you describe the music scene there, and in Sweden in general?
Luke: Sweden in general is pretty good. There's always demand for good bands and we tend to get treated really well both by promoters and the crowds. In Malmö there's a strong Hip Hop scene, wich makes it a bit difficult for a Hard Rock band to get much attention. There is a scene for upcoming bands, but it's more of an underground movement here.
Calle: Crazy Lixx was one of the first bands to emerge in "the new wave of Swedish sleaze. Do you still consider yourself as part of that movement?
Luke: I guess we are, it's not really for us to say. If we have the same fans as Crashdïet, Vains of Jenna and Hardcore Superstar, then we must be part of the same movement. We don't sound like them, but then again that's not just us, we all sound different.
Some of my Crazy Lixx live pictures from Rock The Night
at The Rock in Copenhagen on Nov. 23rd 2007
Calle: You have played with a lot of great bands like Hardcore Superstar and Gilby Clarke, Nasty Idols and Innocent Rosie to name a few. If you get the chance to open for/play with "a million record selling band", who would you like that to be?
Luke: Any Million record selling band... Playing with bigger bands isn't a goal in itself, it's more of a way of reaching out to a greater crowd. Don't get me wrong tho, we've had some great times and made some really good friends, but that goes or when you're playing with any band, not just the big ones.
Calle: Speaking of Hardcore Superstar. How did you feel when Vic joined them?
Luke: At first we were all exited, and for him we still are. Shortly after when we realized that he couldn't be in both bands we were naturally all disappointed, but there's no grudge. In the and He only did what any of us would have done and we all still remain great friends.
Calle: Andy Dawson (ex. Sharp) replaced Vic. Did you all know him before or did he audition?
Luke: He auditioned. He was the first and only try-out, as soon as we tried him out we knew the search was over.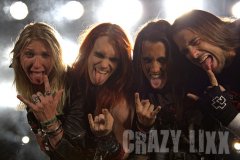 The new Crazy Lixx with Andy Dawson
Calle: If you could put together your dream band, who would be in it?
Luke: Danny, Joey, Andy and Me!
Calle: When can the fans expect a new Crazy Lixx record?
Luke: We plan to record it this summer, and release it by late fall.
Calle: How would you describe each member of the band in only three words?
Luke: They all have so many good qualities an essay wouldn't cover them, let alone three words.
Calle: What's your biggest dream when it comes to Crazy Lixx?
Luke: I'd like a mansion in every great city of the world and enough platinum records to pave the driveways with them.
Calle: What's the best advice you can give to other up-coming bands?
Luke: Give away your demos for free to anyone that wants it and to anyone that doesn't. Play as many gigs as you can in as many different clubs, cities and countries as you can. And don't expect anything to come easy. And practice in front of the mirror!

And now some questions outside music:
Calle: What was the first CD/LP you ever purchased?
Luke: Bruce Springsteen: Born in the USA
Calle: What was the last CD you bought?
Luke: I Can't Remember
Calle: Do any of you have another education?
Luke: Yes, I'm a Lighting Designer And Joey is a Preschool Teacher. Danny is a freelance webmaster of some sort.
Calle: What do you do when you're not playing music? What's your other interest?
Luke: I drink a lot of beer... when I'm not working. Playing in a successful band on top of a job like mine doesn't really leave time for hobbies...
Calle: What the first thing that comes to your mind if I say Denmark?
Luke: Well that's were Swedes go to make themselves look like drunken idiots isn't it?
Calle: What's your favorite drink?
Luke: Beer... and espresso
Calle: Any last words for the fans?
Luke: Book us and we will come....
Click on the picture to visit Crazy Lixx' MySpace
The End
Hits: 720799

callerock@gmail.com