Interview with Chris and Richie from Heavens Basement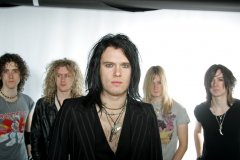 Heavens Basement
(L to R): Chris, Jonny, Richie, Rob and Sid
Calle: The band started in 2003 as Hurricane Party. How did you guys meet?
Chris: Jonny and Rob have always played in bands together, they started Hurricane Party with other singers, guitarist and drummers, obviously it takes a long time to find the right people who all have the same goals, so a few people came and went. I replaced the original drummer after seeing an advert in Kerrang magazine, Richie came in later (also seeing an advert in a magazine!) and we met Sid in 2006.
Calle: What got you into music in the first place?
Chris: I think I can speak for everyone here by saying a lot of why we got into music is from our parents (going back to a very early age).. we are proud to say all our parents have great taste in Music. Also, some of our parents and grandparents are and were musicians, Richie's gran has sang all her life, my father was a drummer back in the 80s and Jonny's grandfather was a big band musician so its fair to say all 5 of us have always been around music since a young age..Obviously later in our childhood we all found our own paths by hearing a band, singer, guitarist or drummer for the first time and being totally inspired by them.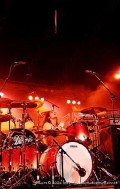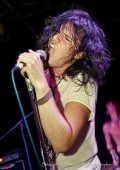 Chris (Drums) Jonny (Guitar) Richie (Vocals)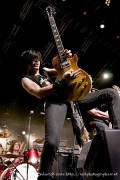 Rob (Bass) Sid (Guitar)
(All photos by: Sakura)
Calle: After some strong hurricanes in the US you changed your name to Roadstar (like a song on the Hurricane Party EP "Get This"). Was that your own decision or the management?
Chris: It was something we sat down and talked about, to be honest it was a decision that no-one was sure if it was right or wrong, the band made our views clear, the label / management made their's clear and the name was changed.
Calle: Who are your biggest influences?
Chris: There are so many influences between the five of us, it would be impossible to list them all! Their are the obvious great rock bands that we have always loved, the likes of Alice in Chains, Aerosmith, Guns n Roses but everyone has there own taste outside this, we try to bring a lot of stuff into the pot when we are writing songs.
Chris playing the drums
Calle: Name 3 "older" bands and 3 "newer" bands you can recommend?
Chris: As for new bands I would say 'Sign' from Iceland, we played some shows with them a few weeks ago, great band with excellent songs. 'Wired Desire' from Glasgow are worth checking out,we also played with them a while back and we are planning more shows with them, they have a good ACDC meets Skid Row vibe and also have very strong livers!! Finally I would recommend 'Pendulum', I don't know how big the are in Denmark but they do very well in the UK, if you like music like your rock music mixed with dance influenced music you should check them out.
As for older bands, there are so many to choose from who we love, 'Span' were a great band, it's a shame the spilt up, 'Alice in Chains' are well worth checking out for anyone just getting into rock music..and finally a small band from the 70s called Led Zep:) Every member of that band was and is a musical genius.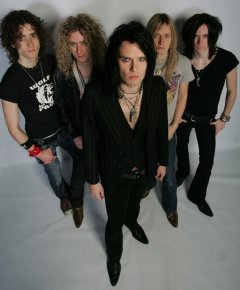 "We're all about big, energetic, statements of intent", says frontman Richie. "We're the band that will make you fall in love with Rock n' Roll all over again".
(from Heavens Basement's MySpace site)
Calle: I read somewhere that Roadstar suddenly couldn't get access to their MySpace site and that you had some disagreements with your former manager Laurie Mansworth. What happened there?
Chris: Yes, its fair to say towards the end we disagreed and clashed with our former management on everything which was part of the reason everyone (including them) were happy to part ways, we are a very laid back bunch of guys but we won't allow for anyone to walk over us - simple as that. We are proud of the things we done as Roadstar but it had to end, it always felt like problems outside of our control were holding that band back.
Calle: In April 2007 the band split up and formed again as Heaven's Basement. Does that name have a special meaning?
Chris: We actually got together as Heaven's Basement around Oct 07, but we spent the whole summer basically hanging out, having a good time, drinking to much and generally having a good summer! We never planned to start a new band after Roadstar finished but we found a whole new energy that summer and decided to give it a shot, it happened in a very natural way which is how it should be. The name actually come's from jamming in Richie (Hevanz's) Basement one night and writing the bones of our first 2 or 3 songs.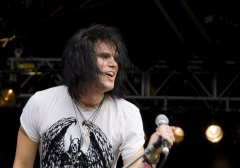 Richie's basement
is the reason for the band name
Calle: How do you write the songs? Does each of you come up with ideas or do you all write together?
Chris: We don't really have a set pattern, some songs come together by all 5 of us sitting down and jamming on a riff together then things lead on from there. Other times someone will bring a whole song to the rest of us and the song will grow further from there.
Calle: Where do you find the inspiration for the songs?
Richie: I think we find it from the same places as anyone. Your own experiences, someone elses, pain, love, things on TV. The funny thing is sometimes you write a song. Put all the peices together and its not till afterwards that you realise something has inspired you. Sometimes things get to you on a sub conscious level. Somtimes they can turn out to be the most honest songs.
Calle: If you get the chance to work with a "big" songwriter, who would you like that to be?
Chris: We would be open to work with anyone to get the best out of us, we are actually thinking about producers for the debut album at the moment.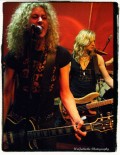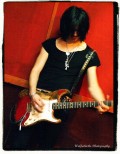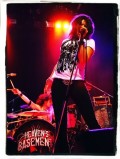 Born from the five corners of the UK with a sole ambition between them;
to reach the summit of their potential and to be regarded
alongside the bands that inspired them.
Calle: Heaven's Basement comes from five different parts of Great Britain. How will you describe the music scene in Great Britain in general?
Richie: It depends on the kind of music really. Some genre's are doing great right now. Indie bands, R'n'B singers and that. But I think that in Britain our style of music is not doing great. There's plenty of bands that look the part but the music is lacking. I'm not saying that we're the bench mark or anything like that but i know that our first priority is writing and performing the best music we're able to produce. It feels sometimes that in our genre, thats not everybody's priority.


Grand Hotel Glass Mountain
Calle: As Roadstar you released two albums "Grand Hotel" (2006) and "Glass Mountain" (2007). Both CD's was very well received. When can we expect the first full-length album from Heaven's Basement?
Richie: There's nothing set in stone at this point. But we have slowed the touring down slightly in order to concentrate on writing a few more songs with a view to recording that first album. We're not sure when it will be but we've always said that we want our first album to make an impact. We could have thrown together 12 songs easily by now. But we want to make the best album we can. That means making sure you have all the songs needed. When we feel we have that, we'll go in and record it. We're getting there.
Calle: And what can the fans expect from the album when it comes out?
Richie: We're curious about that ourselves!! Basically if you like what you've heard so far. Your going to love it.
Calle: You have played with a lot of great bands like Bon Jovi, Thunder, Alice Cooper, Nickelback and The Darkness to name a few. If you get the chance to open for/play with some other bands, who would you like that to be?
Richie: There's the obvious answers like Aerosmith, Motley Crue.....etc. We've seen the impact opening for bands like that can have for us when we opened for Bon Jovi. But I think that as much as possible we'd like to get our music out to as many different kinds of music lovers as we can. Not just necessarily classic rock fans, but everyone. Supporting a band like the Foo Fighters, Queens of the stone age, that would be cool to. If an audience is willing to listen and be entertained, we're willing to play.
The band live on stage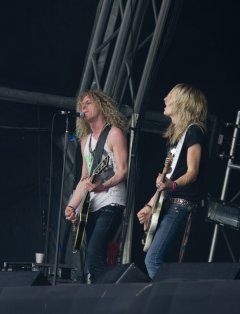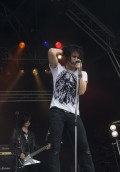 Chris live Jonny and Rob live Sid and Richie live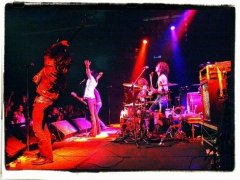 The band kickin' ass live
Calle: If you could put together your dream band, who would be in it?
Chris: Very hard question, Led Zep is the dream line up to be honest so apart from those members I would go with Eric Singer on drums, Joe Perry and Malcolm young on guitar, Steven Tyler and Duff on Bass
Calle: If people don't know Heaven's Basement, how would you describe the band in only three words?
Richie: Energy, Volume, Hungry
Calle: What's the best advice you can give to other up-coming bands?
Richie: Forget your ego, learn your instrument and practice! The more you play the better you can write, and the more you write the better songs you'll write. In the end thats what its all about. Listen and learn. Any dick head can style his hair, put on make up and get drunk. Its the music you create that people love. Not you!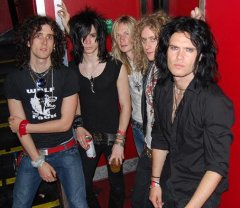 Forget your ego, learn your instrument and practice!
And now some questions outside music:
Calle: What was the first CD/LP you ever purchased?
Chris: Van Halen 1 (I think) I remember having Aerosmith's Pump on cassette too.
Calle: What do you do when you're not playing music? What's your other interest?
Richie: It ranges depending on the band members. Richie loves films. He has a huge collection. About five hundred i think. And rugby! He loves rugby!
Calle: What's your favorite drink?
Chris : Water, proper hardcore
Calle: Any last words for the fans?
Richie: We can't wait to get our arses to Denmark soon - hopefully 2009!!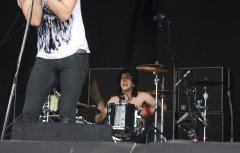 Hopefully Richie (without a head here), Chris
and the rest of Heavens Basement will stop by Denmark in 2009.
Check out Heavens Basement on MySpace:
The End
Hits: 739854

callerock@gmail.com