Moonspell - Extinct (English)
15-04-2015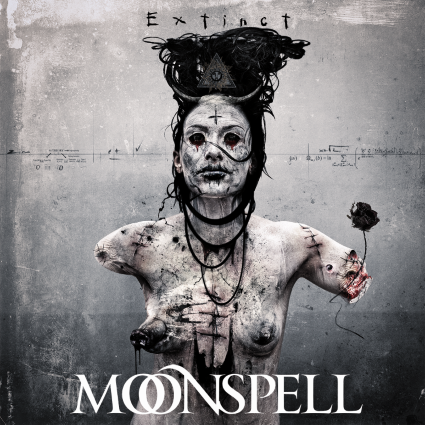 Moonspell from Portugal gave me something to think about .... The first time I heard their new CD Extinct I was confused ... I could not decide whether I liked them or not, because there was a mixture of pop and Metal that I had not quite put in place in my music mind. BUT after repeated listening over time began the CD to grow on me .... now I think it is really cool.
Fernando Ribeiro has a voice that reminds me of Philip Oakey of Human League ... and yet not understood in that sense that Phil did not growl, but Fernando do both .. sings neatly and growls. It provides a good varied sound. There are quite a few pop elements, which means that it might entice a new audience to the Metal genre.
Moonspell plays Gothic-Dark-Metal with pop attitudes, and handle their instruments well.
As I said, I could not quite like them at the start of the listening phase and that is probably because Extinct starts pop-ish and moving around in the genres. I my imagination I will not put things in the crib, but was trapped in my own petard because I just could not put them in a musical stall, and then I got something to think about, and it's lovely.
I have not heard of Moonspell before, but now I really want to dig into their treasure chest, which dates back to 1992.
The ten tracks on Extinct flies and is good for both listening to and just run as a background.
A number that stands out - and made me think of Bertolt Brecht / Kurt Weill is the last track La Baphomette which is in waltz time and with detuned piano, and is a great tune to end the cd, and it's in French.
Otherwise there is plenty things going on on the other tracks. I also like the Arabic-inspired "violins" which makes me think of Deep Purple's use of oriental elements in the Rock music.
Besides Fernando Ribeiro (Langsuyar) on vocal, Miguel Gaspar (Mike / Nisroth) is playing drums,
Ricardo Amorim (Morning Blade) on guitar, Pedro Paixão (Passionis / Neophytus) on synthesizer and guitar and Aires Pereira (Ahriman) on bass.
The production is great and gloomy with lots of reverb, so it seems dreamlike and gives it a pop-like character. There is worked well with the balance between the different instruments so that it appears as a whole,
I think I have become a fan :)
Extinct is out March 6th via Napalm Records.





(5
ud af 6)
Kategorier
Kommentarer
Der er ingen kommentarer til dette indlæg
Hits: 722174

callerock@gmail.com