Nightmare - The Aftermath (English)
25-08-2014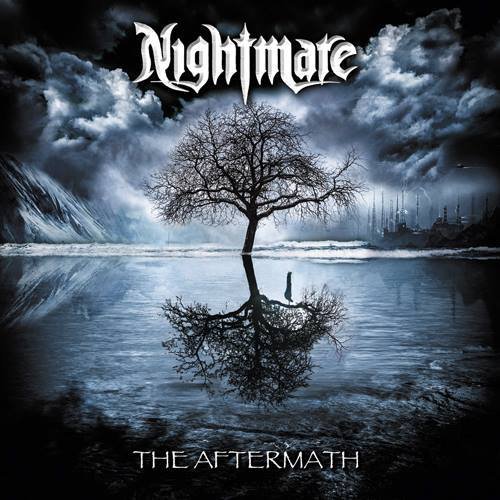 Nightmare from France is playing aggressively and in-your-face Power-Metal on their latest album The Aftermath. I've never heard of them before even though they are from 1979 .... my fault, because they're really good. The singer Jo Amore has a voice and singing style that brings Ronnie James Dio to mind without being corny, it sounds genuine and not meant as plagiarism.
The Intro pissed me a bit of (pardon my french) ...a female who does not fit in, tells a little story. The mood of the music and the structure is really good ... and the story would have gained a great deal if it was a deeper voice with a more dramatic atmosphere and not a voice for soap advertising ... BUT 55 seconds out of 51 minutes one can survive ... and you can always skip the intro :)
REST OF CD The Aftermath is, as I said very good. Well played and well produced and with a genuine joy of playing that shines through. In addition to Jo Amore lead vocal it's Franck Milleliri and Matt Asselberghs on guitars, Yves Campion on bass and backing vocals and David Amore on drums. I have no info about the Keyboards that are used moderately.
There are 10 great tracks and it's hard to pick a favorite because everyone has good qualities, but The Bridge Is Burning stand may look like a possible favorite. I can hear elements from Metallica, Dream Theater, Iron Maiden, Dio in a nice mix which I think works well. That's the first I've heard of Nightmare but certainly not the last.
The Aftermath is out on AFM-Records.





(5 ud af 6)
Visit Nightmare on Facebook here.
Kategorier
Kommentarer
Der er ingen kommentarer til dette indlæg
Hits: 741773

callerock@gmail.com